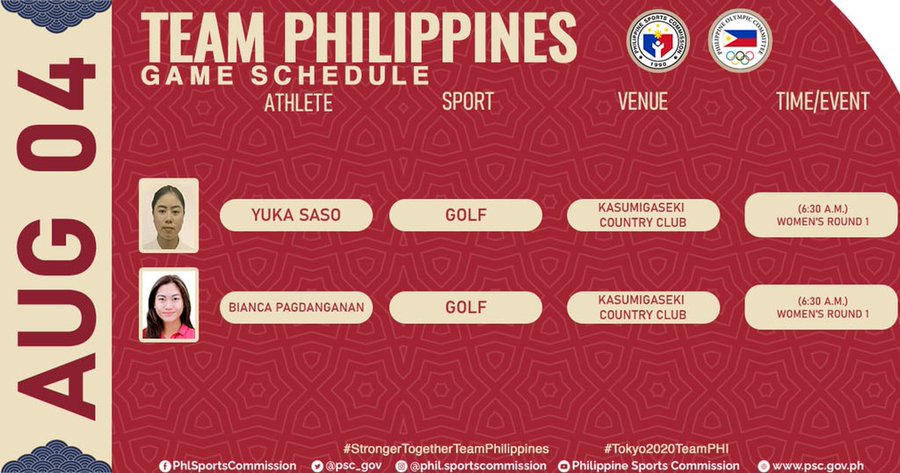 The Olympics Schedule for Team Philippines August 4, 2021: Filipina golf bets Yuka Saso and Bianca Pagdanganan start their campaign for medals on the greens of Kasumigaseki Country Club in Tokyo, Japan.
YUKA SASO (Golf)
Women's Individual Stroke Round 1
6:30 a.m.
Yuka Saso, the 2021 U.S. Women's Open champion, tees off today in the Women's Individual Stroke Round 1 event to start her campaign for the Philippines' first medal in Olympic golf.
The Philippines' golf phenom is currently ranked 8th in the women's world rankings, thanks to her historic triumph in the 76th edition of the United States Women's Championships.
The Filipino-Japanese golf sensation officially booked her Tokyo Olympics berth in June, joining golfers Juvic Pagunsan and Bianca Pagdanganan after completing the KPMG Women's Professional Gold Association (PGA) Tournament in the United States.
BIANCA PAGDANGANAN (Golf)
Women's Individual Stroke Round 1
6:30 a.m.
Bianca Pagdanganan also tees off today in a bid for the Philippines' first Olympic medal in golf.
The Filipina golfer booked a trip to Japan together with the first Filipina U.S. Women's Open winner, Yuka Saso, through the second qualification quota after placing 42nd in the world rankings.
In the 2018 Asian Games, Pagdanganan won a bronze medal in the women's event and a gold medal in the team event with Saso and Lois Kaye Go. She also bagged individual and team gold medals at the 2019 Southeast Asian Games.
MEET: 19 Filipinos campaigning for Philippines' 1st Olympic Gold in Tokyo
How to Watch 19 Filipino Olympians Compete in Tokyo Olympics
Good News Pilipinas is celebrating its 15th Anniversary in 2021 by giving away prizes! Subscribe to our Good News Pilipinas! TV YouTube channel and enter the raffle by sending us an email to editor@goodnewspilipinas.com saying what you like about our site.
Facebook Comments