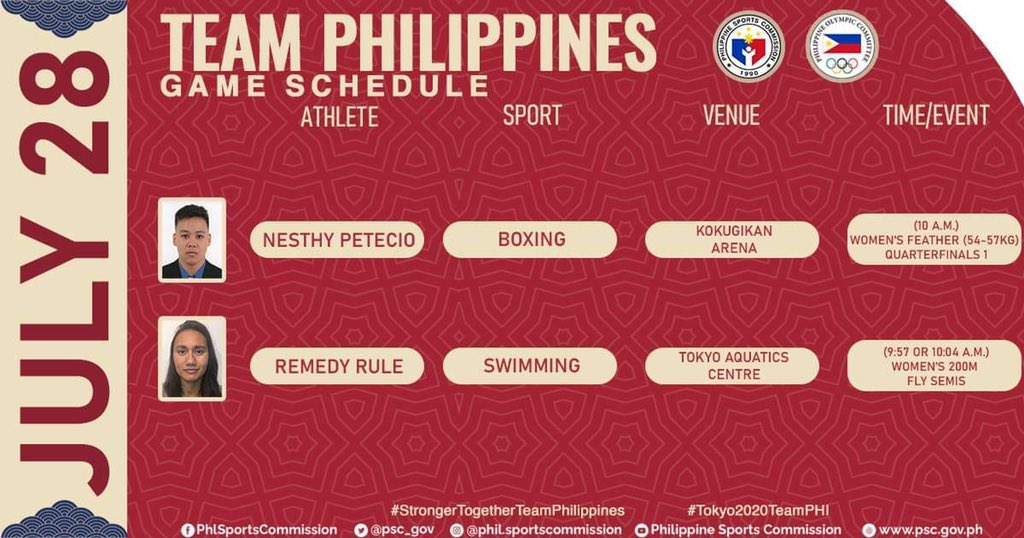 Here is the Olympics Schedule today for Team Philippines: Female boxer Nesthy Petecio battles in the ring in the quarterfinals as swimmer Remedy Rule competes in the semifinals.
NESTHY PETECIO (Boxing)
Women's featherweight
Wednesday, July 28, 10:00 a.m. quarterfinal
Nesthy Petecio is competing in her third match at the Women's Featherweight 54-57kg division's Quarterfinals scheduled this Wednesday, July 28, 10:00 a.m. against Yeni Marcela Arias Castaneda of Colombia.
Petecio surprised No. 1 seed Lin Yu-Ting of Chinese Taipei with a split decision win in their Round of 16 bout on Monday to advance to the quarters. Her first win at the Olympics was via unanimous decision in the Round of 32 preliminaries match vs. Marcelat Sakobi Matshu of Congo held on Day 1 of the Summer Games in Japan.
Nesthy Petecio is the second Filipina boxer to become a world champion, after Josie Gabuco in 2012.
Petecio has represented the Philippines in four editions of the SEA Games, winning a total of one gold and three silver medals. She won the featherweight division of the 2019 Amateur International Boxing Association (AIBA) Women's World Boxing Championships.
REMEDY RULE (Swimming)
200-meter Butterfly
Wednesday, July 28, 10:04 a.m. semifinals
Remedy Rule continues her quest for a medal at the Tokyo Olympics as she takes to the water again on Wednesday, July 28, 9:55 a.m. for the semifinals of the Top 16.
Rule advanced to the semis after clocking in 2:12.23 for 15th place overall in the Women's 200-meter Butterfly heats on Tuesday.
The Filipino swimmer previously finished in second place in the Women's 100-meter Butterfly event with a time of 59.68 but did not make the Top 16 who qualified for the semifinals.
MEET: 19 Filipinos campaigning for Philippines' 1st Olympic Gold in Tokyo
How to Watch 19 Filipino Olympians Compete in Tokyo Olympics
Good News Pilipinas is celebrating its 15th Anniversary in 2021 by giving away prizes! Subscribe to our Good News Pilipinas! TV YouTube channel and enter the raffle by sending us an email to editor@goodnewspilipinas.com saying what you like about our site.
Facebook Comments