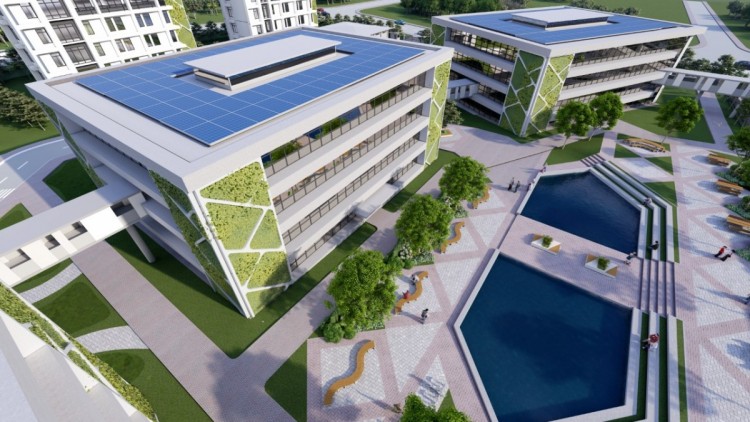 The Philippine Science High School (PSHS) is setting up a new campus in New Clark City, Tarlac.
The 4.6-hectare campus for senior high school students and serves as a resource center for teachers and professionals is being built by PSHS in partnership with the Bases Conversion and Development Authority (BCDA).
The new site of the country's premier science high school is expected to become the PSHS System's center for learning and service not only for students but for both teaching and non-teaching personnel.
BCDA described the new PSHS campus as a site that will feature state-of-the-art facilities, advanced laboratories, academic spaces, training venues, and living quarters. It will have facilities for traditional and alternative learning, as well as indoor and outdoor set-ups showcasing the latest technological innovations.
The campus will feature a training center, a technology hub, research center, innovation center, multipurpose academic building, administration building, a summer camp area, and dormitories, which will be constructed in phases.
The New Clark City campus will also accommodate the increasing student and employee population in PSHS' existing campus at the Clark Freeport Zone.
Under the approved master plan, 80 percent of the total campus area will be open space while only 20 percent will be occupied.
The procurement for the detailed architectural and engineering design for the Training Center is ongoing. It is targeted to be completed by 2022.
BCDA President and Chief Executive Officer Vince Dizon said the establishment of the new PSHS campus in New Clark City would contribute to the development and training of teachers and future science and technology professionals in the country.
"We hope that with the new PSHS campus, we will be able to give more opportunities for quality education to deserving Filipino students especially in Central and Northern Luzon. The COVID-19 pandemic has highlighted the valuable contribution of science and technology in our society. We will also be able to build our pool of researchers and professionals who would help us prevent other pandemics in the future," Dizon said.
He added: "It is also crucial, now more than ever, to invest in science, technology, engineering and mathematics (STEM) education to stop climate change and provide scientific and technological solutions to issues plaguing our society."
The PSHS System is an attached agency of the Department of Science and Technology (DOST). It prepares students for careers in Science and Technology and contributes to nation-building by helping the country attain a critical mass of professionals and leaders in the science and technology field.
Philippine Science High School students have successfully represented the country in various international tilts including winning the historic 1st gold for the Philippines in the World Debate Championships and being hailed Most Outstanding Delegates in the Model UN conference.
Good News Pilipinas is celebrating its 15th Anniversary in 2021 by giving away prizes! Subscribe to this website and  Good News Pilipinas! TV YouTube channel and enter the raffle by telling us what you like about our stories in an email to editor@goodnewspilipinas.com
Facebook Comments