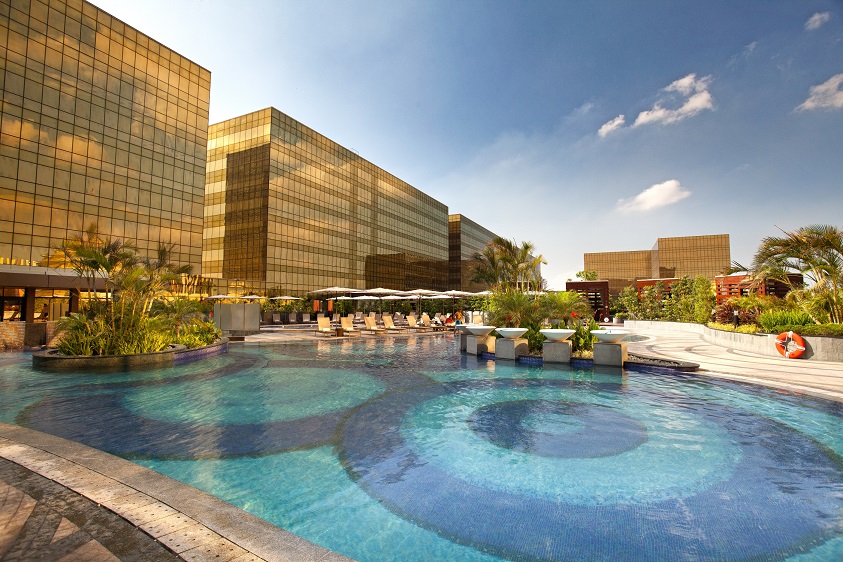 The City of Dreams Manila's three Forbes-rated hotels – Nüwa Manila, Nobu Hotel, and Hyatt Regency Manila – bagged the 2022 South East Asian Nations (ASEAN) Green Hotel Award at the recent ASEAN Tourism Forum held in Cambodia.
The ASEAN Green Hotel Awards for the City of Dreams Manila's hotels recognize their operations are based on the achievement of sustainable tourism through environment-friendly principles, resource consumption reduction, and local community involvement.
The awarded Philippine hotels went through a certification process to meet a set of 11 criteria that promote sustainable tourism practices, which hotel businesses "should aspire to reach to protect and sustain ASEAN's natural and cultural resources while ensuring tourism meets its potential as a tool for conservation and poverty alleviation".
The criteria consist of: environmental policy and action for hotel operation; use of green products; collaboration with the community and local organizations; human resource development; solid waste management; energy efficiency; water efficiency; air quality management (indoor & outdoor); noise pollution control; wastewater treatment and management; and toxic and chemical substance disposal management.
The Nüwa Manila, Nobu Hotel, and Hyatt Regency Manila undertake various environmental and CSR projects geared towards contributing to a more sustainable future and the upliftment of communities they serve:
 The luxury integrated resort's numerous green initiatives are focused on renewable energy and other initiatives on energy efficiency, being the first integrated resort in the country to install solar panels.
Water conservation projects include reuse of treated greywater, plastic waste reduction with the replacement of single-use plastic bottles in hotel rooms with reusable and refillable, convenient pump bottles, and sustainable sourcing in its supply chain.
These are among the many sustainable initiatives that contribute to its goal of being a carbon-neutral and zero-waste resort by 2030. A strong spirit of volunteerism fuels the hotel staff along with other colleagues, in various CSR, environmental, health, and education programs.
Joining the City of Dreams hotel awardees is Conrad Manila. Besides the ASEAN Green Hotel Award, other Philippine winners were presented the ASEAN Clean Tourist City Award for the cities of Baguio, the country's summer capital and Ilagan in Isabela, ASEAN MICE Venue Award (Meeting Room) top 5 Conrad Manila's Forbes Ballroom, and ASEAN MICE Venue Award (Exhibition Hall) top 5 placer Quest Plus Conference Center Clark's Magellan Ballroom and Baguio Country Club's William Cameron Forbes Ballroom.
Rounding up the list of national awardees for ASEAN MICE Venue Awards for the meeting room category were Astoria Palawan's Mangrove Conference and Convention Center and Widus (Clark Marriott Hotel) Marriott Grand Ballroom.
The World Trade Center in Metro Manila and the Cordillera Convention hall in Baguio City were named as MICE Venue awardees under the exhibition venue category.
In acknowledging the ASEAN Tourism Awards on January 18, 2022, bestowed on the hotels and other tourism stakeholders in the Philippines, Tourism Secretary Bernadette Romulo Puyat said that the recognition of the Philippine hotels and cities is a reflection of the industry's commitment to maintaining the highest standards of tourism despite the pandemic.
"This recognition of our local cities and hotels and MICE (Meetings, Incentives, Convention and Exhibition) venues not only serves as a testament to the Philippines' commitment to uphold the best tourism standards, it also mirrors the strong Bayanihan spirit we have exhibited to overcome this crisis," Puyat said.
"The current health crisis is a bane of the industry. Nevertheless, local tourism offices and our stakeholders aren't backing down from this. By collaborating to help find solutions, they have proven that they can adapt despite the current limitations on their operations," she added.
"It is an honor to our commitment to the highest standards of sustainable operations and CSR initiatives that our three hotels are recognized with this prestigious award. Practicing sustainable tourism even during these unprecedented times echoes the 'Above and Beyond' vision of our parent company, Melco Resorts & Entertainment (Melco) on our long-term and comprehensive sustainability strategy. We will continue to be a force of good not only within the Philippines and regional tourism industry but also for the planet and the people, as espoused by the ASEAN Tourism Awards," City of Dreams Manila Property President Geoff Andres said.
TELL US your good news story tips by messaging GoodNewsPilipinas.com on Facebook, Twitter, Instagram, or e-mail editor@goodnewspilipinas.com and WATCH Good News Pilipinas TV YouTube for more Filipino Pride stories!
Facebook Comments