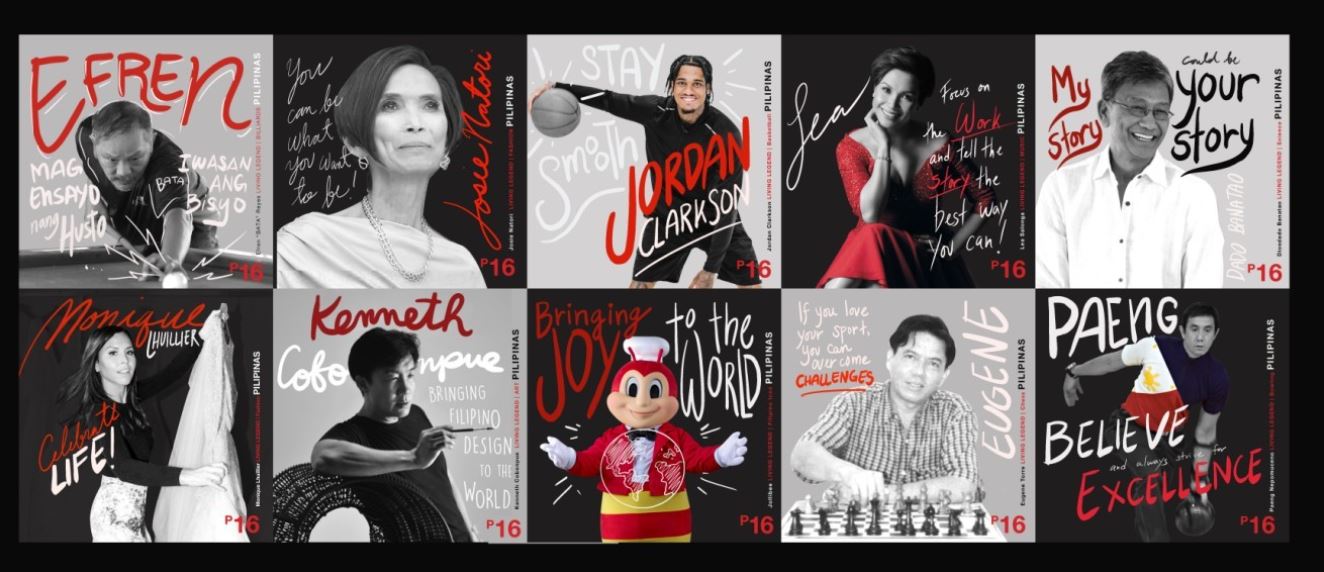 The Philippine Post Office has unveiled new commemorative stamps for 10 Filipino Living Legends to mark two milestones – 75th years since the first stamp of the Republic of the Philippines was issued and the 254th anniversary of the establishment of the Philippine Postal Service.
The Post Office presented the "Living Legends: World-Renowned Filipinos" (Series 1) stamps launched on November 13, 2021, as a tribute to the indomitable Filipino spirit.
This new issuance is the first of the three categories with multiple series, namely, Living Legends: World-Renowned Filipinos Series; Living Legends: Outstanding Filipinos Series, and Never Forgotten Series.
Adapting to the changing times, the Philippine Postal Office is now reviving the interest, innovating its Postage Stamps to celebrate, inspire and capture the spirit and excellence of Filipinos across every field of endeavors.
"Salamat, Pagpupugay sa mga Alamat!" (A tribute to Filipino Legends) is the Post Office's modest way of giving recognition and honor to world-renowned Filipino talents:
Broadway star and Disney Legend Ms. Lea Salonga –
NBA Sixth Man of the Year Jordan Clarkson
Bowling Champion Paeng Nepomuceno
World Pool champion Efren "Bata" Reyes
Asia's first Grandmaster Eugene Torre
World fashion designer Josie Natori
World-renowned industrial designer Kenneth Cobonpue
Filipino-American fashion designer Monique Lhuillier
Three-time Start-up veteran Diosdado "Dado" Banatao
Homegrown international restaurant icon Jollibee
In addition, the Post Office launched a new generation of Philippine Postcards to capture the interest of people young and old alike to enjoy the product, creating more fun and excitement in keeping in touch with loved ones.
Postmaster General Norman Fulgencio said that the Post Office takes pride in recognizing these great individuals, through stamps, fueling the Filipino passion for excellence anywhere in the world.
He added, "the stamps that the Post Office unveiled today, is also a celebration of the 75 years of the first stamp of the Republic of the Philippines. In 1946, as we rebuilt the nation, from that year onwards, we saw the birth of talented Filipinos who have made a mark in different fields of endeavor.
He said, "The Post Office delivers not only mails and parcels, this time shall be the bearer of good news, hope and inspiration to millions of our countrymen- to stand tall and proud, showing the world what we Filipinos are capable of".
In 1767, the first post office was established in the City of Manila under a new postal district of Spain. Inaugurated in 1931, the Manila Central Post Office was considered the grandest building and the most prominent landmark and tourist attraction. It was destroyed during World War II in 1945, but was rebuilt in 1946.
The Post Office earlier in October launched Barangay Ginebra icon Robert "Bobby" Jaworski's own Living Legend Stamp.
Good News Pilipinas is celebrating its 15th Anniversary in 2021 by giving away prizes! Subscribe to this website and  Good News Pilipinas! TV YouTube channel and enter the raffle by telling us what you like about our stories in an email to editor@goodnewspilipinas.com
Facebook Comments