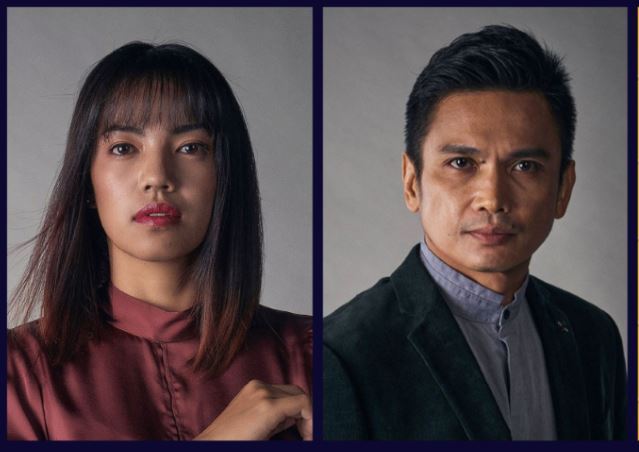 Team Lakay fighter Lara Pearl Alvarez and MMA champion Louie Sangalang are representing the Philippines in "The Apprentice: ONE Championship Edition" slated to debut in Asia in March and globally by June 2021.
The two Filipino MMA fighters are among the 16 candidates from 11 countries announced on February 4 to be joining the global hit reality TV show of high-stakes competition involving business and physical challenges presented by the largest sports media company.
Alvarez and Sangalang and the other candidates representing Asia, Europe, North America, South America, and New Zealand withstood the tight and grueling eliminations to vie for the ultimate prize: a US$250,000 job offer and the chance to work directly under ONE Chairman and CEO Chatri Sityodtong for a year as his protege in Singapore.
LARA PEARL ALVAREZ
Lara Pearl Alvarez wants to inspire her nation as well as people across the world with her motivational life story.
Born in Baguio, Philippines, Alvarez knows what it's like to overcome adversity. As a child, she worked long hours under the hot sun on her father's farm, where she harvested crops and sold them at the local market.
Soon, the proud Igorot started to practice martial arts – she first learned arnis in high school, then taekwondo in college, and then wushu, a style that Baguio City's own Team Lakay has made famous in ONE Championship. By studying martial arts, she learned important life values like discipline, compassion, humility, and integrity, which helped Alvarez succeed both professionally and personally.
When the Filipina was 22, she got pregnant by her then-boyfriend, who abandoned her and their unborn son. Once her child was born, Alvarez took on the role of both mother and father and has since raised her baby boy with the help of her family. In addition to that enormous responsibility, she works as an accountant and trains diligently with the World Champions at Team Lakay.
Now, Alvarez is ready to conquer one more obstacle: the boardroom, as she hopes to become Chatri Sityodtong's apprentice.
LOUIE SANGALANG
Louie Sangalang started off as a rebellious teenager, but he grew into a man of integrity.
Born in Baguio, Philippines, Sangalang's family moved often and he lived in several provinces throughout the country, where he was exposed to the harsh realities of life in a third-world nation.
As an angst-ridden youth, Sangalang got into fights, was alcohol-dependent, and became a father at the tender age of 21. After overcoming appendiceal cancer at the age of 23, however, he finished his humanities degree and got more involved in his daughter's life.
Most notably, after his life-altering cancer experience, Sangalang began training in mixed martial arts, where he became the undefeated URCC Featherweight Champion from 2003 to 2005. In 2005, Sangalang was a semifinalist on "Kamao: Matira ang Matibay," the first boxing reality TV show in the Philippines.
After his professional combat sports career, Sangalang worked in several industries such as microfinance, entertainment, hospitality, casinos, business process outsourcing, and insurance. Ultimately, he climbed the ranks in AXA Philippines, going from a Brand & Communications Officer to Executive Assistant to the CEO, to eventually Head of Procurement and Purchasing.
Sangalang took early retirement and dropped out of business school to open his own procurement consulting firm and to teach at three universities in Metro Manila. His latest project involved the Metro Manila Development Authority (MMDA) and the World Bank.
In 2018, Sangalang became the first Filipino cancer survivor to finish the North Pole Marathon. In the same year, he completed the inaugural Ironman Philippines and was promoted to BJJ purple belt by Professor Fernando Salvador under the Pedro Sauer BJJ Association.
Sangalang now wants to take his business and sports acumen into the boardroom, where he hopes to become Chatri Sityodtong's apprentice.
"The Apprentice: ONE Championship Edition" will premiere across Asia on Thursday, March 18, on AXN, the show's official Asian broadcast partner, with markets to include Singapore, Indonesia, Malaysia, Hong Kong, Philippines, Taiwan, Thailand, Cambodia, Myanmar, and Vietnam. The series will consist of 13 episodes.
The reality show will also be available on other platforms and TV networks across Asia in March, including MediaCorp (Singapore), Abema (Japan), KompasTV (Indonesia), Amarin TV (Thailand), LINE TV (Thailand), TV5 Network (Philippines), and HTV (Vietnam).
Filipino MMAs who won ONE Championship title fights include Geje "Gravity" Eustaquio, Joshua "The Passion" Pacio, and Gina "Conviction" Iniong.
SEND WELL WISHES in the comments below to Team Lakay fighter Lara Alvarez and MMA champion Louie Sangalang as they represent the Philippines in The Apprentice: ONE Championship Edition.
Are you a Proud Filipino? Get more good news stories on Filipino Pride! Subscribe to GoodNewsPilipinas.com and our YouTube channel: Good News Pilipinas! TV
Facebook Comments