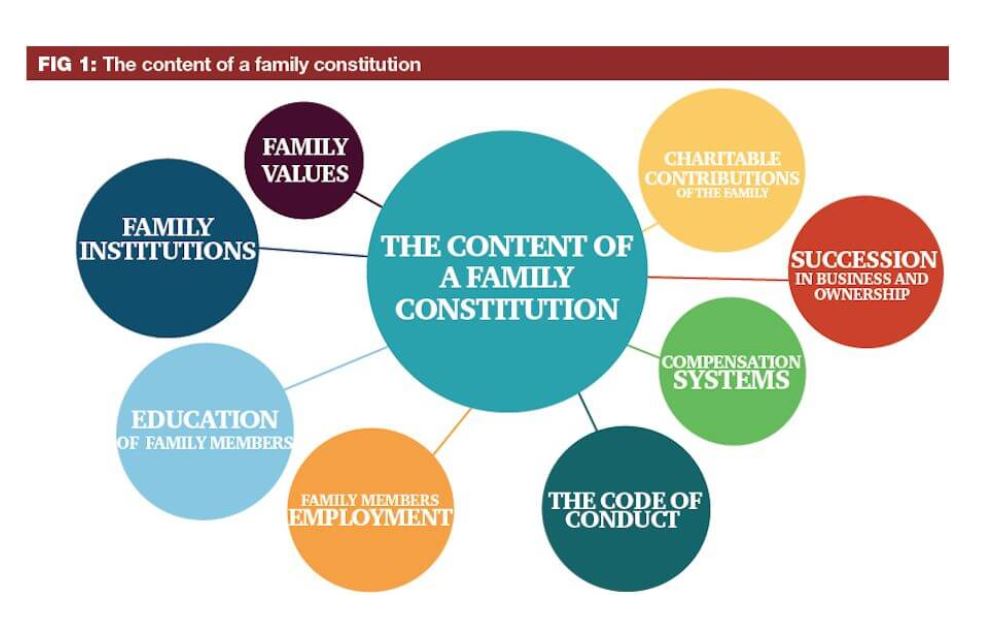 Turning over the management of a business to the next generation is a huge issue. Starting up a family business is relatively more straightforward than sustaining for the next generation. And it has been known that about half of family businesses can pass on the company to the next generation to manage it. Unless they come up with a great solution that will make them follow all the governing rules, thus a family constitution should be made.
What is a Family Constitution?
Lines out objectives and sets out an agreement on the management and ownership of the family business. A family constitution, also known as a family creed or family agreement, is a document that clearly states the principles and values that should be adopted by the family business. A family constitution's primary goal is to bind the family and share the same goals and values that should adhere to until the succeeding generations.
Scenario:
Mr. X thinks it is time for him to gradually pass on his business management to his children. But he would still be around to do the usual things he does. He just wanted to make sure that he could thoroughly guide his children in managing the company. However, one of his sons had an interest in their business. His other daughter is employed in another company. Mr. X worries that his daughter might think that she is taken for granted because of this. So what he did was he called for a lawyer and had a family constitution made. It stated his wishes on how the business should be managed. Each of his children will receive regardless of whether they are not working with their family business.
Before drafting a family constitution, family members are called to dialogue so that each member is aware of the best options. And they have a clear understanding of their family member, the management of the business, and leadership.
We know that having a family business is both a rewarding and a challenging endeavor. But to succeed in anything, we should focus more on the advantages rather than the disadvantages. And having a family business is more likely to run for generations if there is a binding agreement on how things should be done. Although there is no guarantee that no family conflicts may arise in the future. It somehow eliminates the worry on so many things because the constitution will become the basis of their future decisions.
What are the common issues between family members running a family business?
Weighing things between family issues and business
How to adequately compensate family members involved in the business
Sustaining control
Training a successor
Choosing the successor
Second-generation owners are more likely to encounter these problems:
Increase in the number of family members involved in the business
Increased interest in ownership
Different goals
A family constitution should see growth and change as an opportunity to make the business successful. How can they do this? For example, adding non-family members as board members can provide helpful insights that can benefit the family business. Sometimes, we need to seek other people's advice to improve the business. Also, if there is increased financial demand, getting a loan might be the solution. Things like these should be indicated in the constitution so that everyone will clearly understand what steps need to be taken.
What comprises a family constitution?
Business objectives that reflect the values of the family
Process of hiring, assessing, and training family members
Rules for the selection, training, and appointing of its successors
Disclosure policies between the business and the family
Appointment of a family member to a council or board
Settlement of issues between family members that involve the business
Retirement issues
The correct procedure for buying out shareholders of family members
Management of ownership
The process of amending the constitution
The decision to draft the constitution should be made as soon as possible. The common problem, as previously stated, that arises in a family business is the transition of management. Expect that there are differences in views, ideals, and goals, which may be based on the existing condition of the company. And other factors by each family member or, in worse cases, a sudden disability or death of the leader. Formulating the right conditions for the constitution may mean numerous family meetings, and specific issues may not be agreeable to all. Still, eventually, the best options will materialize that everyone will understand and agree upon.
Before making the constitution, some things need to be considered:
The process of decision making
Who should attend family meetings concerning the drafting of the constitution?
Who should lead the meeting?
Settlement of issue decided by a majority vote
Who should be responsible for translating the agreement in black and white?
The success of the family constitution relies on the excellent relationship of its family members and their willingness to unanimously support one another. At the end of the day, each family member only wants one thing — that they may continue to have a business. That they can rely on that could last for more generations – the legacy of their family.
CHECK OUT more advice from Butz Bartolome:
Traits That Every Entrepreneur Should Have | Butz Bartolome
A Former Kitchen Crew to Successful Entrepreneur | Butz Bartolome
CHECK OUT the Philippines' top mentor Butz Bartolome as he discusses business matters and SHARE THIS STORY with entrepreneurs and aspiring entrepreneurs who need the advice.
Good News Pilipinas is a Lasallian Scholarum Awardee. TELL US your good news story tips by messaging GoodNewsPilipinas.com on Facebook, Twitter, Instagram, or e-mail editor@goodnewspilipinas.com and WATCH Good News Pilipinas TV YouTube & Good News Pilipinas TikTok for more Filipino Pride stories!
Facebook Comments