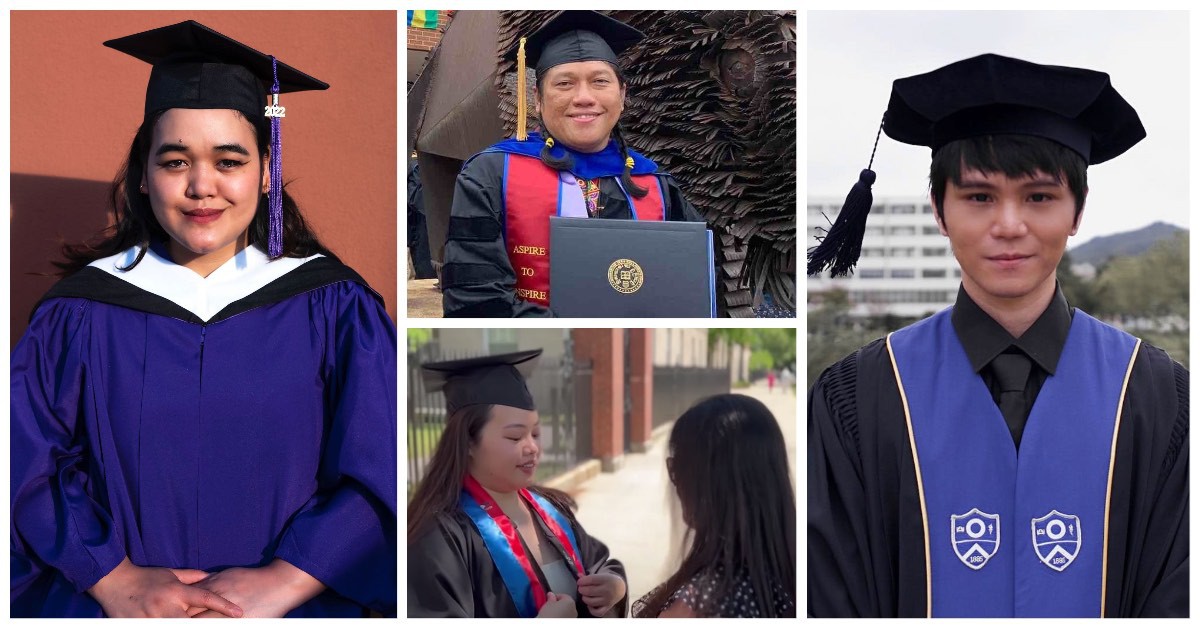 Meet four inspiring Filipino graduates of prestigious international universities abroad who persevered in the face of adversity.
These Pinoy achievers braved many obstacles – overcoming financial difficulties, disabilities, challenges brought about by the Covid-19 pandemic that disrupted education systems around the world, and more – to achieve academic success and inspire the nation with their stories.
The stories of these hard-working Filipino scholars, including a former domestic worker turned award-winning photographer and now a master's degree holder, a deaf Filipino doctorate degree holder, a Pinay nanny's daughter who graduated from Harvard University, and a Pinoy who overcame poverty, have uplifted fellow Filipinos and inspired them to work hard and follow their dreams.
Here are four inspiring Filipino scholars who overcame the odds to graduate from prestigious universities around the world:
Xyza Cruz Bacani
Xyza Bacani was a domestic worker in Hong Kong before becoming a famed street and documentary photographer and graduating from New York University (NYU) with a Master's degree in Arts and Politics.
The award-winning Filipina lensman used her photographs to call attention to the plight of abused migrant workers. Bacani gained world fame after being featured in the New York Times and having her work showcased in exhibitions in consulates and galleries.
Xyza went on to earn more acclaim and has had her work exhibited worldwide, won numerous awards, is the recipient of a Magnum Foundation Human Rights Fellowship in New York – a Pulitzer Center, an Open Society Moving Walls grantee, and is one of the Asia 21 Young Leaders.
Xyza recently shared her journey to earning a graduate degree from the prestigious NYU on a scholarship.
The Nueva Viscaya native is among the Class of 2022 graduates of New York University in the United States that includes Philippine Vice Presidential daughter Jillian Robredo who, like Xyza, studied on a scholarship.
Xyza was accepted into the M.A. in Arts Politics program at the Tisch school in NYU even without a college degree.
READ Xyza Cruz Bacani's full graduation journey here.
Raphael "Rafa" Vergel de Dios Domingo
Rafa Domingo of the De La Salle-College of Saint Benilde (DLS-CSB) is the first Filipino scholar of the World Deaf Leadership (WDL) program to earn a doctorate degree.
The head of the Deaf Heritage and Filipino Sign Language Studies Unit of Benilde's Center for Education and Advancement of the Deaf (CEAD) graduated with a Ph.D. in Linguistics from Gallaudet University, one of the world's most prominent universities exclusively dedicated to deaf students.
Rafa was awarded the Gallaudet-Nippon World Deaf Leadership (WDL) Scholarship on his third try in 2017 and is only the second Filipino to be accepted in the program which aims to empower deaf and hard of hearing leaders from developing nations.
"I applied for the Gallaudet-Nippon World Deaf Leadership Scholarship program twice but failed both times," Rafa Domingo told Benilde SDEAS.
Rafa intends to return soon to the Philippines to pursue further research on Filipino Sign Language (FSL).
FIND OUT more about Rafa Domingo's inspiring graduation journey and FSL research here.
Maria De Leon
Maria De Leon, the immigrant daughter of a Filipina nanny in the United States, graduated with honors and a degree in Molecular and Cellular Biology from Harvard University, one of the most prestigious universities in the world.
Maria was born and raised for six years in the Philippines, grew up in Chicago, and attended the Ivy League university as a pre-med student on a full scholarship at the Boston, Massachusetts campus of Harvard University.
Maria lived in a one-bedroom apartment with other family members while her mother worked multiple jobs to provide for Maria and her siblings.
The Filipino-American achiever honored her immigrant single mom, who had to overcome many challenges, including an assault by a stranger, in an essay she submitted to Harvard.
Maria believes that anybody can achieve success and overcome the odds with hard work. She is following her dream to go to medical school and is attending Boston University in the fall.
READ ABOUT Maria De Leon's inspiring story here.
Ace Spencer Apolonio
Filipino scholar Ace Spencer Apolonio graduated from Yonsei University, one of South Korea's top private universities.
The Pinoy achiever earned a degree in chemical engineering in 2021 from the top private university and is the recipient of the Korean Government Scholarship Program at Yonsei University.
Ace told GMA News that he grew up in a low-income family and was once forced to stop studying after graduating from high school. He did not give up hope on his studies and applied for a Korean government scholarship in 2014.
In his interview, Ace shared that he finally secured the scholarship after his second try and a year of polishing his skills and preparing for the application process.
GMA News revealed that Ace also put up businesses in South Korea, so he could provide for his family in the Philippines.
CHECK OUT these scholarship programs and opportunities offered to Filipino students and professionals wishing to study abroad.
SEND CHEERS in the comments below to these four inspiring Filipino scholar-graduates of prestigious international universities abroad who persevered in the face of adversity.
Good News Pilipinas is a Lasallian Scholarum Awardee. TELL US your good news story tips by messaging GoodNewsPilipinas.com on Facebook, Twitter, Instagram, or e-mail editor@goodnewspilipinas.com and WATCH Good News Pilipinas TV YouTube & Good News Pilipinas TikTok for more Filipino Pride stories!
Facebook Comments