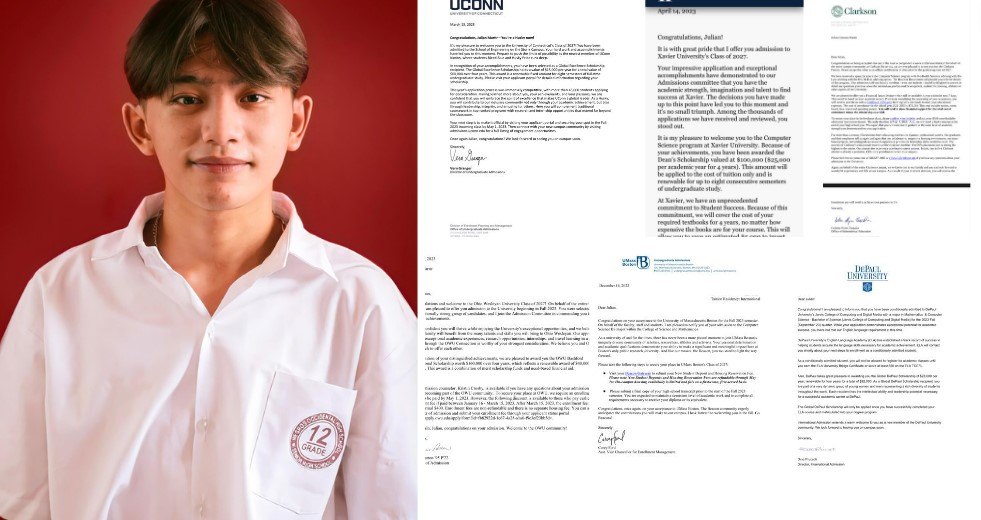 In an astonishing display of determination and hard work, 20-year-old Julian Martir, the son of a tricycle driver and a vendor from Negros, Philippines, has been accepted into 30 prestigious universities in the United States, amassing a total of almost $2 million in scholarships. Julian's achievements have stunned and inspired many, as his family has struggled to make ends meet, with Julian being the youngest among four siblings.
In a heartfelt essay shared with Good News Pilipinas, Julian writes, "I am Julian Martir and a previous graduate of Negros Occidental High School in Bacolod City, Philippines. After taking a gap year to prepare my college applications, I was delighted to announce that I have been accepted to 30 universities in the United States and the United Kingdom, as well as being awarded scholarships worth a total amount of 1.9 million dollars."
Starting the Journey
The ambitious student's journey began when he discovered a group of aspiring international students on YouTube, who planned to take advantage of the substantial scholarships offered by elite colleges and universities. This led Julian to explore college prospects that would help him balance his academic and personal goals.
This discovery sparked Julian's curiosity and led him to explore college prospects that would help him balance his academic and personal goals. Faced with the daunting task of navigating the unfamiliar undergraduate admissions process, he persevered through challenges, including writing over 100 essays, researching interview questions and how to make a good impression on the alumni interviewers, compiling the necessary transcript of records and certifications, and seeking guidance from a college admissions expert on a WhatsApp group.
Applications Accepted!
Julian's hard work and determination paid off, as he received acceptance letters from renowned institutions such as Ohio Wesleyan University, Clarkson University, Hofstra University, and the University of Connecticut. His success serves as an inspiring example to students everywhere, proving that passion, resilience, and unwavering faith can lead to incredible achievements.
"I hope that my story will continue to motivate others to work toward their goals and discover their dreams, regardless of their own experiences and backgrounds," Julian states.
The Bacolod resident celebrated his achievement and pledged to return home after his studies to use what he learned to uplift fellow Filipinos. "I am very proud of myself for getting accepted to these highly esteemed schools and I am excited to contribute to our community by bridging the disparity between science and technology."
Julian plans to attend Connecticut College in New London where he will pursue a double major in mathematics and computer science. As he embarks on this exciting new chapter, Julian's story continues to motivate others to chase their dreams, regardless of their background or personal experiences.
Check out some of the 30 universities from the United States and the United Kingdom which accepted Julian Martir's admission application.
Filipino students about to embark on their academic journey in prestigious universities overseas include Cebu Island girl Simone Gabrielle Balaba, Compostela Valley farmer's daughter Aryenne Ysabelle Rodrigo, and Los Banos rural high school's Carl Audric Guia.
SEND CONGRATULATIONS in the comments below to Julian Martir for receiving acceptance from 30 U.S. universities and scholarship offers worth nearly 2M dollars!
Good News Pilipinas is a Lasallian Scholarum Awardee. TELL US your good news story tips by messaging GoodNewsPilipinas.com on Facebook, Twitter, Instagram, or e-mail editor@goodnewspilipinas.com and WATCH Good News Pilipinas TV YouTube & Good News Pilipinas TikTok for more Filipino Pride stories!
Facebook Comments