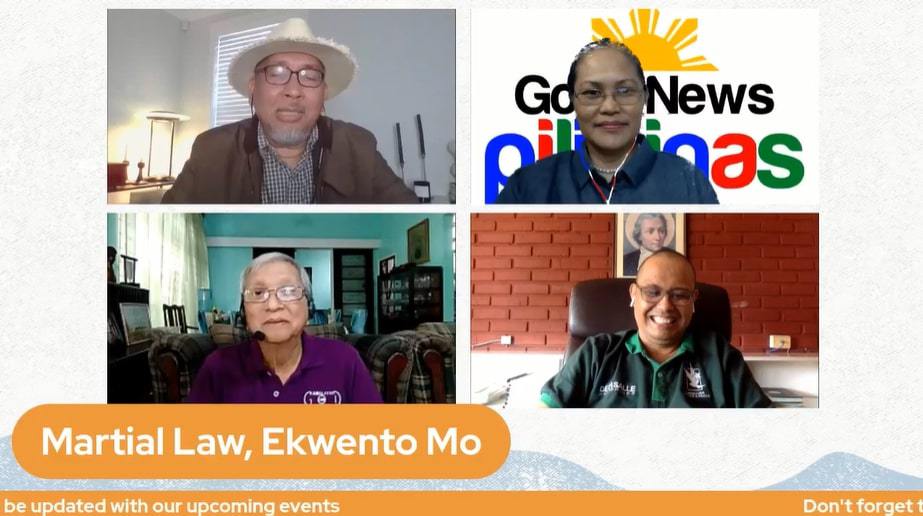 Two generations of Filipinos who lived through the martial law years in the Philippines share their experience before, during, and after the declaration of military rule 50 years ago, in an online Facebook live stream of the New Zealand-based PSTV5+ Channel.
The "Martial Law Ekwento Mo" online chat was held ahead of the 50th anniversary of Martial Law on September 21, 2022, and days before the FAMAS-awarded Katips movie musical about the same era is to embark on a world tour with a screening in New Zealand on September 18.
The Facebook podcast live stream was hosted by Filipino-Kiwi media man Rene Molina with guests Tato Malay, founder of I am Kamalayan, Dr. Aido Sepeda, Dean of Student Services and Mission at De La Salle Araneta University, and Angie Quadra Balibay, Managing Editor of Good News Pilipinas.
Malay was a student of the Far Eastern University while Molina was a fourth-year student leader in high school when Presidential Proclamation No. 1081 was signed on September 21, 1972, imposing martial law in the Philippines under then President Ferdinand Marcos, Sr.
Quadra-Balibay and Sepeda were both just toddlers then but became aware of the realities of the military rule when they were students – Sepeda in high school at Infant Jesus Academy in Cavite and later at the University of Santo Tomas while Quadra-Balibay was at the University of the Philippines Diliman.
The two generations had lived through martial law rule through its revocation on January 17, 1981, and the continuing Marcos administration until February 1986 when People Power forced Marcos to leave the Philippines following a Snap Presidential Elections marred by massive cheating.
Martial Law's Infamous Legacy
One decade of Martial Law and a total of two decades for the Marcos administration left an infamous legacy of massive corruption that stopped the Philippines from continuing its status as the Rising Tiger of Asia in the 1960s and instead left it with $28.26 billion in debt while filling the pockets of the Marcos family with an estimated $5 billion-10 billion of ill-gotten wealth.
The darkest era of Philippine history was marked by a stark abuse of military and police power that harmed:
107,240 primary victims of human rights violations
70,000 people arrested, mostly arbitrarily without warrants of arrest
34,000 people tortured
3,240 killed by the military and the police
The unbridled abuse of political power incarcerated and assassinated Marcos' political enemies including his rival Senator Benigno "Ninoy"' Aquino, Sr. and shut down all news media, and reopened only the news organizations that would not criticize the Martial Law government.
Memories of Martial Law Rule
All four are currently involved in the advocacy for the preservation of the memory and lessons of martial law rule in the Philippines – Molina and Quadra-Balibay in media work, Malay, and Sepeda in education.
Malay recalls, "Actually 3rd college ako noon, 1970, yung kasagsagan na ng mga rally?… hindi naman kasagsagan [pero] umpisa ng mga rally. Tinatawag na first quarter storm."
(Actually, I was in my 3rd year college then, 1970, the height of the rallies… not the height [but] the beginning of the rallies. Called the first quarter storm)
"Halos araw-araw may rally sa university belt, Plaza Miranda mga ganyan," he added.
(There were rallies almost every day in the University Belt, Plaza Miranda. It was like that.)
Malay also recalls classes being often interrupted because of the rallies in the University Belt.
"Practically, we are always disturbed by the noise. Yung mga pillbox na sumasabog, mga molotov cocktails. Mararamdaman namin, nandon kami sa classroom pero mararamdaman mo yung sabog sa skin mo, sa mukha mo. Parang katabi ko lang yung pagsabog kaya nakaktakot talaga," Malay recalls.
(We were practically always disturbed by the noise of exploding pillboxes, molotov cocktails. We could feel it. We were in the classroom but we can feel the blast on our skins, on our faces. The explosions seemed to be right next to me, so it was really scary.)
Molina remembers joining small rallies when he was in Zamboanga.
"Naririnig ko na iyon at minsan sinasama na kami ng Kabataang Makabayan, SDK o Samahang Demokratikong Kabataan ganon, naguumpisa na. May mga rally pero maliit, small scale," he said.
(He heard about that. Sometimes, we would join pocket, small scale rallies of the Kabataang Makabayan, SDK or Samahang Demokratikong Kabataan.)
Tato Malay shared how he grew up seeing both sides of the experience because his father was a government official. Malacanang Palace to him was a familiar playground.
"I grew up practically seeing both sides eh, I mean the worst of the other side and the good of the other side… Yung vision nila maganda eh, kaya lang how they did it yun ang nagkakaroon ng problema"
(I grew up practically seeing both sides, I mean the worst of the other side and the good of the other side… Their vision is good, but how they did it is the problem.)
"Because of [that] situation, the artists decided to protest using their craft, yung music"
Rene Molina pointed out that despite the unpleasant things they went through at the time, they saw some good things come out of the experience.
"Sa isang banda, yung sinasabi kong kagandahan about the arts, nag-flourish yung alternative, yung kontra, yung resistance songs, teatro, mga pelikula. Because of [that] situation, the artists decided to protest using their craft, yung music, ganon. Para sa akin yung nakita kong kagandahang naidulot ng martial law."
(On the one hand, the arts flourished as the alternative, the counterpoint – the resistance songs, theater, movies. Because of [that] situation, the artists decided to protest using their craft, music. For me, I saw that as the beauty brought about by martial law.)
Growing Up Under Martial Law Rule
Another generation present in the online stream was the "Martial Law babies" – born in the early days of Marcos' two decades of rule – GNP's editor Angie Quadra-Balibay, and Dr. Aido Sepeda. The two shared their distinct experience of growing up under Martial Law rule.
Quadra-Balibay was studying at the University of the Philippines Diliman while Sepeda was at the University of Santo Tomas towards the end of the Marcos administration.
Aido Sepeda says his awakening about the truth of Martial Law rule happened even before studying at the UST when he was still studying in a Catholic high school institution.
"Ang kamalayan namin noong high school ay hinubog ng edukasyon. Ang high school namin, Infant Jesus Academy sa Silang, ang pinaka-mission vision is to form socially oriented student at hindi ito tungkol lamang sa paglalagay ng isang subject, kundi isang buong karanasan sa high school ang ipinaranas sa amin," shared Dr. Sepeda.
(Our consciousness in high school was shaped by education. The mission vision of our high school, Infant Jesus Academy in Silang, is to form socially oriented students and it is not just about one subject, but a complete education we were allowed to experience.)
Dr. Sepeda noted how social orientation was embedded in all aspects of their education, both outside and inside the classroom.
He reminisced about a memorable math problem about land grabbing. "Sa halip na compute for the area of ABCD, hindi, ang problem solving nakalagay: A farmer has a farm whose land area is this, half of which is land grabbed by the military, how much was left?"
(Instead of computing for the area of ABCD, the problem-solving question asked: A farmer has a farm whose land area is this, half of which is land grabbed by the military, how much was left?)
The math problem went beyond just numbers and became more about the grim reality of land grabbing – a forceful and fraudulent way of acquiring land from its rightful owners.
Aido Sepeda also talked about how they refused militarization even while undergoing the required Citizens Army Training (CAT).
"Sa labas, sa halip na naka-fatigue kami sa CAT, Naka-t shirt na lang kami sa halip na fatigue kasi ayaw namin sa militarization, sa lahat ng simbolo ng military, tinanggal namin sa CAT, naka-t shirt lang kami at maong tapos wala kaming mga hazing."
(Outside [the campus], instead of wearing fatigues for CAT, we just wore t-shirts instead of fatigues because we did not want militarization, we removed all the military symbols from CAT, we just wore t-shirts and jeans. We didn't have hazings.)
"Kasi yung panahon na ginigipit ka, matututo ka to find a way to survive."
Angie Quadra-Balibay, the managing editor of Good News Pilipinas, saw the parallelisms between the older generation's experience of rallies at the start of martial law rule.
"Yung mga under 80's na namulat sa ganyan, pareho lang ang experience. May pillbox rin, may pagkakataon na mapapasok ka sa rally, na bigla ka nalang sasalang sa rally."
(Those who became aware in the 80s had the same experience. There were pillboxes, and you joined rallies.)
When asked if there was anything good that came out of Martial Law, both pointed to the spirit of Filipinos.
"Depende yan kung papaano mo titignan ang isang karanasan. Sa theology, may tinatawag kaming theology of struggle. Yung pagpapakatao, hindi pwedeng magsimula ka lang at matapos bilang tao. Kailangan yung pagkatao mo ay isinasabuhay. It should be lived out to society," Aido Sepeda noted.
(It depends on how you look at an experience. In theology, we have something called the theology of struggle. Humanization, you can't just start and end as a human. You need to live out your humanity. It should be lived out to society.)
Quadra-Balibay focused on the experience for media under Martial Law rule. "Ang pinaka-malinaw, dahil noong martial law shinut down ang mga mass media, nagkaroon ng pagkakataon at opportunity yung mga media personality at groups na mag-sama sama, mag-bond together at makilala na may lakas sila na ilaban ang self-regulation ng media. Kasi yung panahon na ginigipit ka, matututo ka to find a way to survive."
(The most obvious would be because mass media were shut down during martial law, the media personalities and groups had an opportunity to come together, bond together, and recognize that they have the strength to fight for the self-regulation of the media. Because in times when you are under pressure, you will learn to find a way to survive.)
The sharers from both generations agreed on the importance of pushing forward with supporting the preservation of the memory and lessons of Philippine history.
They lauded the memory projects about the Philippines' Martial Law period that have sprouted recently, such as the preservation of readings and the Katips movie, and hoped similar stage plays like the Lean The Musical would be popularized as a film for the current and generations to remember the lessons of Martial Law rule in the Philippines.
These shared experiences are proof of how Filipinos shine through adversities even during the dark times of the Martial Law era. In their stories, we observe the struggles of two generations and how they were able to rise to the occasion and appreciate good things out of bad times. They may have experienced it in different ways but the common thing among them was being conscious of the truth and standing up for it.
With reports from Martina Torres and Earl Julius Transfiguracion.
WATCH this video to hear more from the engaging and informative chat of these speakers from two generations who lived through Martial Law Rule in the Philippines.
Good News Pilipinas is a Lasallian Scholarum Awardee. TELL US your good news story tips by messaging GoodNewsPilipinas.com on Facebook, Twitter, Instagram, or e-mail editor@goodnewspilipinas.com and WATCH Good News Pilipinas TV YouTube & Good News Pilipinas TikTok for more Filipino Pride stories!
Facebook Comments