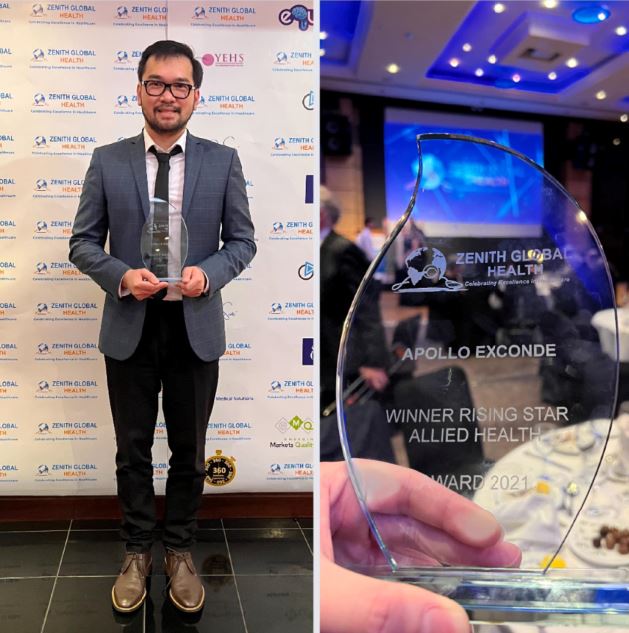 United Kingdom-based Filipino radiographer Apollo Exconde was named the Health Icon Rising Star during the 2021 Zenith Global Health Awards and Summit.
The Lead Magnetic Resonance Imaging (MRI) Radiographer was cited for beating scanxiety of his patients. Exconde had designed a LEGO Open MRI toy bricks set to help first-timer, young, plus-sized, anxious patients prepare for the experience of MRI scanning.
Exconde bested five other finalists in the Rising Star category of the 6th edition of the Zenith Global Health Awards that celebrates the ground breaking and innovative work, commitment, and excellent achievements of healthcare professionals globally even with the outbreak of the COVID-19 pandemic.
The De La Salle Health Sciences Institute (now De La Salle Medical and Health Sciences Institute) Cavite graduate was among the winners awarded in November 2021 in London City for having innovated, impressed and made a real difference to how the health professionals provide care for patients.
https://twitter.com/healthiconaward/status/1470637142711980035
Apollo Exconde's Lift Me Up idea for an elevator to be fitted with contactless vital monitoring to detect the user's condition and send out an alert for medical assistance and inform the family in the event of a panic attack has been given the most votes in the KONE DX Experiments competition.
Good News Pilipinas is celebrating its 15th Anniversary in 2021 by giving away prizes! Subscribe to this website and  Good News Pilipinas! TV YouTube channel and enter the raffle by telling us what you like about our stories in an email to editor@goodnewspilipinas.com
Facebook Comments