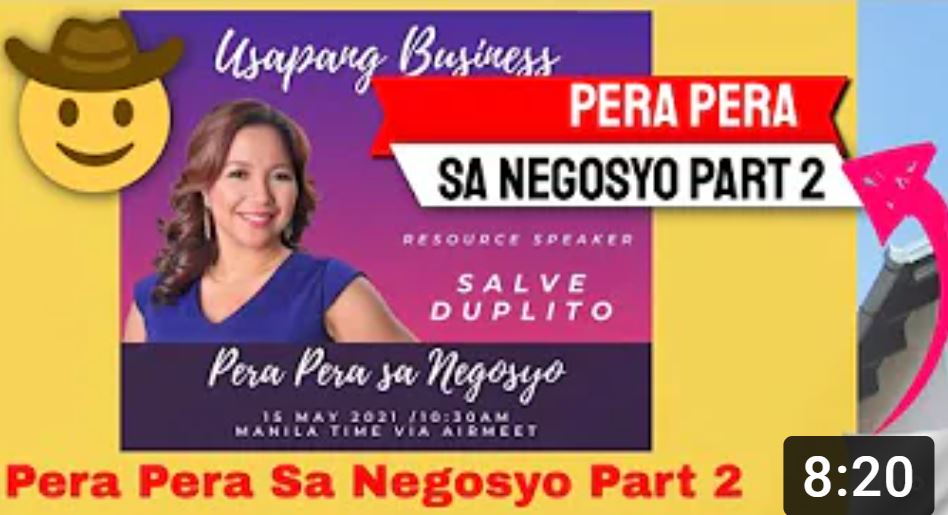 In this Pera Pera Sa Negosyo Part 2 episode well-known Financial Planner Salve Duplito gave advice to Overseas Filipinos and even those residing in the Philippines to be careful in investing. She suggests doing business among families must be thoroughly studied to avoid any friction among members.
Together with my co-host Kernan Motoomull of TECHSUPPORT PH we bring to our viewers concise and informative this weekly Usapang Business.
"Usapang Business" goes live weekly for 30 minutes on Airmeet in a gathering entrepreneurs to learn and discuss business as Trademarks, Manpower Development, Strategies, and Growth. Invited speakers are specialists in their fields.
Recordings of the sessions are also available on the site.
CHECK OUT the Usapang Business series Pera Pera sa Negosyo Part 1 and Trademark with Atty Ferdinand Negre of Bengzon Negre Untalan Law Firm.
CHECK OUT the Philippines' top mentor Butz Bartolome as he discusses business matters on "Usapang Business" on Airmeet and SHARE THIS STORY with entrepreneurs and aspiring entrepreneurs who need to be inspired.
Good News Pilipinas is celebrating its 15th Anniversary in 2021 by giving away prizes! Subscribe to our Good News Pilipinas! TV YouTube channel and enter the raffle by sending us an email to editor@goodnewspilipinas.com
Facebook Comments