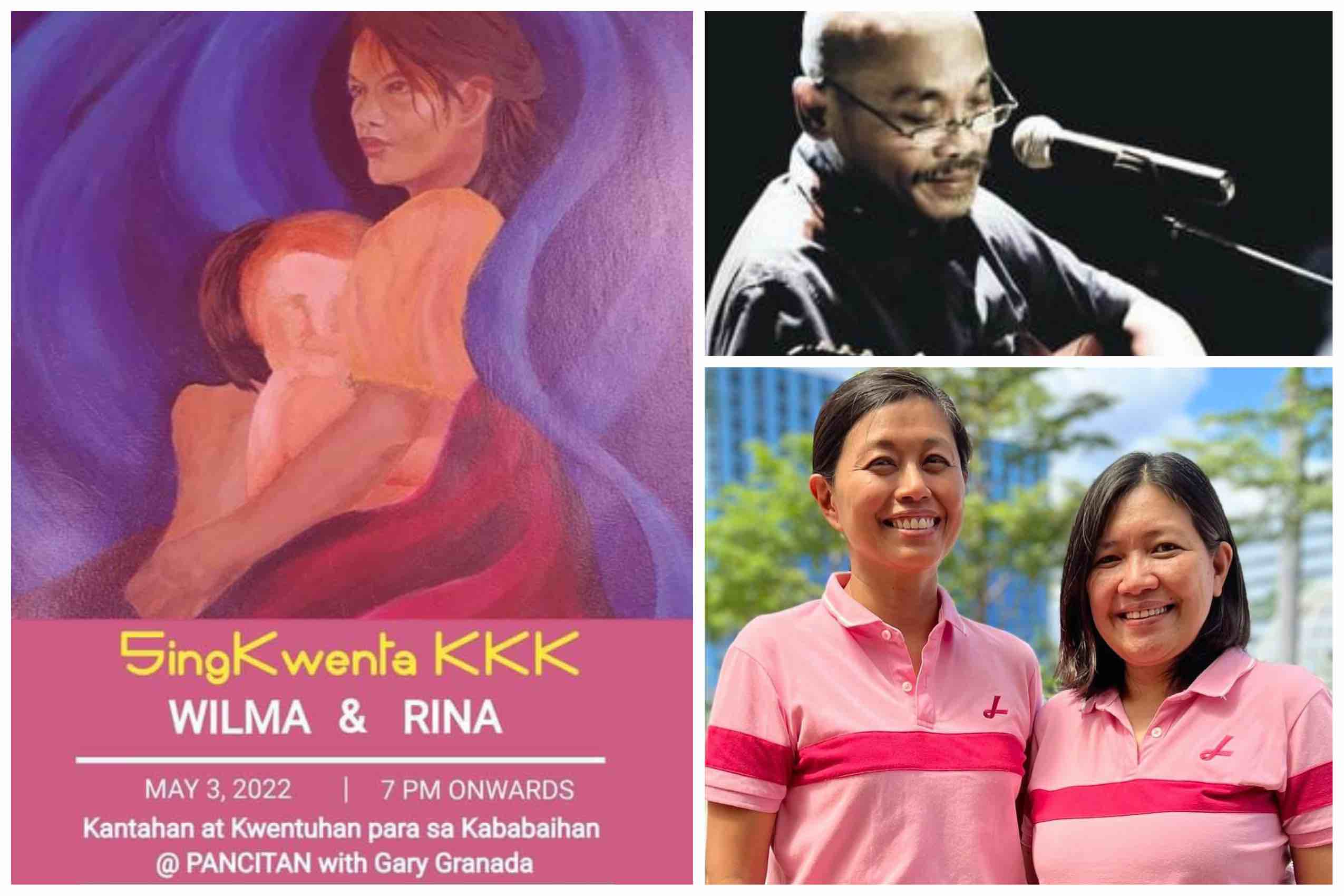 WATCH Filipino music icon Gary Granada perform his new song live online at the Pancitan Studio featuring the "SingKwenta: Kantahan at Kwentuhan Alay sa Kababaihan (Fifty: Songs and Stories Tribute to Women)", a fundraiser for women's rights and human rights youth education work happening this May.
NEW SONG
Granada will be virtually launching his New Works Series, the iconic singer-songwriter's new songs after over two years of the pandemic, in the fundraiser concert at the Pancitan Studio, the Philippines' first and only live onstage-onscreen-online concert venue.
The prolific songwriter of over 300 songs including "Salamat Musika", "Bahay", "Mabuti Pa Sila", the Barangay Ginebra ditties, among many other hits, says the first song of his new works series is titled, "Sa Mga Naiwan" – a title that covers the global experience of two years of the coronavirus pandemic.
Granada pens in his social media sharing about the launch of his new song: "After two years ng pandemic, ano yung isang karanasan na makaka-relate ang lahat? That's easy, may mga pumanaw na malapit sa atin. [Noong first few months hindi pa ganun ka-totoo yung sentence; pero after two years, near universal na yung experience.]
"But that's obvious. Maraming taong yumao, silang mga nilisan ang mundo. That's one way of looking at it. Ano yung hindi obvious? The other version of that story. Which is:
Tayo ay mga naiwan. In fact if you think about it, pandemic or no pandemic, lahat ng tao sa mundo ay mga naiwan."
FUNDRAISER FOR WORTHY CAUSES
The online fundraiser concert scheduled for May 3, 2022, will coincide with the golden birthday fundraiser celebrations of two friends who met at the University of the Philippines Diliman – Rina Reyes-Manuel and Wilma Flor Famoso. Famoso and her friends at the UP Alliance of Concerned Dormitories are among the regular patrons of the Pancitan Studio which has been staging live online concerts since January for various causes.
In the previous Pancitan concert series, Granada's musician friends and fellow Filipino music icons Noel Cabangon, Bayang Barrios with Mike Villegas, Cooky Chua, Chickoy Pura, and Paul Galang performed their most popular and beloved songs in the online concerts in the Philippines' one-of-a-kind live music bar series at the unique concert venue.
Pancitan audiences get to experience live music just like they would in face-to-face gigs under the studio's concert setup which allows the singers to see, chat, and jam with their audience in real-time. The studio live atmosphere also makes it the perfect venue for friends and family to gather virtually and celebrate special occasions and milestones, as well as fundraisers for charities much like what Wilma and Rina are doing with SingKwenta @ Pancitan.
The upcoming concert happening at the Pancitan Studio, "SingKwenta: Kantahan at Kwentuhan Alay sa Kababaihan (Fifty: Songs and Stories Tribute to Women) at Pancitan with Gary Granada for Wilma and Rina" will be held via Zoom on May 3, 2022.
To reserve a front seat to watch the online concert, you need to register and donate to the beneficiaries of SingKwenta KKK @ Pancitan through this link.
All the proceeds from the SingKwenta @ Pancitan fundraiser will be donated to the Coalition Against Trafficking in Women – Asia Pacific (CATW-AP) and the Shareware Community's Human Rights Education University Outreach Program.
The benefit concert will fund the efforts of CATW-AP, a regional network of feminist groups, organizations, and individuals fighting the sexual exploitation of women globally. CATW-AP, led by Wilma and Rina's Sigma Alpha Nu sorority sister, Jean Enriquez, as they respond to sexual exploitation through campaigns, policy advocacy, education, research, and empowerment of survivors.
The fundraiser also benefits the Shareware Community's Rights Education University Outreach Project, led by Gary Granada, which teaches children the importance of knowing their rights through learner-friendly presentations of the Universal Declaration of Human Rights. The group believes that children need to know their rights while still young for them to become responsible adults in the future.
REGISTER AT THIS LINK & SHARE THIS STORY to encourage others to join the SingKwenta @ Pancitan celebration for Wilma and Rina, an online benefit concert by Gary Granada for women's rights and human rights youth education work happening this May 3rd!
Good News Pilipinas is a Lasallian Scholarum Awardee. TELL US your good news story tips by messaging GoodNewsPilipinas.com on Facebook, Twitter, Instagram, or e-mail editor@goodnewspilipinas.com and WATCH Good News Pilipinas TV YouTube & Good News Pilipinas TikTok for more Filipino Pride stories!
Facebook Comments