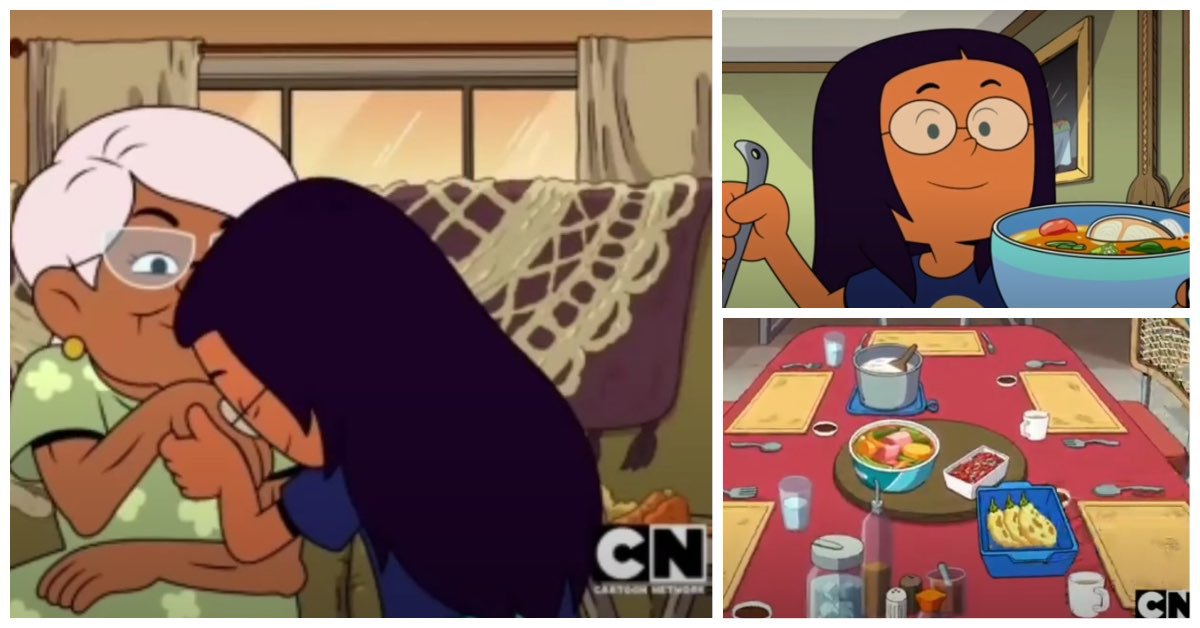 Filipino traditions and culture, as well as the Visayan language of the Philippines, have been featured in a new episode of the Cartoon Network show Craig of the Creek.
A viral scene in the cartoon series shows a Lola (Filipino grandmother) who is introduced by her granddaughter Eileen to the series' main protagonist Craig in the episode titled "Sink or Swim Team."
In the episode, Eileen explains that her Lola can only speak the Filipino language Bisaya and even shows her friend the traditional way of paying respect to Filipino elders, also known as "Pagmamano".
Lola can also be heard speaking Bisaya while watching television and again when she tells Eileen that her friend is handsome. Later in the episode, she, the rest of the family, and Craig sit down for dinner where they eat Filipino food.
The Filipino food and delicacies served for dinner include scrumptious dishes such as tortang talong (eggplant omelet) and sinigang na isda (fish stew).
The episode recently went viral on social media, and many Pinoy netizens were thrilled to see Filipinos represented in a cartoon series abroad.
OMG IM SO HAPPY TO SEE BISAYA LANGUAGE ON CRAIG OF THE CREEK. It has always been Tagalog if there are Filipino representations on International shows or movies. ☺️☺️ niceeeee wan Lowluhhhhh HAHAAHA "uuuuy kagwapoo imo ni boypren✨"

— Doc Anji (@lamishabaehana) January 19, 2022
https://twitter.com/jeezreeze12/status/1483143613890666504?s=20
The talented Filipino artists behind the episode also shared the amount of detail that went into incorporating Pinoy culture into the series.
https://twitter.com/oni_hat/status/1483913129973075974?s=20
https://twitter.com/leileiart/status/1484671184536944641?s=20
The Cartoon Network show, Craig of the Creek, first aired in 2018 and is now on its fourth season.
The show earlier revealed that Eileen, also known as the Sewer Queen in the series, is Filipino. A previous episode shows her making Pandesal bread with gummy fish and peanut butter with the label "Lola's."
Filipinos have been recently getting more representation on the big screen, too. A scene in the much-awaited Marvel Cinematic Universe film "Spider-Man: No Way Home" featured the Lola of Spiderman's best buddy and sidekick Ned, played by Filipino-American actor Jacob Batalon.
The long-running American children's show "Blue's Clues & You" is currently hosted by Filipino-American host Josh Dela Cruz and recently guest-starred fellow Fil-Am H.E.R. in a special episode.
SEND CHEERS in the comments below to the Cartoon Network Craig of the Creek for featuring Filipino traditions and culture, as well as the Visayan language of the Philippines, and WATCH the viral clip of Lola speaking Bisaya here!
https://twitter.com/cartoonnetwork/status/1483828578278166535
TELL US your good news story tips by messaging GoodNewsPilipinas.com on Facebook, Twitter, Instagram, or e-mail editor@goodnewspilipinas.com and WATCH Good News Pilipinas TV YouTube for more Filipino Pride stories!
Facebook Comments