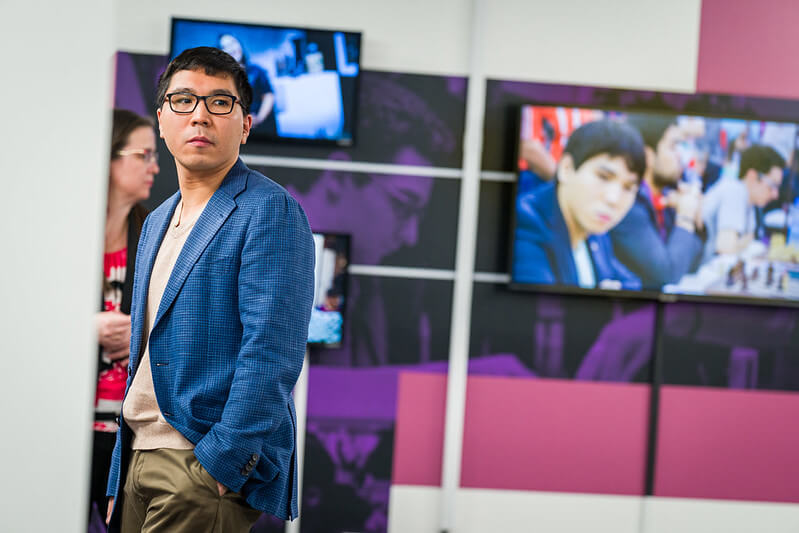 Wesley So is getting another shot at the 2023 American Cup overall title, this time as a finalist in the Elimination Bracket, after battling hard and eventually moving out of the Champion's Bracket of the double-round knockout chess tournament between the 8 best overall players living in the United States.
The Filipino American Grandmaster recorded zero losses and went all the way to the Champion's Bracket Final on March 21 and 22 in a battle with top-seeded Japan-born American GM Hikaru Nakamura to determine which player goes to the American Cup Grand Finale of the tourney being held at the Saint Louis Chess Club in Missouri.
Three-time US Chess Champion Wesley So and 5-time US Chess Champion Nakamura drew the 2 classical games of their match which sent them to the 2 time-pressured rapid tiebreaker games that again ended in a tie with each player taking a win.
The deadlock was finally broken with two blitz games ending in favor of Nakamura who now takes the first seat in the American Cup Grand Finals, while So is relegated to the Elimination Bracket Final against Armenian GM Levon Aronian who booked his ticket to the final in the bracket where defeated players get another chance to play for the title.
Wesley So battled tourney top seed Hikaru Nakamura thru 2 drawn classical games & 2 split rapid games winning with black before bowing out of #TheAmericanCup champion's bracket after 2 blitz games. Vies for overall title next @GoodNewsPinas_ https://t.co/F0y6NCDE3c

— Angie Quadra-Balibay (@AngieQBalibay) March 23, 2023
The American Cup series runs until March 26 at the World Chess Hall of Fame in the US chess capital.
Wesley So is a three-time US Chess Champion, a two-time Grand Chess Tour Champion, the inaugural World Fischer Random Chess Champion, and the current Chess Global Champion who started his career in the Philippines. He is playing to win his second title this year after his victory at the World Chess Armageddon Championship Series: Americas leg held in Berlin, Germany, and earning a spot in the tournament's Grand Finale.
Wesley So is the current leader of the FIDE Circuit, the newest qualification path to the 2024 Candidates Tournament which decides the challenger for the World Championship match.
WATCH Wesley So play in the American Cup live here every day at 1:30 pm CDT (2:30 AM Philippine Standard Time) and SEND WELL WISHES in the comments below as Wesley So fights in the Elimination Bracket for another shot at the American Cup 2023!
Good News Pilipinas is a Lasallian Scholarum Awardee. TELL US your good news story tips by messaging GoodNewsPilipinas.com on Facebook, Twitter, Instagram, or e-mail editor@goodnewspilipinas.com and WATCH Good News Pilipinas TV YouTube & Good News Pilipinas TikTok for more Filipino Pride stories!
Facebook Comments