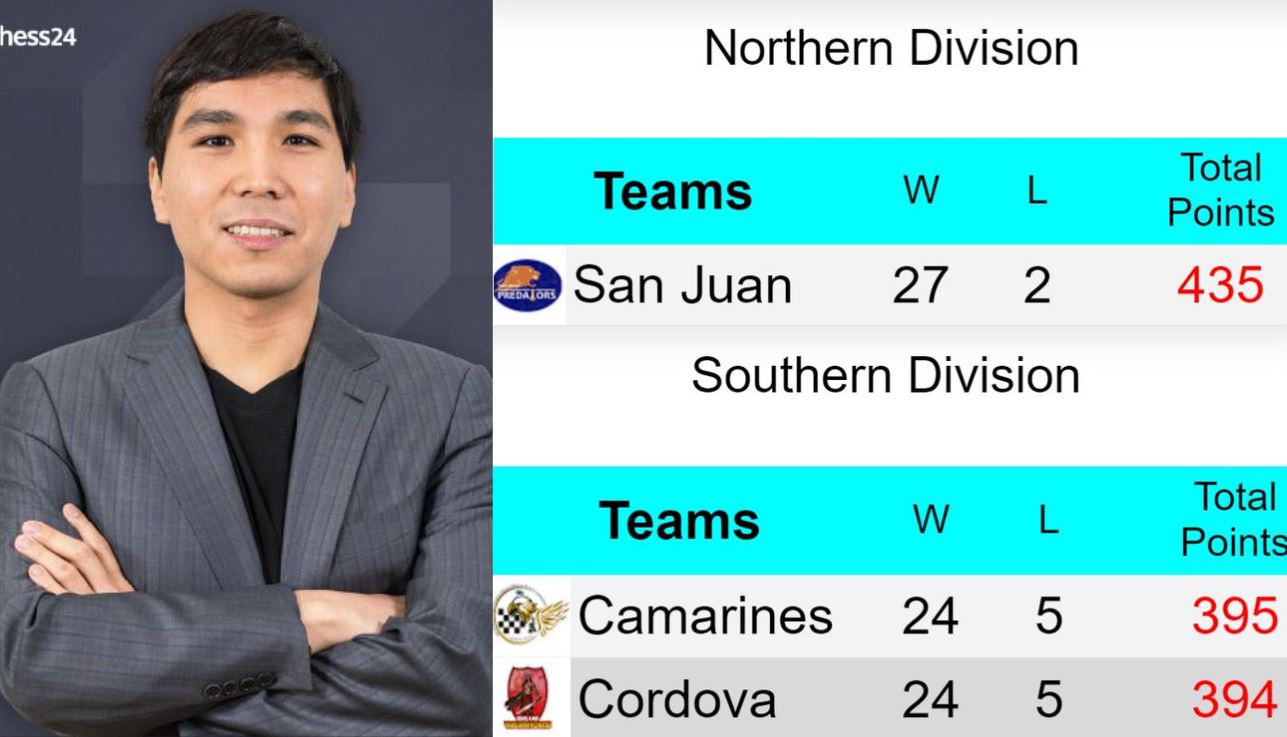 The Wesley So Cup teams from San Juan, Camarines, and Cordova are keeping their lead as the Philippines' professional tournament goes into its final weeks of competition.
The Wesley So Cup, named in honor of the Filipino American Chess Champion and hosted by the Professional Chess Association of the Philippines (PCAP), kicked off last May 15, 2021, and is now going into its last four weeks.
The San Juan Predators, Camarines Soaring Eagles, and the Cordova Dutchess Dagami Warriors took the early lead of the PCAP Reinforced Conference in May and were able to sustain their leadership positions going into July.
San Juan leads the Northern Division with a 27-2 win-loss card and a total of 435 points while Camarines and Cordova of the Southern Division share the same 24-5 win-loss card with Camarines ahead by one point with a 395 scorecard.
Twenty-four Filipino teams are playing with reinforcements or one foreign import per team to win the tournament cash prizes donated by super grandmaster Wesley So:
PHP 150k for Champion
PHP 75k for runner up
PHP 40k for 2nd Runner-up
PHP 20k for 3rd Runner-up
PHP 10K each for Best Player of the Conference, Best Import, and Finals MVP
The PCAP Reinforced Conference goes live Wednesdays and Saturdays until July 31 on the PCAP streaming page.
SEND CHEERS in the comments below as you WATCH the Wesley So Cup teams San Juan, Camarines, Cordova keep their lead going into the final weeks of the tournament!
Good News Pilipinas is celebrating its 15th Anniversary in 2021 by giving away prizes! Subscribe to our Good News Pilipinas! TV YouTube channel and enter the raffle by sending us an email to editor@goodnewspilipinas.com
Facebook Comments