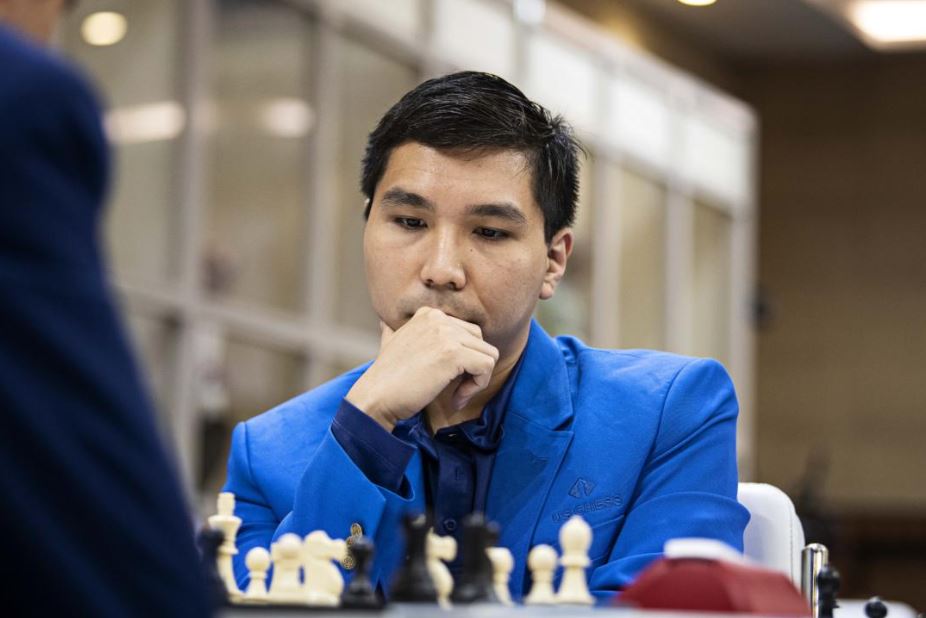 Filipino American Grandmaster Wesley So's win in Round 4 saved the top-seeded United States team from losing to 14th seed Uzbekistan at the ongoing 44th FIDE Chess Olympiad 2022 in Chennai, India.
The reigning and three-time US Chess Champion's decisive victory against Uzbekistan's 16-year-old prodigy GM Javokhir Sindarov on August 1 gave the American team a 2-2 scorecard with So's 1 win and a draw each from Levon Aronian and Sam Shankland after the major upset loss of Fabiano Caruana to Nodirbek Abdusattorov, the reigning and youngest ever World Rapid Champion. Dominguez Perez Leinier did not play the round.
The Philippine-born Wesley So now has a scorecard of 2 wins and 1 draw in as many matches after a Round 1 win against Angola's Miguel Sergio, a Round 2 draw with Paraguay's Delgado Ramirez Neuris, and the Round 4 victory.
So and the American Men's Team of top world grandmasters, currently ranked 11th with 7 match points, are top favorites to win the biggest FIDE tournament of the year with 188 teams from 186 countries registered, including the Philippines.
Team Philippines
Team Philippines' Men's Team captained by the first Asian and Filipino grandmaster, Eugenio Torre, is currently ranked 31st with 6 match points.
1 GM Paragua, Mark (1 win, 1 draw, 1 loss)
2 GM Barcenilla, Rogelio (1 win, 1 draw, 1 loss)
3 GM Gomez, John Paul (3 wins, 2 draws, 0 loss)
4 GM Laylo, Darwin (3 wins, 0 draw, 0 loss)
5 IM Bersamina, Paulo (2 wins, 1 draw, 1 loss)
The Philippine Women's Team captained by Jayson Gonzales is currently ranked 39th with 6 match points:
1 WGM Frayna, Janelle Mae (2 wins, 1 draw, 0 loss)
2 WIM Fronda, Jan Jodilyn (2 wins, 2 draws, 0 loss)
3 WFM Mendoza, Shania Mae (2 wins, 0 draw, 1 loss)
4 WIM San Diego, Marie Antoinette (2 wins, 0 draw, 1 loss)
5 WIM Mordido, Kylen Joy (1 win, 2 draws, 0 loss)
The Filipinos are aiming to improve the team performance from the 2018 edition of the FIDE Olympiad with the men finishing in 37th rank and the women at 67th.
Team Philippines is playing Round 5 against The Netherlands.
Wesley So will next play against Smirin Ilia in the USA vs. Israel match-up scheduled on August 2.
The 44th FIDE Chess Olympiad 2022 in Chennai, India is an 11-round tournament that opened on July 28 and is scheduled to end on August 14th. The tournament can be viewed live on the FIDE YouTube channel.
Wesley So is currently defending his championship title against the world's top 9 grandmasters playing at the ongoing Grand Chess Tour.
The Wesley So Cup of the Philippines run by the world's first professional chess association with the support of the Filipino American Grandmaster is also currently being played online.
SEND CHEERS in the comments below to Wesley So and Team Philippines as they play to win in the FIDE Chess Olympiad!
Good News Pilipinas is a Lasallian Scholarum Awardee. TELL US your good news story tips by messaging GoodNewsPilipinas.com on Facebook, Twitter, Instagram, or e-mail editor@goodnewspilipinas.com and WATCH Good News Pilipinas TV YouTube & Good News Pilipinas TikTok for more Filipino Pride stories!
Facebook Comments