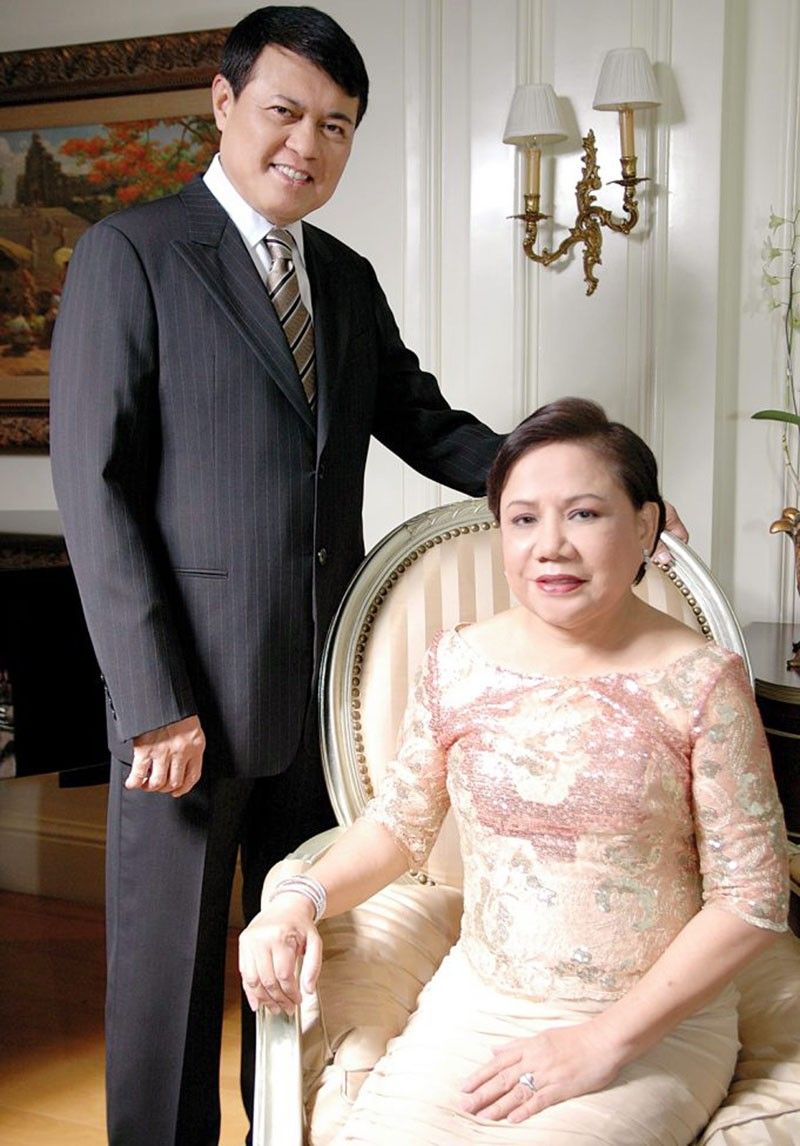 Congratulations to the wealthiest Filipino billionaires of 2019, according to estimates by Forbes magazine. The list is led by self-made real estate tycoon and former presidential candidate Manuel "Manny" Villar Jr., whose life exemplifies hard work, good leadership and resourcefulness. Another interesting list of the world's richest billionaires is by Bloomberg News.
What can we learn from the success of the billionaires, especially lessons not normally found in business textbooks or college classrooms? Here are a few that I've gleaned from past conversations with them.
Marrying a supportive & good spouse
One of Manny Villar's not-so-secret reasons for his success was his wise choice of supportive, workaholic and smart wife Senator Cynthia A. Villar. She's the co-founder of their business empire and has helped him raise good, unspoiled kids. She is now entirely devoted to public service in politics and philanthropy to promote pro-poor, pro-farmer reforms like the Rice Tariffication Law, which seeks to modernize Philippine farming and end rice smuggling and hoarding.
The recent death of former richest Filipino billionaire Henry Sy. Sr. of SM Group, BDO and China Bank had split his fortune to his children. Apart from hard work, simple lifestyle, strategic thinking and other virtues, the late Henry Sy became a success also due to his wise choice of a good and dependable wife who shared his values in the person of the religious Felicidad Tan Sy.
No. 2 wealthiest Filipino is the unique riches-to-rags-to-riches business genius John L. Gokongwei Jr. of JG Summit Holdings, URC and Cebu Pacific Air. He had also told me before that one important factor for a person's over-all success — whether as entrepreneur or professional — is choosing a spouse with good, similar values, like his wife Elizabeth Yu Gokongwei.
Gokongwei's heir Lance Y. Gokongwei recently won The Outstanding Xavier School Alumni Award (TOXSA) on Feb. 20, and I was one of the judges who were very impressed with his track record in business leadership. He also emulated his dad in marrying a good, supportive wife who shares his values in the person of Mary Joyce "Jay" Leong Gokongwei.
Global competitiveness & Philanthropy
No. 3 wealthiest Filipino billionaire, according to Forbes, is ports operator and Solaire casino resort boss Enrique "Ricky" Razon Jr. He is an entrepreneur who exemplifies the ideal of global competitiveness, of investing abroad to compete head-on with international companies.
In my reckoning, what the American magazine claims as the No. 4 wealthiest Filipino billionaire Lucio C. Tan is still a strong contender to be No. 1 in the Philippines and even Asean due to his extremely low-key nature. He has publicly listed only some of his numerous companies, but Philippine Airlines (PAL), Philippine National Bank (PNB), LT Group, Inc. and Asia Brewery, Inc. chairman Lucio Tan has many other diverse, extensive international investments.
Most impressive in the "rags-to-riches" entrepreneurial saga of Lucio C. Tan is being perhaps the Philippines' most generous philanthropist, with his many huge but low-key charitable, educational and cultural donations. This is the main reason on March 15, the young Filipino Chinese entrepreneurs of Anvil Business Club is honoring him with its inaugural "Anvil Leadership Award for Business Excellence" (ALAB) during its induction of new officers and 28th anniversary celebration.
Building excellent, world-class brands
Self-made entrepreneur Tony Tan Caktiong and family have built up Jollibee as a good Filipino brand that is now expanding overseas, while self-made billionaire Ramon S. Ang has added so much value and revitalized the global brand San Miguel beyond its beer dominance and becoming the Philippines' trillion-peso diversified conglomerate.
Alliance Global Group founder Andrew L. Tan has built Megaworld, Empire East and Emperador into world-class Filipino brands, and he has also dared to invest and compete overseas.
San Miguel chairman Eduardo "Danding" Cojuangco Jr.'s one big success strategy was his extremely wise choice of people to trust to manage his businesses in the person of his brilliant, honest and hardworking protégé Ramon S. Ang or RSA. The symbiotic and close partnership between these two billionaires is similar to that of a close father-and-son relationship.
Insurance tycoon Robert G. Coyiuto Jr. is an example of a second-generation heir who built the family enterprise to become larger than what the founder had left behind. He built Prudential Guarantee as a respected brand. His dad died young, after reportedly having been eased out of leadership of Pioneer Insurance by siblings of the late Robert Coyiuto Sr. due to business disagreements, and that crisis steeled the determination and business prowess of Robert Jr.
Century Pacific Foods founder Ricardo S. Po Sr. is a talented, self-made immigrant entrepreneur who owns very popular brands Century Tuna and Shakey's. He started by working first for a local Chinese-language newspaper and going into the advertising business.
Education as key to success
Almost similar to the riches-to-rags-to-riches family saga of John Gokongwei Jr. is the success story of Binondo, Manila's illustrious Ongpin business family, which became prominent due to the 19th century hardware merchant Roman Tanbensiang Ongpin. This Ongpin patriarch was one of the many ethnic Chinese traders who financed the Philippine Revolution against the Spanish and American colonizers.
There were so many Chinese traders like Ongpin who donated money and resources to the anti-colonial revolution, so I believe that was one of the reasons the first-generation Chinese immigrant Jose Ignacio Paua was the only foreign-born person to have been promoted to full general in the Philippine revolutionary republic.
In the youth of Alphaland Corp. chairman Roberto "Bobby" Ongpin, his family was then no longer rich but still very educated, thus this successful former Marcos era trade and industry Cabinet official became the Philippines' only Ateneo and Harvard-educated self-made billionaire.
Self-made feeds, flour mill and sugar mill billionaire Dr. Alfonso Uy — founder of Philippine Foremost Milling and honorary president of FFCCCII — said in his talk at the Anvil Business Club's on March 7, "The age-old Confucian teaching is for people from all walks of life to seek success through nonstop education and self-improvement."
Read Wilson Lee Flores' writing on Asian entrepreneurs here
https://investment.fwd.com.ph/experts/asia-s-business-leaders-and-what-we-can-learn-from-them
Wilson Lee Flores' writings appear with permission on GoodNewsPilipinas.com Mondays.
(Wilson Lee Flores is a multiple award-winning writer, journalist, Kamuning Bakery artisanal breads savior, and Pandesal Forum moderator. This column was previously posted in his column on the Philippine Star. His "KuwentongPanadero" inspiring stories are found on Pilipino STAR Ngayon. Follow @wilsonleeflores on Instagram, Twitter, and Facebook.)
Facebook Comments