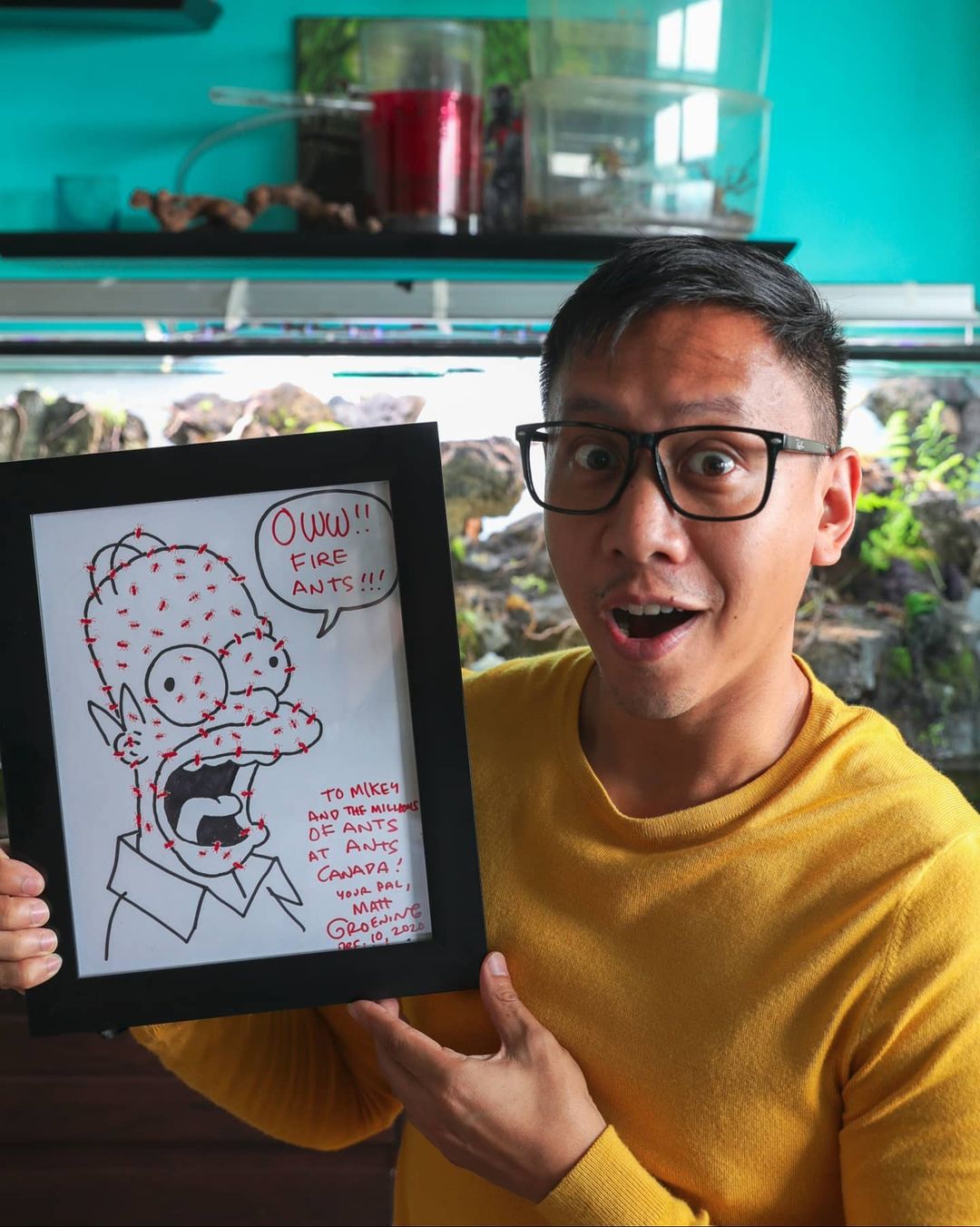 Filipino-Canadian YouTube sensation Mikey Bustos has been gifted with a Homer Simpson artwork tribute to his Ants Canada channel.
Bustos received the personalized artwork from American cartoonist Matt Groening, the creator of the hit American TV cartoon series, The Simpsons.
Groening and his son Nate are both fans of Bustos' YouTube channel about the ant kingdom.
The YouTube celebrity gushed over the original hand-drawn art piece featuring Homer Simpson created by Matt Groening himself, in an Instagram post on February 16, 2021.
"Pardon me while I fanboy to the highest level 💯! "THE" Matt Groening, American cartoonist & creator of @TheSimpsons, just sent me this personalized drawing of Homer covered in fire ants. I'm screaming! 😆 For me, the legendary Matt Groening is a modern day Picasso!" Mikey wrote.
Mikey earlier revealed to fans that he and Groening's seven-year-old son, Nate, regularly have Zoom meetings to discuss their mutual passion for ants and nature. According to him, the fire ants in the artwork were Nate's idea.
"Last year, the Groenings reached out to me to request a chat with their son about ants as he was an avid fan of our AntsCanada channel. I was completely blown away by their son's ant knowledge, passion for ant keeping, and pet ant colonies housed in our @antscanada ant farms," Mikey said.
AntsCanada is one of Mikey Bustos' YouTube channels that showcases Bustos' dedication to ant farming, a hobby that was turned into an enterprise of innovations in ant keeping products since 2009.
His YouTube channel, AntsCanada, received two nominations in the 10th edition of the YouTube Streamys which recognizes up-and-coming stars with millions of followers to global icons.
Mikey Bustos is best known for featuring Filipino culture in his vlogs on the YouTube Gold Play Button-awarded Pinoy Boy Channel Mikey Bustos, Mikey Bustos Vlogs, and Mikey Bustos Music.
SEND CHEERS in the comments below to Filipino-Canadian YouTube sensation Mikey Bustos for his AntsCanada YouTube channel and WATCH Mikey unbox the package sent by The Simpsons creator, Matt Groening, himself here!
Are you a Proud Filipino? Get more good news stories on Filipino Pride! Subscribe to GoodNewsPilipinas.com and our YouTube channel: Good News Pilipinas! TV
Facebook Comments