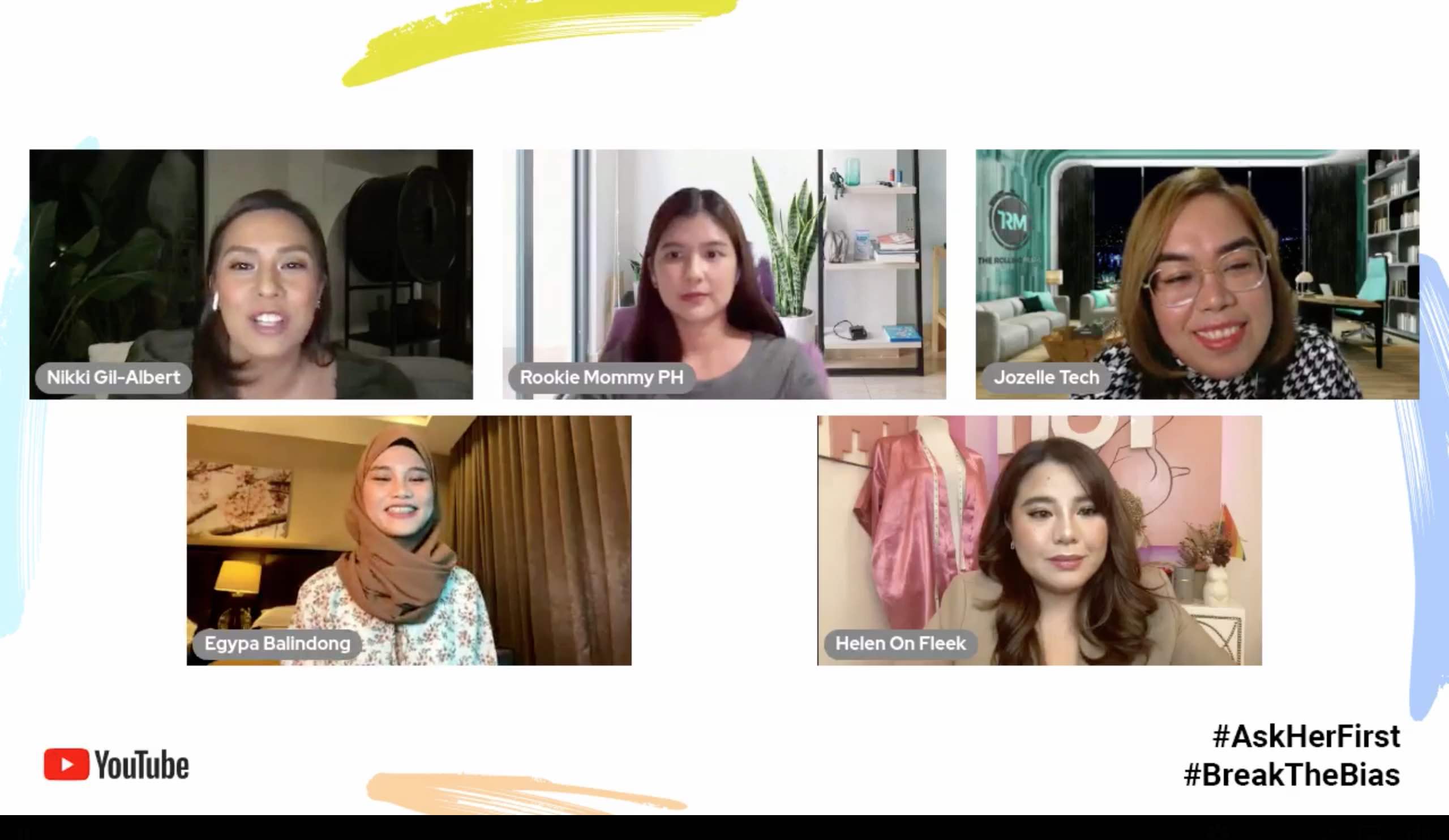 Meet four inspiring Filipino women YouTube content creators who have shared their stories to help break gender biases and are encouraging others to #AskHerFirst in a campaign that caps off this year's celebration of International Women's Month in March.
Filipina internet content creators who come from diverse backgrounds gathered together to talk about their shared experiences as women breaking down barriers in their respective fields in an online event entitled "Breaking the Bias Online and Beyond" which was livestreamed on Google's YouTube and Facebook pages on March 30, 2022.
These Filipino content creators and social media personalities are:
Maranao-Muslim digital creator and filmmaker Egypa Balindong
beauty vlogger and body positivity champion Helen On Fleek
entrepreneur, mentor, and PWD advocate Jozelle Tech
work-from-home businesswoman and mom-fluencer Rookie Mommy PH
These women are all using their platforms to support other women and empower them in the workplace, online, and beyond.
Artist and television host Nikki Gil-Albert emceed the virtual forum held as a culminating activity of the month-long celebration of women empowerment with the local theme #AskHerFirst, which emphasizes the value of asking women instead of leaning into stereotypes and preconceived notions.
Explaining the wisdom behind the campaign's theme #AskHerFirst, Google Philippines Country Director Bernadette Nacario shared: "We believe that in order for us #BreakTheBias, one of the steps we have to take is to #AskHerFirst. Through this, we emphasize the value of asking women first–as a sign of respect and acknowledgment and to stop assumptions and preconceived notions. The simple habit of asking, rather than assuming, can lead more women to realizing their full potential and succeeding in what they choose to do."
In the virtual gathering, host Nikki Gil-Albert asked the content creators about the different struggles that they face as Filipino women because of gender-based biases. The discussion centered on breaking down these biases, and how others can move toward positive change in a society free of discrimination and stereotypes based on gender.
Host Gil-Albert also encouraged audiences to join in the conversation and ask questions by using the hashtags #BreakTheBias and #AskHerFirst in the comments section of the online event.
What is your #BreakTheBias and #AskHerFirst story?
Helen Payawal of Helen On Fleek
Helen Payawal of Helen On Fleek shared about her experiences as a plus-size woman and a body positivity influencer as well as overcoming her own personal struggles as she started her vlogging journey and her own clothing line.
Payawal began making videos to help other women love and embrace their bodies, regardless of shape or size. Her advice for fellow plus-size women? Don't let others' criticism of your appearance affect your happiness or self-confidence because at the end of the day, "it's your happiness that matters," Payawal shared.
Jozelle Tech
Payawal's advice resonated with Jozelle Tech, the Persons with Disabilities (PWD) advocate, entrepreneur, and vlogger who runs the brand creative consultancy, The Rolling Media.
Speaking from the perspective of a differently-abled woman, Jozelle Tech addressed the misconceptions that some might have about people with disabilities.
"People mistakenly equate disability with all the negative assumptions and misconceptions in the world, like misery, vulnerability, inability, loneliness. You know, the stereotypes of being a broken person. But the truth is,
we are not broken, we are just living life in a very different way, just like you and everyone else," Jozelle Tech explains.
Jozelle Tech encouraged others to reserve judgements and to ask first before offering assistance, and to always speak directly to a person with a disability, not to their companion.
Egypa Balindong
Maranao-Muslim digital creator and filmmaker Egypa Balindong shared about standing up for herself and her beliefs as a young woman in her community.
Balindong, known for her films and vlogs highlighting the Maranao Muslim community in the Philippines, told audiences about being happily single and not leaning into her culture and her family's traditions of arranged marriage.
Rookie Mommy PH
Arra Solis of Rookie Mommy PH is a work-from-home businesswoman and mom-fluencer who uses her channel and platform to help fellow moms and Filipinos find stable work-from-home jobs and better working opportunities.
Solis discussed her experiences as a first-time mom and dealing with gender biases in her workplace. The Filipina vlogger emphasized the importance of being assertive and vocal at work, and not letting challenges such as gender biases stand in the way of fulfilling one's dreams.
MEET other inspiring Filipino women like Anne Barretto of Hey Pretty Aesthetics and these 9 Filipina startup leaders in celebration of International Women's Month.
SEND CHEERS in the comments below to these four inspiring Filipino women YouTube content creators who have shared their stories to help break gender biases and encourage others to #AskHerFirst and WATCH the full livestream of the online event here!
Good News Pilipinas is a Lasallian Scholarum Awardee. TELL US your good news story tips by messaging GoodNewsPilipinas.com on Facebook, Twitter, Instagram, or e-mail editor@goodnewspilipinas.com and WATCH Good News Pilipinas TV YouTube & Good News Pilipinas TikTok for more Filipino Pride stories!
Facebook Comments