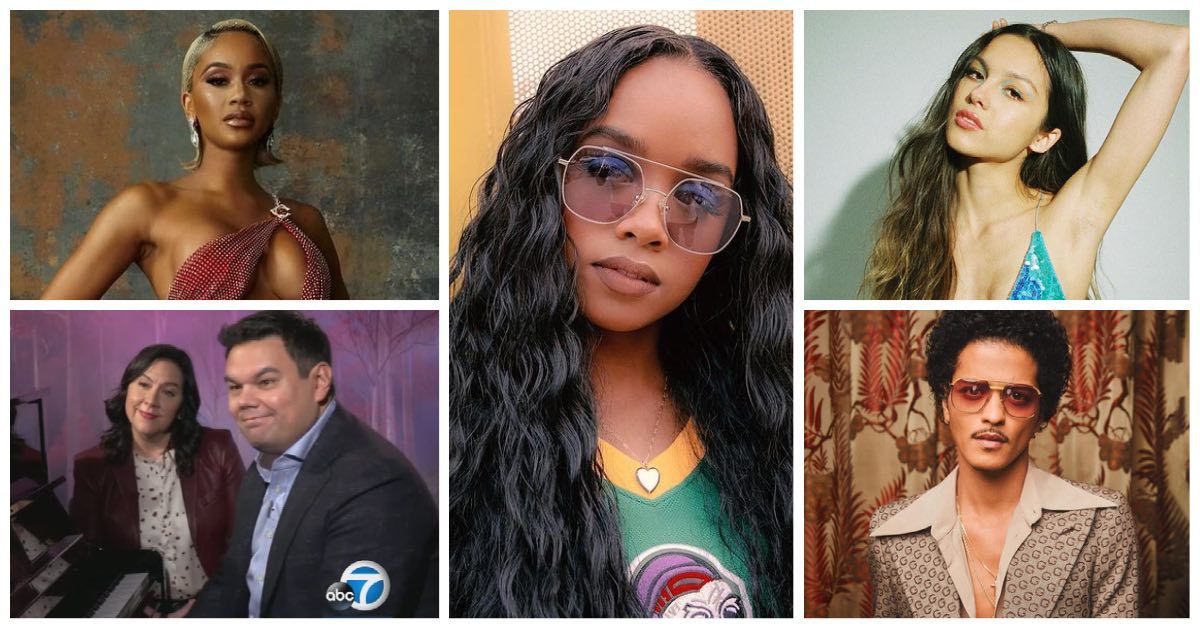 Five proudly Filipino-American artists have bagged a total of 22 top nominations in the 64th Grammy Awards set to take place in January 2022.
These musicians who have publicly embraced their Filipino heritage were among the nominees announced by America's Recording Academy on November 23, 2021.
8 for H.E.R.
Singer-songwriter Gabriella "Gabi" Wilson, better known professionally as H.E.R. (Having Everything Revealed), leads fellow Fil-Am artists with eight nominations in the 2022 Grammys.
H.E.R. bagged several nods, namely Album of the Year, Best R&B Album, Song of the Year, Best R&B Song, Best Song Written for Visual Media, Best Contemporary Christian Music Performance/Song, Best R&B Performance, and Best Traditional R&B Performance.
"8 NOMS??????????? 🙏🏽 ONLY GOD. Thank you to all the people that helped create these records!!!!! WOOOOOO 23 nominations at 24." H.E.R. told followers on her official Instagram account.
H.E.R. earlier paid tribute to her Filipino roots and gave a shoutout to her Pinoy fans following her 63rd Grammys double wins.
A four-time Grammy winner, H.E.R. won her first two golden gramophones at the 61st Grammy Awards in 2019.
7 for Olivia Rodrigo
Teenage pop sensation Olivia Rodrigo has made Grammy history by securing seven nominations, becoming the second-youngest artist to earn nods in each of the Big Four categories.
The 18-year-old singer landed nominations for her debut album "Sour" and hit single "Driver's License" for Album of the Year, Record of the Year, Song of the Year, and Best New Artist.
Rodrigo, who was born to an American mother and a Filipino-American father, also earned nods for Best Pop Vocals Album, Best Pop Solo Performance, and Best Music Video.
"Woke up this morning to 7 Grammy nominations. When I was younger, my family lived a few blocks from the Staples Center, where the Grammys took place every year. I would always walk outside the arena and look at the plaques on the ground with all the winners' names in wide-eyed wonder," Olivia Rodrigo shared on her Instagram account.
Rodrigo has also bagged major awards in her MTV Video Music Awards (VMAs) debut and this year's American Music Awards (AMAs) with fellow Filipino American artist Bruno Mars.
4 for Bruno Mars
Multiple Grammy award-winner Bruno Mars together with American singer Anderson .Paak of the R&B superduo Silk Sonic bagged four Grammy nods for the single, "Leave The Door Open'".
The duo earned nominations for the song, including Record Of The Year, Song Of The Year, Best R&B Song, and Best R&B Performance.
"Thank you @recordingacademy I'm so proud to be a part of this song. Congrats to all the nominees putting out great music at a time I feel like the world needed it the most." Filipino-Puerto Rican American artist Bruno Mars shared on social media.
2 for Saweetie
Filipino-American rapper Saweetie is marking her Grammy Awards debut with double nominations for Best New Artist and Best Rap Song for her hit song "Best Friend" featuring Doja Cat.
Saweetie, whose real name is Diamonté Quiava Valentin Harper, was born to a Filipino-Chinese mother and an African-American father. She grew up in the Bay Area in California, U.S.A.
"2X GRAMMY NOMINATED IKDR !!!!! I'm speechless I wish I had the words to express how I feel but I'm just so grateful!" Saweetie wrote in an Instagram post.
The 28-year-old singer has paid homage to her Black and Filipino roots during the 75th Met Gala in New York and hosted the MTV Europe Music Awards (EMAs) in Budapest, Hungary.
1 for Robert Lopez and wife Kristen Anderson-Lopez
Filipino-American composer Robert "Bobby" Lopez, best known for co-writing songs featured in the Disney animated films "Frozen" and "Coco" with wife Kristen Anderson-Lopez, earned a Grammy nomination for the song "Agatha All Along" in the Best Song Written For Visual Media category.
The "Frozen II" soundtrack featured seven songs composed by the songwriting couple.
Robert Lopez and H.E.R. were among the five Filipino-American music artists who also scored nominations in last year's 63rd Grammy Awards.
SEND CONGRATULATIONS in the comments below to the Filipino-American artists who have bagged top nominations in the 64th Grammy Awards set to take place in January 2022!
Good News Pilipinas is celebrating its 15th Anniversary in 2021 by giving away prizes! Subscribe to this website and  Good News Pilipinas! TV YouTube channel and enter the raffle by telling us what you like about our stories in an email to editor@goodnewspilipinas.com
Facebook Comments