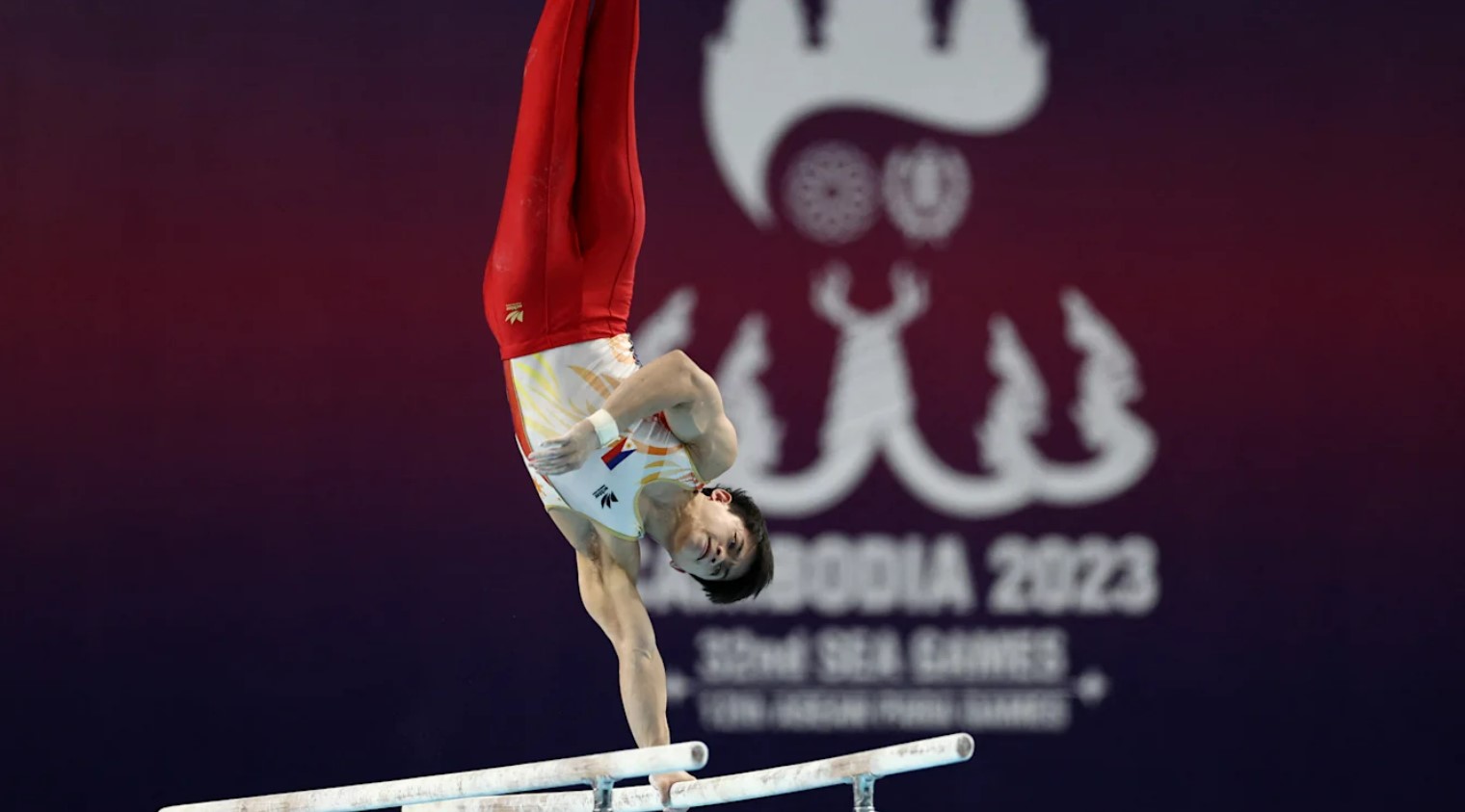 Carlos Yulo, the Filipino gymnastics world champion, has left an indelible mark at the 32nd Southeast Asian Games (SEA Games) in Cambodia, claiming two gold and two silver medals in an awe-inspiring display of athletic prowess.
The young gymnast's outstanding performance has not only garnered international attention but also cemented his status as the region's gymnastics star.
Kicking Off the Medal Campaign
Carlos Yulo commenced his medal campaign on May 8, 2023, by clinching gold in the men's individual all-around event – his third successive championship in the Games, outperforming Vietnam's Le Thanh Tung (80.450) and Dinh Phuong Thanh (78.150), who secured the silver and bronze medals, respectively. Yulo's score of 84.000 was far ahead of his competitors, highlighting his exceptional talent and setting the stage for an impressive showing at the SEA Games, putting the spotlight on the Filipino gymnast's incredible talent.
The world champion in vault, parallel bars, and in floor exercise – banked on the same apparatuses to rise above his competition.
Yulo achieved an impressive score of 15.000 in the vault, an apparatus where he reigned supreme at the 2021 World Championships, and secured 14.950 in the parallel bars, the event which earned him a World Cup championship title.
Carlos Yulo's gold medal-winning performance was a sight to behold, as he wowed the crowd with his exceptional tumbling and vaulting skills, captivating both the judges and the audience at the National Olympic Stadium with his exceptional floor exercise routine, earning 14.350 points in the event that gave him the distinction of being the first Filipino and Southeast Asian to win a World Gymnastics gold.
Yulo also spearheaded the Filipino men's team to achieve a silver medal, replicating their performance from the previous year by amassing a total of 305.25 points, just behind Vietnam's gold-medal-winning 313 points.
World Champion gymnast Carlos Yulo of the Philippines kicked off his medal campaign at the 2023 SEA Games with the Men's Individual All-Around Gold! @c_edrielzxs #SEAGames2023 #Filipino https://t.co/ksenWfTwb5

— GoodNewsPilipinas.com (@GoodNewsPinas_) May 9, 2023
Overcoming Pre-Competition Nerves
Despite his experience on the world stage, 6-time world champion Yulo admitted to feeling nervous before the first apparatus. He explained that competing in the team event added a unique element of excitement and intensity to his performance.
"It's really different when I do it by myself – in the individual all-around – and the team competition is really making me hyped, and the atmosphere as well. I really loved it," the Filipino champion gymnast was quoted saying in an Olympics feature.
However, Yulo's nerves were soon replaced by confidence and determination as he showcased his incredible abilities on the floor, vault, and parallel bars. In addition to his individual gold, he also led the team to a silver finish.
Sealing the Double Gold
On Tuesday, May 9, 2023, Yulo secured his second gold medal by dominating the men's parallel bars finals with a remarkable score of 14.850. He outperformed Vietnam's Phuong Thanh Dinh, who placed second with a score of 14.00, and Malaysia's Ng Chun Chen, who finished third with 13.100.
Congratulations Carlos Yulo! Double gold! https://t.co/qdPAaf6i7U

— GoodNewsPilipinas.com (@GoodNewsPinas_) May 9, 2023
Adding to the Medal Tally
In addition to his double individual gold triumph, Yulo won a silver medal in the still rings event with a score of 14.000, just behind gold medalist Van Khanh of Vietnam who scored 14.200, further showcasing his versatility and mastery across various gymnastics disciplines.
The Filipino athlete with the most medals from the Hanoi SEA Games last year, boasting five golds, contributed 2 gold and 2 silver medals to the Philippines' campaign this year. The 23-year-old Olympian has been restricted by SEA Games organizers to the 4-medal limit per athlete.
The Secret to Yulo's Success
Yulo's extraordinary performance at the Cambodia SEA Games can be attributed to his unwavering dedication, hard work, and passion for the sport. Training under the guidance of his coaches and drawing inspiration from his experiences on the world stage, Yulo has honed his skills and developed a winning mindset that has propelled him to the forefront of the gymnastics world.
Carlos Yulo's dazzling double gold and double silver medal wins have set the stage for an exciting SEA Games campaign for the Philippines. As he continues to compete and inspire fans worldwide, Yulo's exceptional talent and dedication are a testament to the hard work and passion behind every world-class athlete.
Here's how to follow the Team Philippines' schedule and live games at the Cambodia SEA Games:
Here's the 32nd SEA Games schedule and how to watch live games to support Team Philippines https://t.co/3VfaFCeSuS

— GoodNewsPilipinas.com (@GoodNewsPinas_) May 8, 2023
SEND CONGRATULATIONS in the comments below to Carlos Yulo for his double gold and double silver feats at the 2023 SEA Games!
Good News Pilipinas is a Lasallian Scholarum Awardee. TELL US your good news story tips by messaging GoodNewsPilipinas.com on Facebook, Twitter, Instagram, or e-mail editor@goodnewspilipinas.com and WATCH Good News Pilipinas TV YouTube & Good News Pilipinas TikTok for more Filipino Pride stories!
Facebook Comments