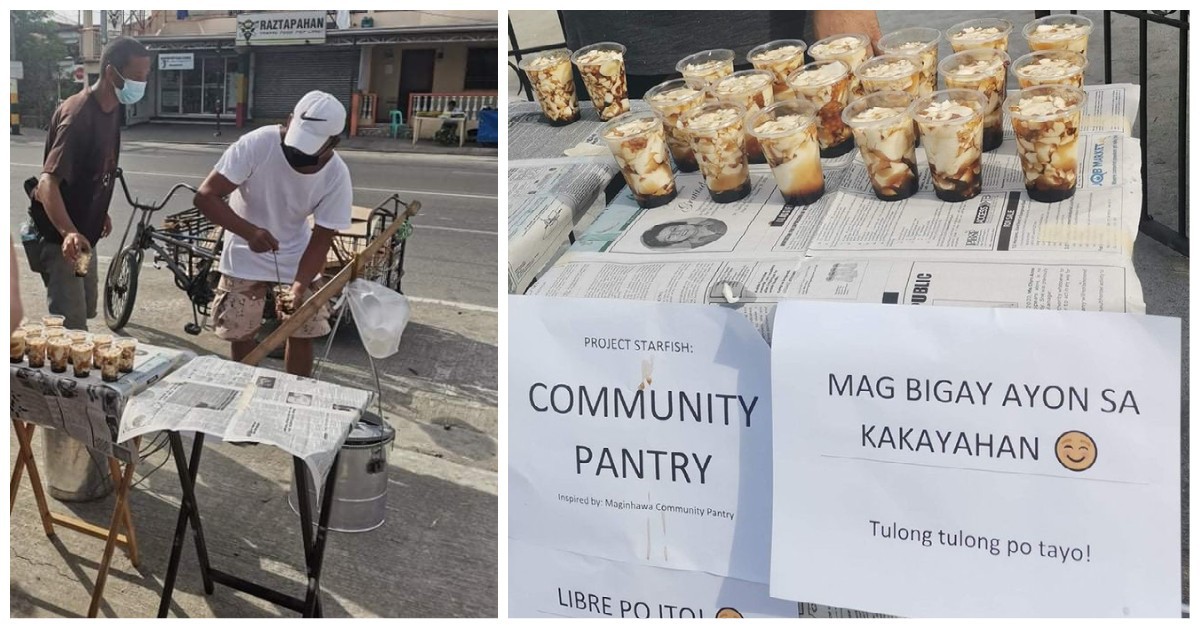 A community pantry in Cavite that offers free groceries and breakfast to passersby has inspired a long-time taho vendor to chip in a donation to feed the hungry in the area.
The charity organization Project Starfish shared in a Facebook post on April 21, 2021, about its new initiative modeled after the original Maginhawa Community Pantry concept.
"Libreng taho para sa lahat! We set up a little table and few cups of taho for anyone who haven't had breakfast yet and hungry," Project Starfish wrote in a Facebook post.
Project Starfish had initially planned to give out food packs to those in need in Manila to celebrate organization founder Beth's birthday but decided to set up a community pantry in the neighborhood instead.
The volunteers of the non-profit organization bought the soy-based drink from a taho vendor identified as Tatay Nelson to offer for free to residents of Barangay Panamitan in Kawit, Cavite.
According to Project Starfish, the community pantry was a big hit in the neighborhood and Tatay Nelson himself wanted to donate additional taho to help the needy.
"Few more people chipped in to add more cups on the table, even the taho vendor himself! Naubos na po lahat!" Project Starfish adds.
The organizers of the food pantry said they were grateful for Tatay Nelson's kindness but the organization insisted to pay for all the additional cups of taho.
The original Facebook post by Project Starfish has been shared hundreds of times on social media and has drawn positive comments from netizens who were inspired by the charitable initiative of the organization and the taho vendor.
Project Starfish adds that they had never expected it to go viral but are thankful for the attention and help extended by netizens to Tatay Nelson.
"We never thought that this will go viral. Our only purpose is to share what we have," Project Starfish said in an interview with GoodNewsPilipinas.com.
"It is best to include Tatay Nelson's kind gesture of offering few more cups of taho for free. We are so happy for him and he deserves all the blessings he is receiving now," Project Starfish added.
The group said they were able to set up a community pantry in Kawit, Cavite last week with the help of donations as well as a second pantry in San Pedro, Laguna.
Project Starfish is a small charity initiative started by a group of friends to help fellow Filipinos in these trying times. The organization's name drew inspiration from the Starfish story by Loren Eiseley which is about making big differences in the lives of others through random acts of kindness.
Community pantries have been springing up in various neighborhoods across the Philippines after Ana Patricia Non, a small business owner and former University of the Philippines student leader, opened the "Maginhawa Community Pantry."
The Filipino community pantry movement which resulted in numerous local initiatives of neighbors helping each other with food supplies during the coronavirus pandemic quarantine has gone beyond the country's borders and is now present in Timor Leste.
CHECK OUT the Community Paw-ntry for cats and dogs and the Community Plant-ry to help teach people to eat the plants they themselves grow.
SEND CHEERS in the comments below to kind individuals like long-time taho vendor "Tatay Nelson" and the organizers of Project Starfish who continue to inspire Filipinos to join the community pantry movement by offering acts of kindness.
Good News Pilipinas is celebrating its 15th Anniversary in 2021 by giving away prizes! Subscribe to our Good News Pilipinas! TV YouTube channel and enter the raffle by sending us an email to editor@goodnewspilipinas.com
Facebook Comments