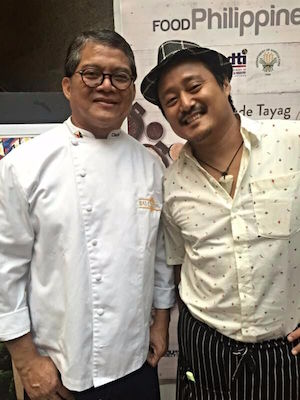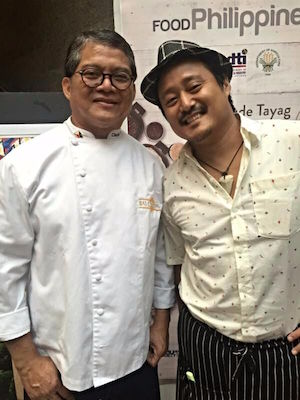 Filipino chef Claude Tayag won the People's Choice Award at the 8th annual Events DC Embassy Chef Challenge held in Washington, D.C.
Chef Tayag's presentation of the flavors from the Philippines received the majority votes over 17 other chefs chosen by their respective embassies to create a dish representing their national national cuisine.
The internationally-renowned chef served "bringhe"at theEmbassy Chef Challenge – described by the US-Philippines Society media release as made from "three heirloom Cordillera rice varieties, taba ng talangka, dried mango, inasal na bangus, and glazed pili nuts. The heirloom rice mix consisted of Eight Wonder Mountain violet sticky rice, Ulikan Red and Tinawon white topped with the national fish bangus (milkfish) from Sarangani Bay, and sprinkled with the unique Bicol's pili nuts, Cebu's dried mangoes, Datu Puti patis (fish sauce) and calamansi extract."
Tayag paired the Filipino dish with a special cocktail by mixologist Enzo Lim.
Speaking about the recognition, Chef Tayag said, "The Embassy Chef Challenge is a wonderful opportunity to showcase not just the unique flavors of Philippine cuisine but also the accessibility of our food. It has been said that food culture is a reflection of a nation's soul, and so I intended our offering to be a culinary demonstration of our people's inherent openness and generosity. After all, Filipino cuisine is meant to be shared."
The Pampanga-native, aside from being a chef, is also an acclaimed artist and food writer. His advocacy for the Pampango cuisine has taken him to the Madrid Fusion Manila congress, amd the Memphis May International Festival.
Tayag and wife Mary Ann serves traditional cuisine in their Bale Dutung (Wooden House) restaurant in Pampanga, listed as one of the 101 Best in Asia dining spots and was visited and featured in writer-chef Anthony Bourdain's "No Reservations" TV show.
Chef Tayag's win marks the first time for the Philippine Embassy in Washington D.C. to join the competition.
Facebook Comments