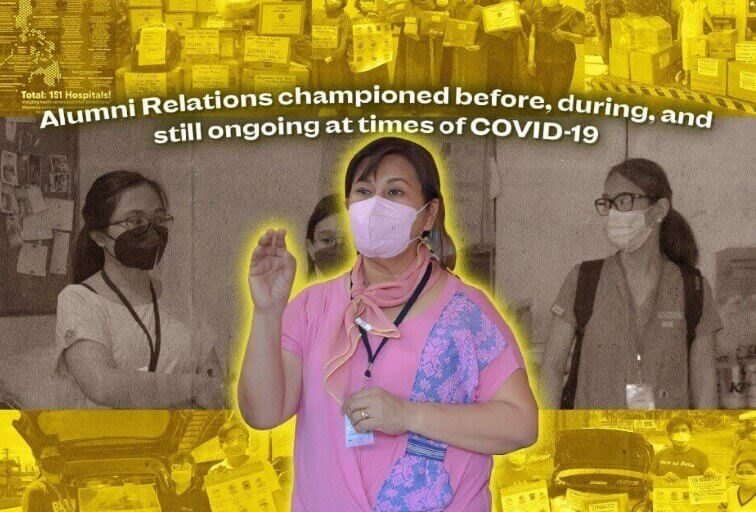 I fondly remember the opening of the year 2020 when Dr. Jocelyn Z. Mariano, a loving mother of four children, told us to ready our baggage for an Alumni Homecoming of Thomasian Doctors in San Francisco. Mom was elected president of the UST Medical Alumni Association and officers were always invited to attend events in the States.
When the world announced a global pandemic was imminent, our dreams of taking pictures with the Golden Gate Bridge came to an indefinite halt. While the world urged us to pause, Dra. Jo already knew of the big platform of Thomasian doctors she was willing to lead. Then it began – from packing luggage to packing PPEs for medical practitioners on the frontlines against the COVID-19 pandemic.
The COVID-19 response
With the news reporting frontliners succumbing to COVID-19 being reported repeatedly, it was a race against time. Dr. Jo immediately contacted her board, volunteers, and alumni relations to spread the word of a call for donations and which hospitals can receive them.
While nearby the Metro and nearby provinces were hit the hardest – USTMAA preemptively sought to help hospitals in far provinces such as Lanao del Sur, Iloilo, and Ilocos Sur. The lattermost she and her family delivered personally due to the limited logistics.
USTMAA was resourceful in working with different institutions and agencies to bring all medical equipment and personal protective gear all over the Philippines. Donations from Thomasians all over the world were convinced by the USTMAA's efforts and shared over 3 million pesos towards supporting healthcare professionals in the country.
"We got support from doctors in Australia and even concerned citizens from different professions not limited to healthcare" shares Dra. Jo.
Dra. Jo juggled a variety of tasks while donning layers of PPE for her work in administering chemotherapy in Pampanga and UST Hospital. She would spend hours either in the delivery room or operating room for women giving birth or in need of a hysterectomy respectively.
Switching to online teaching as an associate professor at the University of Santo Tomas was a new experience for her. Throughout those days, her children's worries were palpable as they anxiously thought about whether their mother would return home safely or if she would become one of the statistics flashed on TV. She let out her usual smile and recalled one of her life mottos: "It's nice to be important, but it's more important to be nice."
She dispelled her children's fears because she was aware that she was their mother. She followed the university's procedures and virtually prepared courses for her students because she was aware that she was a teacher.
She would go above and above to ensure the safety of immunocompromised chemo patients and pregnant women since she understood that she was on the front lines.
She directed the USTMAA board to work for social good because she was aware that she was the USTMAA president. She was aware of the important role she plays at these trying times and it was her duty to be in service of others.
Medical Missions must continue
When the government eased out the quarantine in 2021 and 2022, Dra. Jo knew it was time to mobilize as many medical missions to address the gaps in health equity brought about by the pandemic.
"There were numerous donations still coming from USTMAA to support doctors and students who are keen on volunteering" shared Dr. Mariano, who despite transitioning out of her presidency at USTMAA, kept in touch with alumni relations to fund medical missions.
USTMAA co-organized and was invited to numerous medical missions in Bulacan, Laguna, Cavite, Metro Manila, and more in the past months. Some community members expressed their fears as the fear of seeking healthcare in hospitals and centers would expose them to COVID-19. This means some community members had their last checkup with a Physician prior to the lockdown in 2020. Students, volunteers, and enthusiasts especially from the healthcare field were invited to be part of these medical missions and expressed their joy in being out in the field.
"We are used to the online setup in Nursing school and we do not get to appreciate real-life applications since everything was virtual," shares a student from one of the leading nursing schools in the Philippines.
These missions followed strict protocols such as proving vaccination proof, signing waivers, and volunteering wholeheartedly. Community members were all-out in showing their appreciation by providing assistance in recording patients, cooking food, and even performing dances or songs.
An example of the Bayanihan spirit thriving amidst the uncertainty of times.
Services during the missions include ophthalmology, OB-GYN, pediatrics, clinical audiology, health literacy sessions, family medicine, internal medicine, minor surgery, and circumcision. Over 200 volunteers from different disciplines were mobilized in person throughout the medical missions in the past months.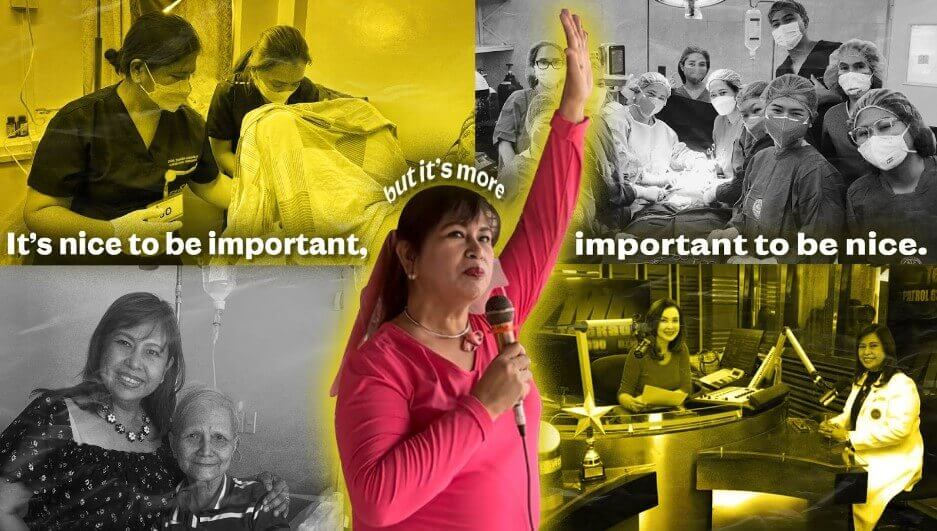 Reflections of an empowered woman
"I was one of the longest-serving USTMAA presidents due to the COVID-19 pandemic" shares Dra. Jo, who could not believe she was able to balance all her responsibilities. She was never alone as she had a loving family, supportive mentors, diligent students, and an equally multitalented secretary by the name of Joanna Eve Abides. "Janna is our angel who's been helping even before the pandemic. She even helped us deliver the relief efforts in Ilocos in 2020."
Up until today, Dra. Jo is keen on maximizing alumni relations to bring out the best in others. "We have a medical mission in Palawan this April and we have the USTMAA supporting the travel expenses of our medical clerks who need the funding" shares Dr. Mariano in empowering the next generation of doctors passionate about community work. Thomasian doctors based in Palawan will also be joining this medical mission in partnership with the municipality of Narra, Palawan.
Being an alumna is forever once you graduate shares Dra. Jo, "You are a family of empowered Thomasian Medical Doctors who love both our patients and country." The UST Faculty of Medicine and Surgery recently celebrated its Sesquicentennial celebration. Dra. Jo was lucky to be part of spotlighting the amazing work alumni have done all over the world, especially with the COVID-19 response. She joined UST administrators alongside then-mayor Isko Moreno on the unveiling of the 150 years marker of UST Med in its previous home, Intramuros.
My work in the United Nations and Good News Pilipinas would challenge me numerous times on who I should feature next. I have featured founders, innovators, changemakers, and the like. While others refer to Dra. Jo as a mentor, an associate professor, a physician, a sister, a wife, and even an inspiration. I am lucky enough to call her my mother. Which for me is an honor to feature on this platform.
READ MORE from Qjiel Mariano here:
Qjiel Mariano is the newest Good News Pilipinas columnist. The York University Global Health student was selected to join the Clinton Global Initiative Class, awarded the George H.W. Bush Inspiration Honors, and named Education Hero by Youth Service America.
Good News Pilipinas is a Lasallian Scholarum Awardee. TELL US your good news story tips by messaging GoodNewsPilipinas.com on Facebook, Twitter, Instagram, or e-mail editor@goodnewspilipinas.com and WATCH Good News Pilipinas TV YouTube & Good News Pilipinas TikTok for more Filipino Pride stories!
Facebook Comments