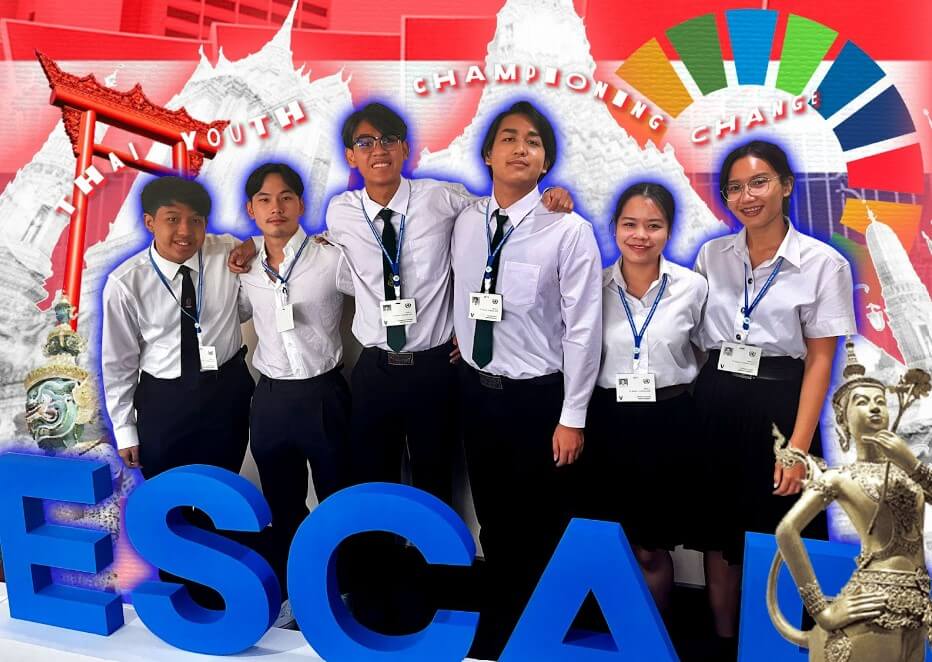 Numerous young people struggle to find what they are passionate about. With many options and advocacies available, youth would often ask themselves "Where do I fit in?" Some youth develop it over time from a personal struggle or perhaps learned the value of protecting the planet and human dignity in school.
Take for example this group of university students in Thailand namely: Wannap Aunjaj (23 | Kasetsart University), Sasivipa Kornjaijit (21 | Mahidol University), Suttisak Klinjun (22 | Kasetsart University), Chanathip Poolsawat (19 | Kasetsart University), Kamollapu Vorapiboonvit (24 | Thammasat University), and Atiroj Apairach (21 | Chulalongkorn University). Bonafide volunteers for the United Nations (UN) in Thailand – we got in touch with them to learn what volunteering for the UN means for them.
Why did these Thai youth volunteer for the United Nations?
Earlier in 2022, York University alongside its partners further galvanized the Toronto Declaration on the Future of Sustainable and Inclusive Internationalisation in Higher Education during a conference. Committed world stakeholders, including students and youth – agreed that there should be more internationalization opportunities in Higher Education Institutions to mold more global citizens in achieving Sustainable Development Goals (SDGs).
Realizing this goal, the students from these four top universities in Bangkok went into volunteer work with the United Nations. "I am currently taking English Education at Kasetsart and I think volunteering will open more opportunities and help me explore more about the world as well," says Wannap who believes that English, one of the official languages of the UN, can help her advocate for more young Thai people to learn English for growth.
Sasivipa, Chanatip, Suttisak, and Kamollapu, on the other hand, all agree that volunteering for the UN is all about exchanging cultures and thoughts that will launch more career opportunities in the future. Kamollapu proudly says, "Doing volunteer work helps me see how professional people are working together. Like the system, the culture, and the behavior. It matches my purpose to help the world become a better place." These Thai volunteers also believe that volunteering will eventually lead to fixed-term employment with the UN to contribute to the world for the longer term.
Atiroj, a Political Science student from Chulalongkorn University, has a unique take on the topic. He believes in applying the theories taught in university to real-life situations of global issues. "I wanted to test my limits and see if what I studied about is real and how I can compare it to the theoretical version," says Atiroj who looks forward to a career serving international organizations in the future. Atiroj is like any other youth out there who lets curiosity bring out the best in their abilities. The challenge is how many other youths become proactive like these Thai volunteers as geographical location and existing inequalities still affect access to opportunities which they will share in our discussion.
Which Sustainable Development Goal Matters the Most to Thai Youth?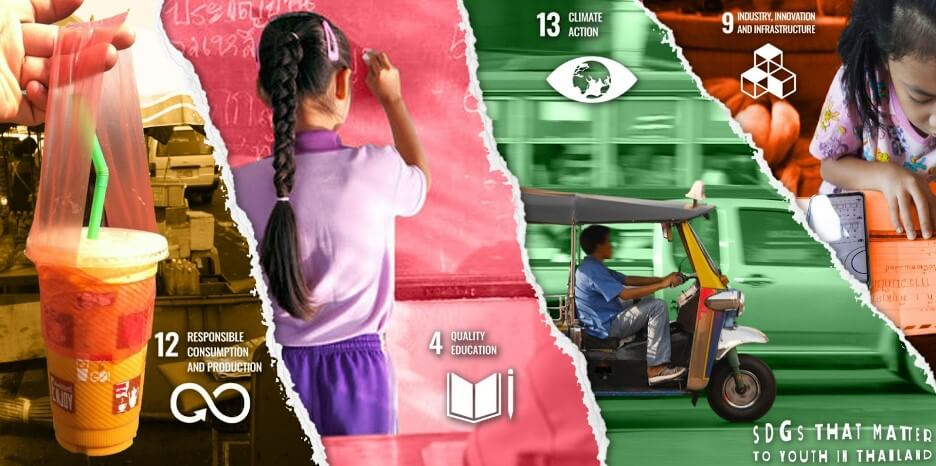 There is growing awareness of the indivisibility of the SDGs that allows young people in Thailand to learn that advocating one goal means accelerating progress on the others as well. Kamollapu, Aitiroj, Chanathip, and Wannap all agree that there is a problem with the quality of education in Thailand as the best opportunities are most likely to be concentrated in the Capital Bangkok. Kamollapu added that there is a problem with literacy in rural areas. "I think to focus on the access to the internet is the most important because most knowledge is on the internet." The Thammasat University student shared potential solutions to address his identified problem.
Chanathip believes the quality of education is not ideal because teacher salaries are not enough to sustain and captivate Thai educators to stay in rural areas. Wannap from Kasetsart University shares that she has a course that studies the Thai curriculum and that integrating environmental education should start in the earlier years of a child, "The environment and education go together, and as the world is pushing for the sustainable development goals – it should be taught at school for young people to have realizations on how important the environment is" Wannap shared passionately reflecting on Indicator 4.7 of SDG 4 which allows a blueprint from educating sustainable development in schools.
On the topic of the environment, Suttisak and Sasivipa reflect on the issues of plastic waste and air pollution respectively. "In Thailand, the people do not realize that there is a lot of garbage and in general they do not realize what our country is becoming" shares Suttisak while the panel reflected on the trash in major tourist areas such as the Chao Phraya river, Khaosan Road, temples, and more.
Sasivipa then added on the numerous PM2.5 present in the air from Thai street vendors and public transport such as trains, tuk-tuk, river boats, cars, and more. "We are scared to breathe because the air is not fresh. I think the authorities involved should be taking action more," the Mahidol University student stated. Sasivipa also stressed that future children might inhale this poor air which presents the need for policy reform. In general, Thai students believe that the government and individuals should be responsible for caring for the environment hand in hand.
What is your message to the young people?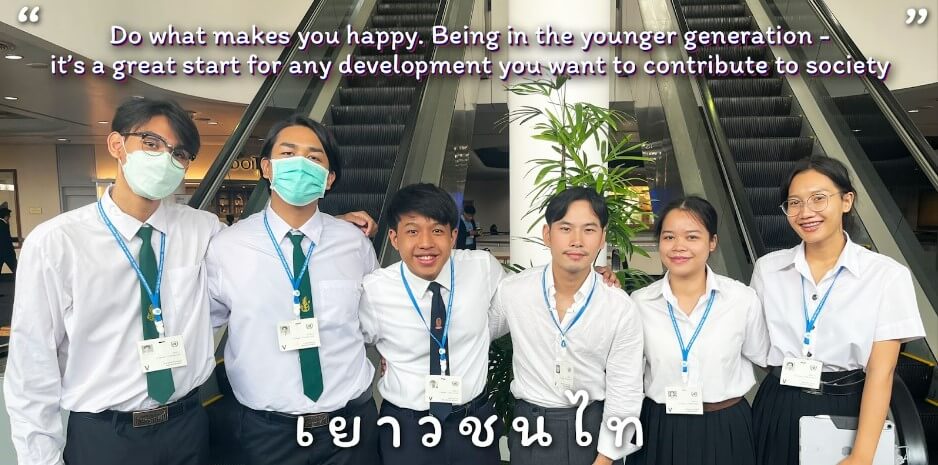 The conversation was light and casual as if these volunteers have been friends for years despite coming from different universities. They collectively emphasized the importance of intergenerational dialogues and why Thai youth should continue to discover themselves to contribute to society. "Do what makes you happy." a simple yet meaningful call to action where our purpose may manifest into good results for future generations. The session ended with the guests thanking the efforts of fellow Thai youth in their local language.
READ MORE from Qjiel Mariano here:
Qjiel Mariano is the newest Good News Pilipinas columnist. The York University Global Health student was selected to join the Clinton Global Initiative Class, awarded the George H.W. Bush Inspiration Honors, and named Education Hero by Youth Service America.
Good News Pilipinas is a Lasallian Scholarum Awardee. TELL US your good news story tips by messaging GoodNewsPilipinas.com on Facebook, Twitter, Instagram, or e-mail editor@goodnewspilipinas.com and WATCH Good News Pilipinas TV YouTube & Good News Pilipinas TikTok for more Filipino Pride stories!
Facebook Comments