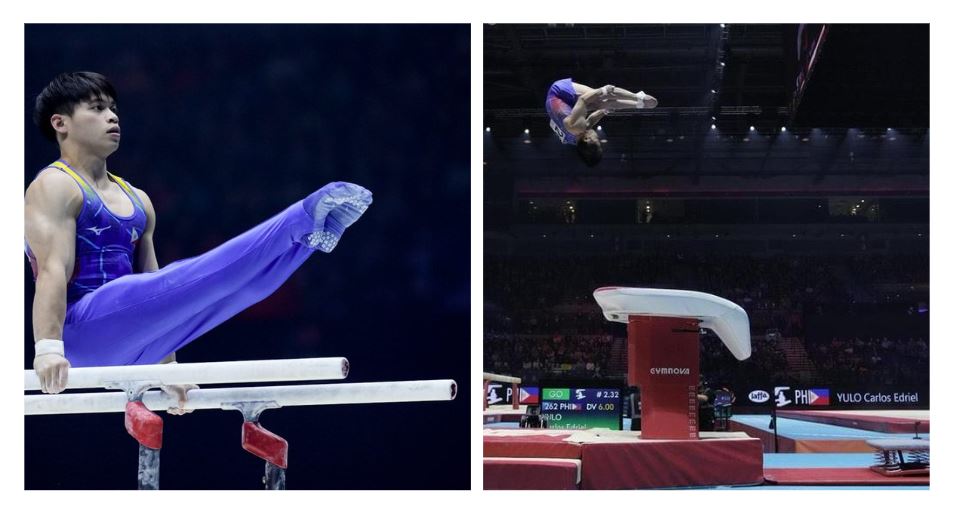 Filipino gymnast Carlos Edriel Yulo has raised the Philippines' flag in Liverpool, England after winning two medals out of the 79 presented at the 51st Fédération Internationale Gymnastique Artistic Gymnastics World Championships (FIG Worlds).
The World Gymnastics Championships 2022 (WGC 2022) athlete headliner won the Silver in Vault Apparatus and the Bronze in Parallel Bars at the conclusion of the 9-day event on Sunday, November 6 (November 7 Philippine Time) at the M&S Bank Arena.
The lone Filipino athlete's double medals placed the Philippines on the Top Nations Medal Tally at No. 9, in joint ranking with Canada.
Carlos Yulo, the lone Filipino gymnast at the @WGC2022 Liverpool has placed the Philippines in top nations medal tally after winning a silver and a bronze @c_edrielzxs FULL STORY on @GoodNewsPinas_ https://t.co/BNrvnYh5wH

— Angie Quadra-Balibay (@AngieQBalibay) November 7, 2022
Yulo now has two new additions to his collection of 4 FIG Worlds medals, including his two historic gold wins as FIG Worlds Champion in Floor Exercise (2019, Germany) and FIG Worlds Champion in Vault (2021, Japan).
Carlos Yulo won his first-ever medal at the 2018 FIG Worlds Qatar, a Bronze in Floor Exercise, and his first Parallel Bars medal, a Silver, also at the 2021 FIG Worlds Japan.
The 22-year-old Filipino athlete was on track for four medal campaigns after his outstanding performances in the Finals Qualifications in All Around, Floor Exercise, Vault, and Parallel Bars.
Men's Vault Final
Carlos Yulo won Silver in vault with a score of 14.950 STORY on @GoodNewsPinas_ https://t.co/JqSCxy6VAo

— Angie Quadra-Balibay (@AngieQBalibay) November 7, 2022
Carlos Yulo was actually on his way to a successful defense of his Men's Vault Worlds title, leading for the most part of the finals competition with a top score average of 14.950 ahead of 5 other finalists.
However, he had to settle for silver after the second to the last finalist, Olympic bronze medallist and 2021 European champion Artur Davtyan of Armenia, notched 15.050 after his final vault – denying the Filipino a gold win. Three-time Olympian Igor Radivilov of Ukraine took the bronze.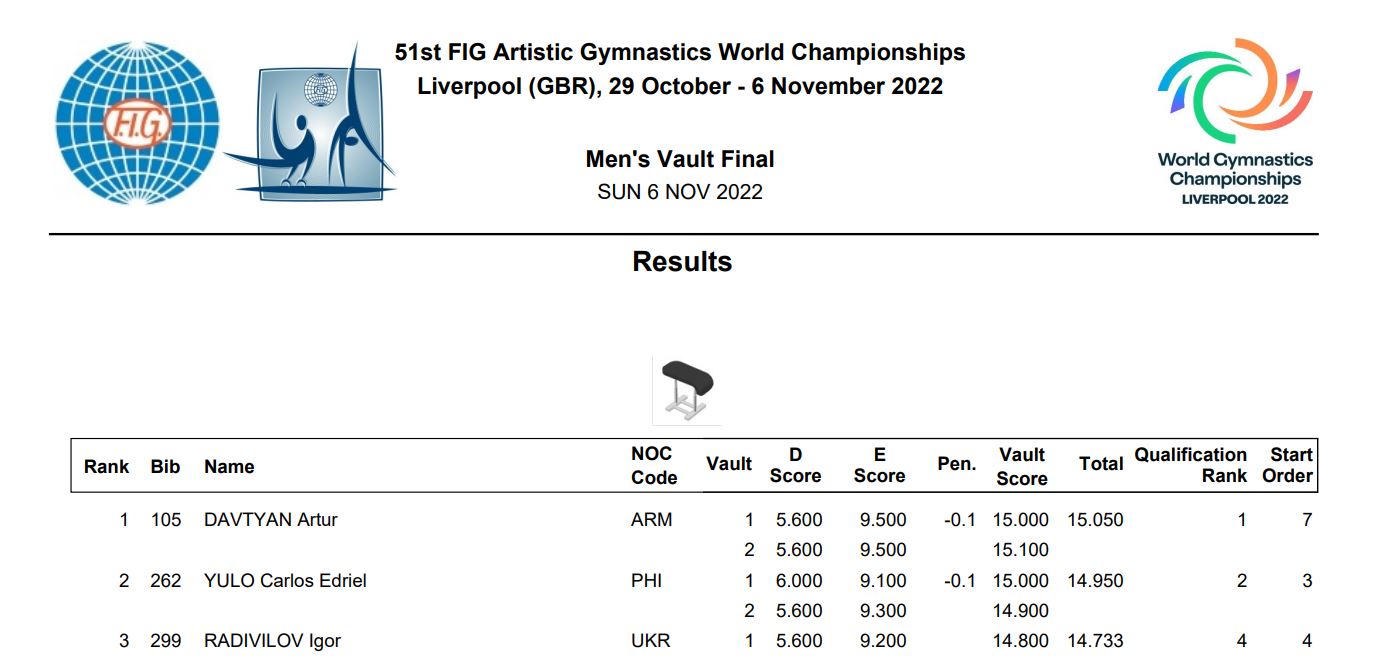 Men's Parallel Bars Final
Carlos Yulo of the Philippines won his second medal at the #WGC2022 after scoring 15.366 in parallel bars FULL STORY on @GoodNewsPinas_ https://t.co/LaxQ7wlUjG

— Angie Quadra-Balibay (@AngieQBalibay) November 7, 2022
Carlos Yulo was also leading the Men's Parallel Bars halfway through the competition among 8 finalists.
Yulo won the bronze after the second half saw the near-flawless routine of three-time World Champion China's Zou Jingyuan nab the gold while Olympics silver medalist Lukas Dauser of Germany claimed second place on the podium.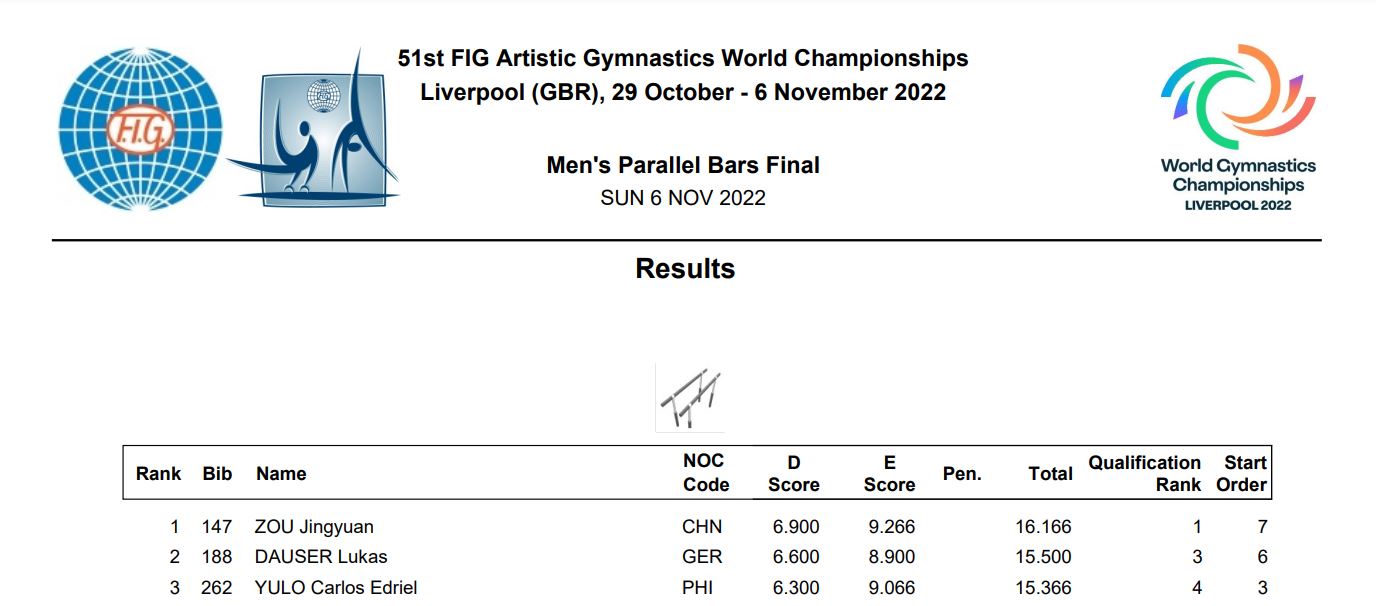 Carlos Yulo's other two medal campaigns ended in heartbreaks. His favorite Floor Exercise event on November 5 ended with the Filipino gymnast in 7th place with a score of 13.300, after a fall on his first pass.
Yulo placed Top 8 in the All-Around Finals on November 4 with a combined score of 82.098 from all six apparatus scores.
Carlos Yulo was one of the most successful athletes among 500 gymnasts from more than 70 countries who competed to qualify for the 2022 World Artistic Gymnastics Championships finals.
Carlos Yulo is based in Japan where he trains with the support of the Gymnastics Association of the Philippines, Japanese coach Munehiro Kugimiya, and physiotherapist Junpei Konotrains.
SEND CONGRATULATIONS in the comments below to Filipino gymnast Carlos Yulo and his team for successfully raising the Philippines' flag in Liverpool after winning two medals at the FIG Worlds 2022!
Good News Pilipinas is a Lasallian Scholarum Awardee. TELL US your good news story tips by messaging GoodNewsPilipinas.com on Facebook, Twitter, Instagram, or e-mail editor@goodnewspilipinas.com and WATCH Good News Pilipinas TV YouTube & Good News Pilipinas TikTok for more Filipino Pride stories!
Facebook Comments