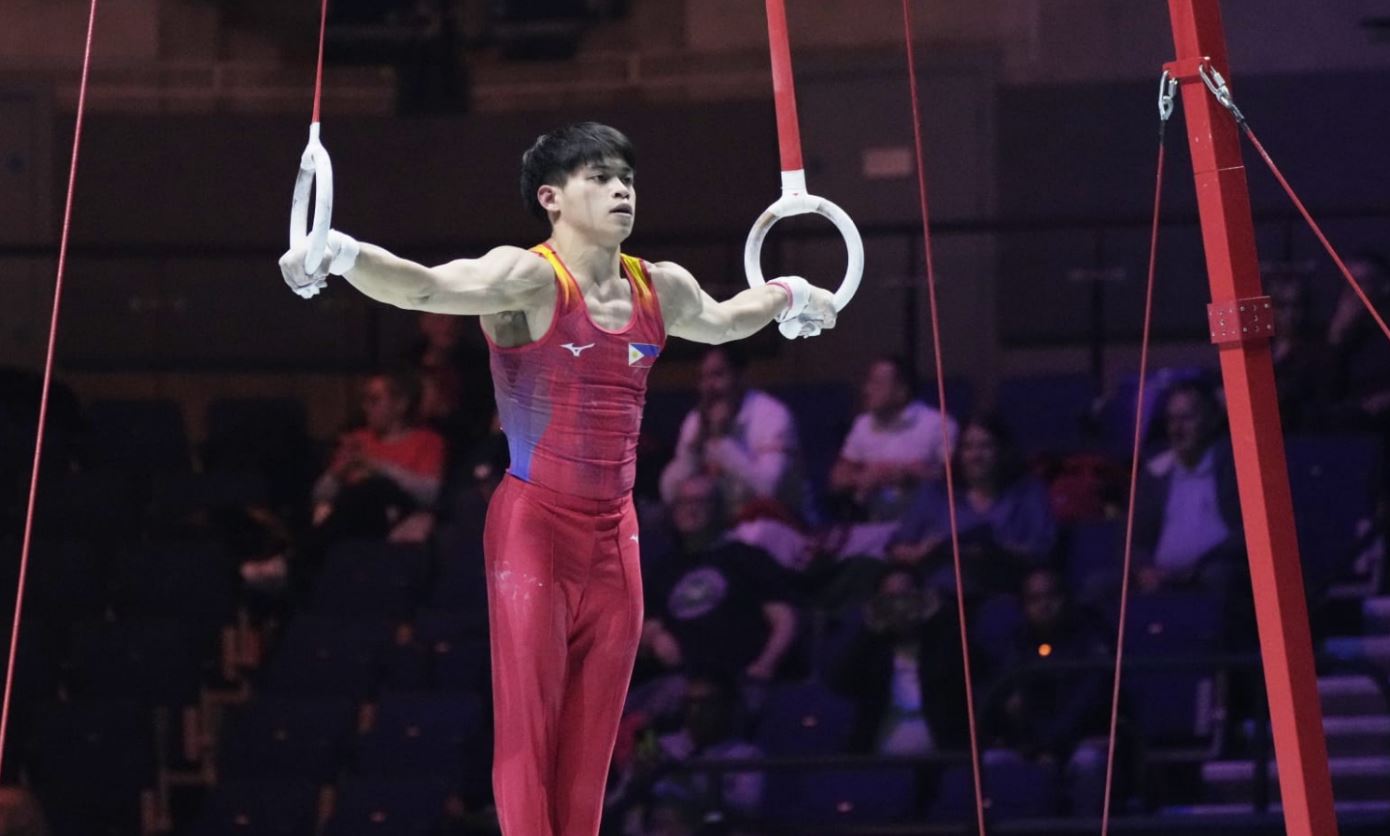 The Philippines' Carlos Edriel Yulo showed his excellent form in the finals qualifiers and is now on track for 4 medal campaigns at the 2022 Fédération Internationale Gymnastique Artistic Gymnastics World Championships (FIG Worlds) in Liverpool.
The two-time FIG Worlds champion finished strong in the Men's Qualifications on October 31 (November 1 in the Philippines), topping the Floor Exercise event where he made his historic win in 2019 after winning bronze in 2018, qualified 2nd top in Vault where he is set to defend his World Championship title won in 2021, qualified 3rd best in the All-Around Final, and qualified 4th rank on Parallel Bars where he won silver, also in 2021.
The 22-year-old athlete delivered outstanding routines one after another with the following scores:
No. 1 qualified among 8, Floor Exercise (15.266)

No. 2 qualified among 8, Vault (14.849)

No. 3 qualified among 24, All Around (84.664)

No. 4 qualified among 8, Parallel Bars (15.300)
The Filipino champion gymnast met expectations as one of the headliners of the 51st FIG Worlds, with WGC 2022 describing his Finals Qualifications as lighting up the sessions that saw over 500 gymnasts from more than 70 countries compete to qualify for the finals.
The Philippines' Carlos Yulo is in the running for 4 World Championships medals after displaying his excellent form and qualifying in the all-around finals at the ongoing @gymnastics @WGC2022 @CEdrielyulo1 @c_edrielzxs FULL STORY on @GoodNewsPinas_ https://t.co/nZewehMIVP

— Angie Quadra-Balibay (@AngieQBalibay) November 2, 2022
"Carlos Yulo lit up the final session of men's qualifying with a storming set of performances that saw him advance to the all-around final as the third-highest qualifier and send a warning signal to the rest of the competition," the WGC 2022 report said.
In the same report, Yulo expressed his excitement at joining the finals.
"I'm going to try to beat what I did today. I'm going to be more aggressive. There are still areas that aren't perfect. Every movement still has a deduction but I'll try my best. My goal is to show my gymnastics to the world."
Carlos Yulo is among over 500 gymnasts from more than 70 countries who are vying for 10 individual apparatus titles, 4 in Women's and 6 in Men's, along with the individual All-Around Finals, and the men's and women's team competitions.
The Japan-based Yulo ended his five-day training camp in Paris in preparation for the FIG Worlds, according to Gymnastics Association of the Philippines President Cynthia Carrion.
Carlos Yulo is joined by his Japanese coach Munehiro Kugimiya and physiotherapist Junpei Kono at the 2022 FIG Worlds which started on October 29 and will end on November 6.
The Filipino gymnastics star qualified for the World Artistic Gymnastics Championships in Liverpool after dominating the continental tilt with 3 golds in the floor exercise, vault, and parallel bars, in the competition held in June at the Aspire Dome in Doha, Qatar.
Carlos Yulo is scheduled to compete in the following FIG Worlds events:
November 4, Men's All-Around
November 5, Floor Exercise
November 6, Vault, Parallel Bars
SEND WELL WISHES in the comments below to Carlos Yulo as he campaigns for gold medals for the Philippines at the 51st World Artistic Gymnastics in Liverpool!
Good News Pilipinas is a Lasallian Scholarum Awardee. TELL US your good news story tips by messaging GoodNewsPilipinas.com on Facebook, Twitter, Instagram, or e-mail editor@goodnewspilipinas.com and WATCH Good News Pilipinas TV YouTube & Good News Pilipinas TikTok for more Filipino Pride stories!
Facebook Comments