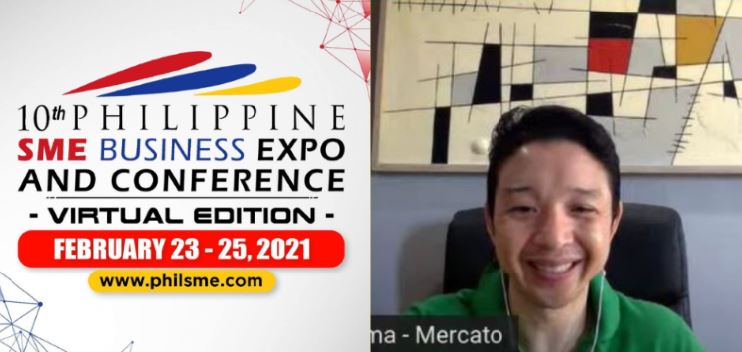 Filipino food business incubator RJ Ledesma announced at the 10th Philippine SME Business Expo (PhilSME) that he is welcoming new sellers to Mercato Centrale open markets.
The media man-entrepreneur joined the PhilSME live stream session on February 24, 2021, Day 2 of the 3-day annual expo that is holding its first Virtual Edition amid the coronavirus pandemic.
In his live YouTube public chat with event organizer David Abrenilla, CEO of Mediacom Solutions Inc., Ledesma addressed the PhilSME virtual exhibitors and attendees and the public with unique and innovative food products who are looking to restart their businesses to join the Mercato Centrale BGC. SM MOA, SM Skyranch, and Robins Ermita hubs.
The successful entrepreneur also announced his upcoming projects for a cloud kitchen for businesses that are looking for business solutions and the Mercato app that is being developed to help make food selling online easier.
Ledesma gamely talked about the journey of Mercato Centrale from being a popular open food market to evolving into a small food business incubator and pivoting to keep the business open even amid the Covid 19 restrictions.
Mercato Academy, a food business incubator from ideation to execution, went from being an offline school to an online platform during the public health crisis, a setup that was considered safe for all and was not restricted.
Ledesma said that now is already the normal way of doing business and that there is no going back to pre-Covid.
"The world is totally different already. When things open up again, you can go up and running if you learn from your mistakes now.
"Now is the time to look at what makes it sustainable. Recall that the best businesses emerge from crisis points," recalled the entrepreneur.
"Everybody needs to have e-commerce. You are dead if you don't," declared Ledesma.
He also encouraged SMEs to join multi-platforms or create their own for logistics, payment, and delivery.
Ledesma shared tips to food businesses, saying there is a need to find opportunities whether times are good or bad. He then listed the three main measures of what makes a product different from others also selling online:
1. addressing a pain point
2. a unique and innovative product
3. having a secret sauce
RJ Ledesma who also runs Easy Franchise noted the top franchises that thrived during the pandemic were essential franchises that addressed the needs of people who work and study at home: water refilling, laundry, family mart, LPG, milk tea, complete meals.
The first virtual edition of the largest Business-2-Business Expo, Conference & Networking Event for Small & Medium Enterprises (SMEs) in the Philippines is live and free on Whova for three days, from February 23-25, 2021.
Filipino enterprises are indeed learning how to do business online as their participation at the 2021 Philippine SME Business Expo is done through virtual exhibitor booths, remote presentations, and connecting to virtual visitors on the Whova platform.
The PhilSME sessions on Day 1 included a talk by Wilson Lee Flores on how going digital serves as an equalizer for SMEs to compete with big business.
The February 25, Day 3 talks include digitalization, e-commerce, sales and marketing, legal tips for SMEs, and franchising.
Are you interested to visit the show? Register for FREE at https://10thphilsme2021-virtual.eventbrite.com
Virtual visitors only need to use the registered email to sign up for a Whova account for free by clicking the link below to join the expo or download the Whova app on Google and Apple Stores for free.
Web App Link https://whova.com/portal/webapp/asaam_202010/
Good News Pilipinas is a Media Partner Exhibitor at the 10th Philippine SME Business Expo. Visit our virtual booth for raffle prizes and to know more about our media services.
Are you a Proud Filipino? Get more good news stories on Filipino Pride! Subscribe to GoodNewsPilipinas.com and our YouTube channel: Good News Pilipinas! TV
Facebook Comments