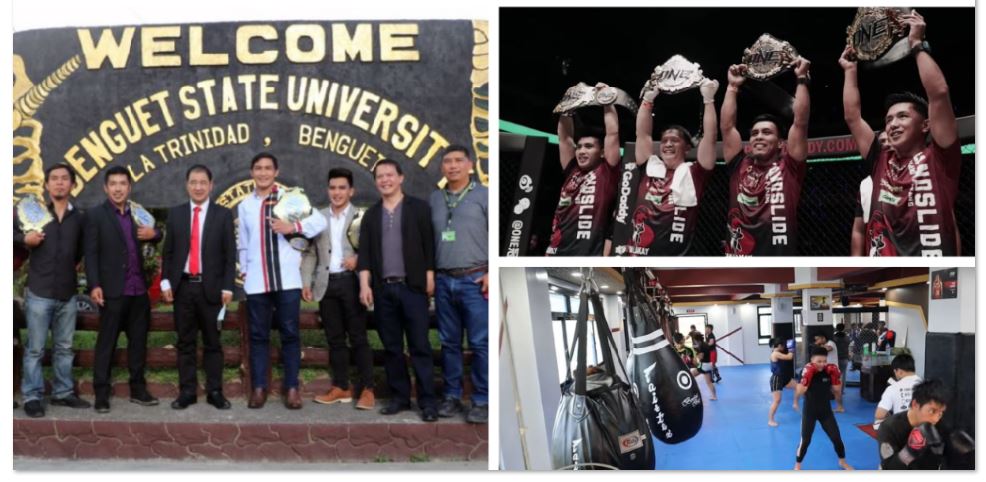 Team Lakay Mixed Martial Arts (MMA) world champions will be training youth athletes of Benguet State University (BSU) as part of an agreement between the two Cordillera-based organizations.
Team Lakay and BSU announced holding the cooperation talks that seek to provide the Filipino MMA champions stable its own home gym while providing training support to the university's sports programs and competitions.
In its February 18, 2021, video posted on YouTube, Team Lakay reported about meeting with BSU University President Felipe S. Comila about the champion team's need for a home gym and the university's training program for students.
Team Lakay was represented by reigning ONE Strawweight Champion Joshua Pacio, former URCC Welterweight Champion and former ONE Lightweight Champion and Global Martial Arts Hero, Eduard Folayang, BRAVE Bantamweight Champion Stephen Loman, former ONE Flyweight World Champion Geje Eustaquio, and former ONE Bantamweight Champion Kevin Belingon.
Team Lakay coach and founder Mark Sangiao, a BSU alumnus, welcomed the opportunity to collaborate to train more world champions from the region.
"We would like to pass our knowledge and skills to the younger generations and continue to make champions," said the Team Lakay coach.
BSU President Comila praised the Team Lakay team as worthy of being called national treasures for raising Filipino pride.
"We need patience, passion, perseverance and prayer to reach success. We'll work together, we'll dream together," said Comila.
SEND CHEERS in the comments below as the Team Lakay MMA world champions stable sets to train Benguet State University athletes!
Are you a Proud Filipino? Get more good news stories on Filipino Pride! Subscribe to GoodNewsPilipinas.com and our YouTube channel: Good News Pilipinas! TV
Facebook Comments