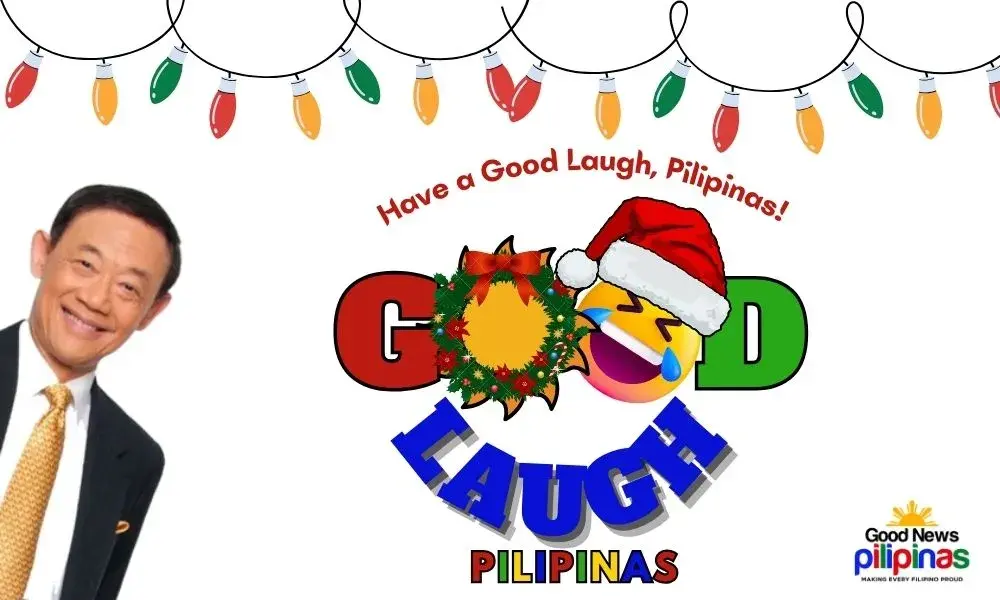 Hold on to your Santa hats, folks! The Ber Months are here, which means the Facebook and Twitter feeds of every Juan, Pedro, and Maria will soon be filled with Christmas memes, extreme caroling sessions, and those irresistible "Simbang Gabi" videos. And let's not forget the unsung hero of the season—Gcash QR codes that whisper, "Namamasko po, pasend na lang po thru Gcash," accompanied by Christmas song lyrics so heartfelt you can almost hear the jingles!
But hey, GoodNewsPilipinas has cooked up something to dial your holiday spirit from festive to downright infectious! Introducing: the Good Laugh Ber-month Edition. Imagine a smile so contagious that even your grumpy Ninong couldn't help but crack a chuckle.
All I Want for Christmas is LOLs
Good Laugh promises more than the usual smirks. This space will be your yuletide HQ for Christmas memes, dance-offs, and even bardagulan, or uproarious revelry for the uninitiated. Long day at work? Relax and unwind with nostalgic Christmas hits that'll remind you of your childhood, your office parties, and your lola's signature 'Senior Citizen Shuffle'.
Jose Mari Chan: The Meme, The Myth, The Legend
Ah, speaking of iconic, let's talk about the ultimate 'BER-month' superstar—Jose Mari Chan. Forget about the pumpkin spice latte trend; in the Philippines, Jose Mari Chan is the season. Internet folklore says that as soon as September 1 hits, he magically appears in memes and parodies, like a Christmas elf armed with memes and classic Filipino humor. Who could forget the viral video parody of his enduring 1990s hit "Christmas in Our Hearts"? Not us!
The Art of 'Meme-ry' Making
Social media platforms are swamped with hilarious renditions of Jose Mari Chan, from "August pa lang, scroll ka lang, nagtotono pa ako" memes to Mariah Carey-level caroling showdowns on your neighborhood streets (Mariah, better watch out!). These memes are not just laugh-inducing; they're cultural gems that capture the essence of the Filipino Christmas spirit.
What Kind of Holiday Human Are You?
Good Laugh will also serve as a personality test this Christmas season. Are you the type who pretends nobody's home, as if you're a contestant on "Bird Box Challenge: Holiday Edition"? Or are you the one filming every caroling showdown like you're in a VIP concert? Either way, you can't fake it when carolers bring their 1000-watt energy.
More than Just Giggles: Good Laugh for Good Health
But wait, there's more! Your laughter isn't just an emoji; it's a ticket to a healthier you! From stress-busting endorphins to immunity boosts, who knew that chuckling over a meme could practically make you a superhero? And guess what, it even helps you burn calories. A few laughs a day could let you enjoy that extra leche flan this Christmas without remorse!
GoodNewsPilipinas aims to make you burst into laughter, and here's why: Laughing for at least 5 to 10 minutes will have a positive effect on our bodies, relieving physical tension and stress, leaving your muscles relaxed for up to 45 minutes:
Laughter boosts the immune system. Laughter decreases stress hormones and increases immune cells and infection-fighting antibodies, thus improving your resistance to disease.
Laughter triggers the release of endorphins, the body's natural feel-good chemicals. Endorphins promote an overall sense of well-being and can even temporarily relieve pain.
Laughter protects the heart. Laughter improves the function of blood vessels and increases blood flow, which can help protect you against a heart attack and other cardiovascular problems.
Laughter burns calories. Okay, so it's no replacement for going to the gym, but one study found that laughing for 10 to 15 minutes a day can burn approximately 40 calories—which could be enough to lose three or four pounds over the course of a year.
Laughter lightens anger's heavy load. Nothing diffuses anger and conflict faster than a shared laugh. Looking at the funny side can put problems into perspective and enable you to move on from confrontations without holding onto bitterness or resentment.
Laughter may even help you live longer. A study in Norway found that people with a strong sense of humor outlived those who didn't laugh as much. The difference was particularly notable for those battling cancer.
A New Chapter in the GoodNewsPilipinas Universe
To sum it up, the Good Laugh section isn't just a tacked-on feature to make you giggle. It's a soulful addition designed to uplift, inspire, and yes, get those cheek muscles working. So, as we all brace for the holiday rollercoaster, remember the Good Laugh motto: "Papalapit man ang Pasko, kahit wala ka pang karelasyon, sisiguruhin naming sasaya at tatawa ka!"
And there you have it, folks! From GoodNewsPilipinas, we wish you a season filled with laughs, love, and a dash of that Jose Mari Chan magic.
Have a Good Laugh, Pilipinas!
Ready to turn your 'Ber-month blues into hues of humor and happiness? WATCH our Good Laugh video here and SHARE this article to spread the good vibes and laughter! Don't forget to tag GoodNewsPilipinas.com and use the hashtag #GoodLaughPilipinas to let us know your favorite Jose Mari Chan meme of the season. Trust us, this is the holiday content you didn't know you needed!
https://twitter.com/GoodNewsPinas_/status/1697414385998971035?s=20
Good News Pilipinas is a Lasallian Scholarum Awardee. TELL US your good news story tips by messaging GoodNewsPilipinas.com on Facebook, Twitter, or Instagram, or e-mailing editor@goodnewspilipinas.com
Facebook Comments