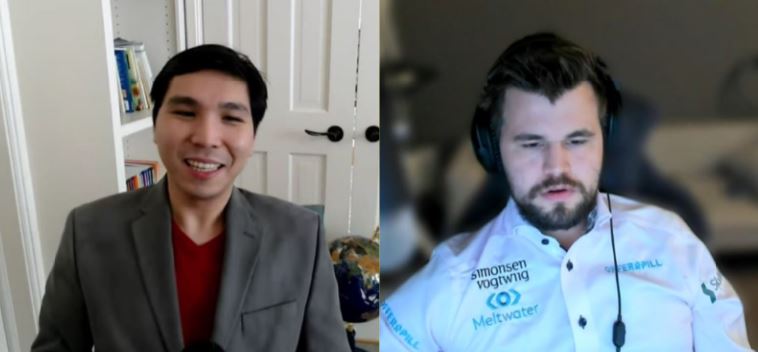 It's confirmed. Wesley So is joining rival Magnus Carlsen and two other grandmasters in the Champions Chess Tour 4th leg semis with a highly anticipated possibility of a resulting finals rematch between the Filipino American and Norwegian rivals.
So, the champion of the first (Opera Euro Rapid) and third (Skilling Open) legs of the super grandmasters' (GM) tournament won a spot in the semifinals of the Magnus Carlsen Invitational after defeating 17-year-old GM Alireza Firouzja of Iran in the quarterfinals on March 17, 2021 (March 18 Philippine Standard Time).
World No. 1-ranked Carlsen earned his semis spot after besting GM Levon Aronian.
The semifinals games of the 4th leg of the Champions Chess Tour slated for March 18-19 will match the Filipino-American Wesley So against Dutch GM Anish Giri while pitting Carlsen against Russian GM Ian Nepomniachtchi.
The Magnus Carlsen Invitational featuring 16 top players is part of the Meltwater Champions Chess tour series of 10 tournaments throughout 2021 deciding who is the best online chess player in the world.

Wesley So has repeatedly and successfully challenged the top-seeded Carlsen in the Champions Chess Tour, winning his two championships in November and February against the Grandmaster from Norway. The Philippines-born and Cavite-native Wesley So dealt a blow to Carlsen in front of the latter's countrymen to rule the first World Fischer Random Chess Championship in 2019.
So and Carlsen shared the world championship title at the 2020 Saint Louis Rapid & Blitz.
SEND CONGRATULATIONS and well wishes in the comments below to Wesley So as he joins Magnus Carlsen in the Champions Chess Tour 4th leg semis.
Good News Pilipinas is celebrating its 15th Anniversary in 2021 by giving away prizes! Subscribe to our Good News Pilipinas! TV YouTube channel and enter the raffle by sending us an email to editor@goodnewspilipinas.com
Facebook Comments