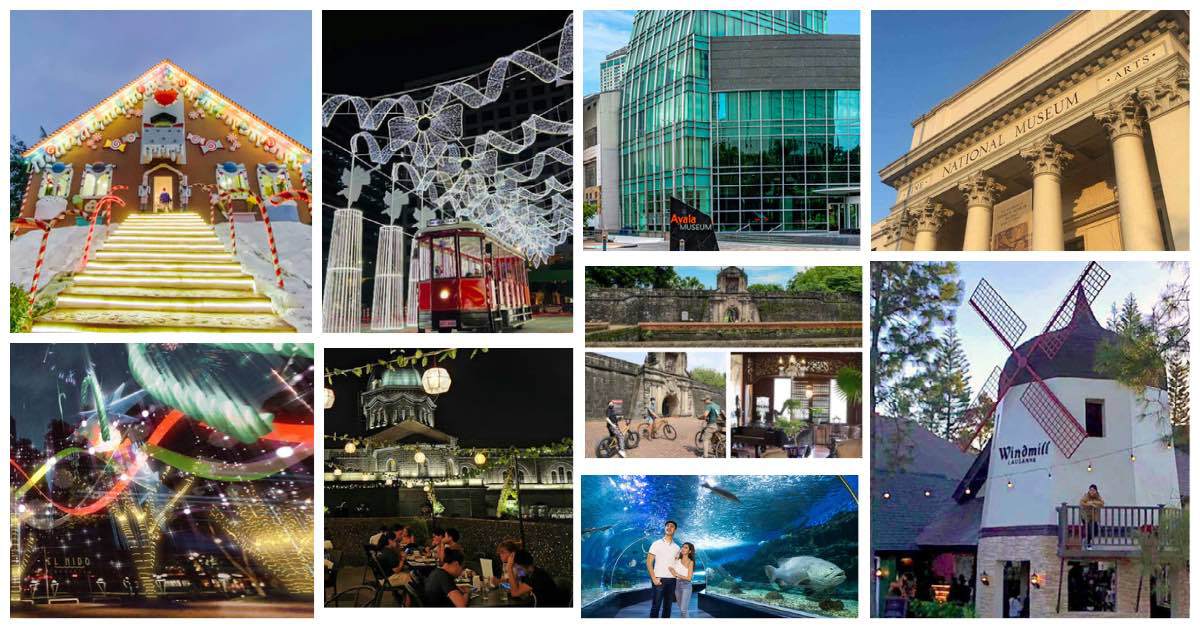 Check out this list of activities you can try during the holiday season in popular spots within and near Metro Manila that have reopened to the public while ensuring the safety of guests with new normal guidelines in place against COVID-19.
From exploring museums and nature parks to indoor aquariums, Filipinos can also now try festive and fun-filled activities outside of the confines of their own homes as local restrictions loosen up.
Even as we welcome a more festive Christmas celebration this year, it's important to be aware of the current rules and regulations that apply in areas you plan to visit beforehand so you can be sure to make the most out of the holiday with your loved ones.
While it's a welcome relief to finally venture outdoors and participate in the festivities after lockdowns and local quarantines, let's also remember to practice appropriate social distancing measures and proper hygiene so we can stay in good health and protect ourselves as well as friends and family from disease.
Here's a list of places that you can now revisit and activities you can try out during the Christmas season:
Manila Ocean Park
The Manila Ocean Park is the first world-class marine theme park in the Philippines. After a year of temporary closure, the park safely opened its gates to the public by introducing guidelines that all park goers must follow.
Adults must be fully-vaccinated to enter the park, while kids below 17 years of age must be accompanied by their fully-vaccinated parent or guardian, as of December 7, 2021.
Guests can check out the holiday attractions and activities at the park by checking out their website for tickets and promos online.
The Manila Ocean Park is now open from 10:00 a.m. to 6:00 p.m. from Tuesdays to Sundays, including public holidays.
Ayala Museum
The Ayala Museum and Filipinas Heritage Library (FHL) in Makati have reopened to the public after two years of renovation.
Guests may now visit the newly renovated museum and access five new exhibitions that were unveiled at the soft opening on December 4, 2021.
In response to the global pandemic and to ensure guests will feel both inspired and safe when visiting, operational adjustments and safety protocols have been adopted at the Ayala Museum.
All guests visiting the museum and library, regardless of age, must be fully vaccinated and will have to provide proof of vaccination upon entry for the safety of all visitors and staff.
All visits will be pre-booked with timed entries and limited capacities.
You may book a visit to the Ayala Museum through their website.
The Ayala Museum and Filipinas Heritage Library were jointly awarded in the Leading Culture Destinations Awards – dubbed the "Oscars for Museums" – for best practices as a destination that influences and empowers visitors in 2018.
National Museum
The National Museum of the Philippines (NMP) in Manila is now welcoming visitors aged 18 and below, as long as they are accompanied by a fully-vaccinated adult.
Guests are required to book a reservation online at least one day ahead of their planned visit.
You may book a slot online through the National Museum website.
Intramuros
The famous Walled City of Intramuros in Manila has reopened selected sites for visitors this holiday season.
Heritage sites Fort Santiago and Baluarte de San Diego are now open and welcoming visitors aged 65 and below, regardless of their vaccination status.
Indoor attractions Casa Manila Museum, iMake History Fortress LEGO Education Center, and Dungeon are only admitting fully-vaccinated guests aged 65 and below.
Check out the Intramuros Administration on Facebook for the full guidelines here.
La Cathedral Cafe
Those visiting Intramuros can also swing by the La Cathedral Cafe, a popular hang-out spot located behind the Manila Cathedral Church.
Guests can order delicious pastries and coffee served at the cafe while enjoying the picturesque view of the historic church.
The La Cathedral Cafe is accepting walk-ins and reservations from guests, regardless of their vaccination status.
Experience Mall of Asia's Night of Lights
SM Mall of Asia's Christmas Drive-Thru installation is a socially distanced offering and unique experience for the whole family this holiday season.
The attraction is complete with magical bright lights, special installations, and holiday music that guests can enjoy from the safety and comfort of their own vehicles.
To avail the experience, guests only need to present a minimum single-receipt purchase of Php2,000 from any establishment of SM Mall of Asia, SM by the BAY, S Maison or MOA Square from December 3, 2021 to January 1, 2022.
Slots are open for your personal vehicles, bikes, or motorcycles. The MOA Tram is also available for all customers.
You may check the details of online registration through SM Mall of Asia's official Facebook, Twitter, and Instagram accounts.
Watch the virtual Festival of Lights at Ayala Triangle Gardens
The Festival of Lights and Music Show at the Ayala Triangle Gardens is recreated in a virtual edition designed to present a 360-degree animation.
This year's lights show features a heartwarming medley of iconic holiday songs from Philippine music icon Jose Mari Chan.
The first installment of the two-part series was released on Facebook. More details about Part 2 will be announced soon.
Check out this full list of Ayala Land and Make It Makati holiday treats offered to the public this Christmas season.
Picnic at the Masungi Georeserve in Rizal
The Philippines' Masungi Georeserve in Rizal has reopened to guests who are looking to spend more time outdoors with nature.
The award-winning eco-tourism destination located in the Baras town of Rizal province is known as a popular pre-pandemic weekend getaway among tourists and locals.
The park is now offering a new Garden Picnic experience that allows guests of all ages to relax in a rustic garden and enjoy nature and the lowland park spaces of Masungi Georeserve.
"The experience consists of a 20-minute guided stroll featuring native trees in the area, a designated picnic space for your party to lounge in for the rest of your stay, and tea tasting featuring select native plants," the Masungi Georeserve said in a Facebook post.
The experience is open to visitors of all ages and groups who would like to enjoy outdoor garden spaces but may not be able to go on a hike.
For more information, visit www.masungigeoreserve.com or Facebook.
Visit the Gingerbread House in Alfonso, Cavite
The Gingerbread House in Brgy. Palumlum Road in Alfonso, Cavite is the perfect holiday destination for kids and the kids-at-heart.
Dubbed as the largest Gingerbread House in the Philippines, the theme park offers dessert-themed attractions and fun activities for children of all ages.
The Gingerbread House is now accepting walk-ins from guests of all ages, regardless of their vaccination status.
Check out the Gingerbread House PH on Facebook for more details.
Visit Crosswinds in Tagaytay
To get you in the holiday spirit, visit the Windmill at Lausanne, the first and only Danish village in the Philippines nestled in the Swiss-inspired community of Crosswinds Tagaytay.
The new restaurant and cafe promises to deliver the Christmas experience all year-round. The Crosswinds village is also traditionally decked out with lights and Christmas decor every year to usher in the holiday season.
To get you in the holiday spirit, check out these unique and proudly Filipino-made products that will make great gifts for your loved ones this Christmas and this list of non-profit organizations and charities that are making the holidays more meaningful for needy Filipino children and their families.
SEND CHEERS in the comments below to these spots within and near Metro Manila for reopening to the public while ensuring the safety of guests and offering activities you can try during the holiday season.
Good News Pilipinas is celebrating its 15th Anniversary in 2021 by giving away prizes! Subscribe to this website and  Good News Pilipinas! TV YouTube channel and enter the raffle by telling us what you like about our stories in an email to editor@goodnewspilipinas.com
Facebook Comments