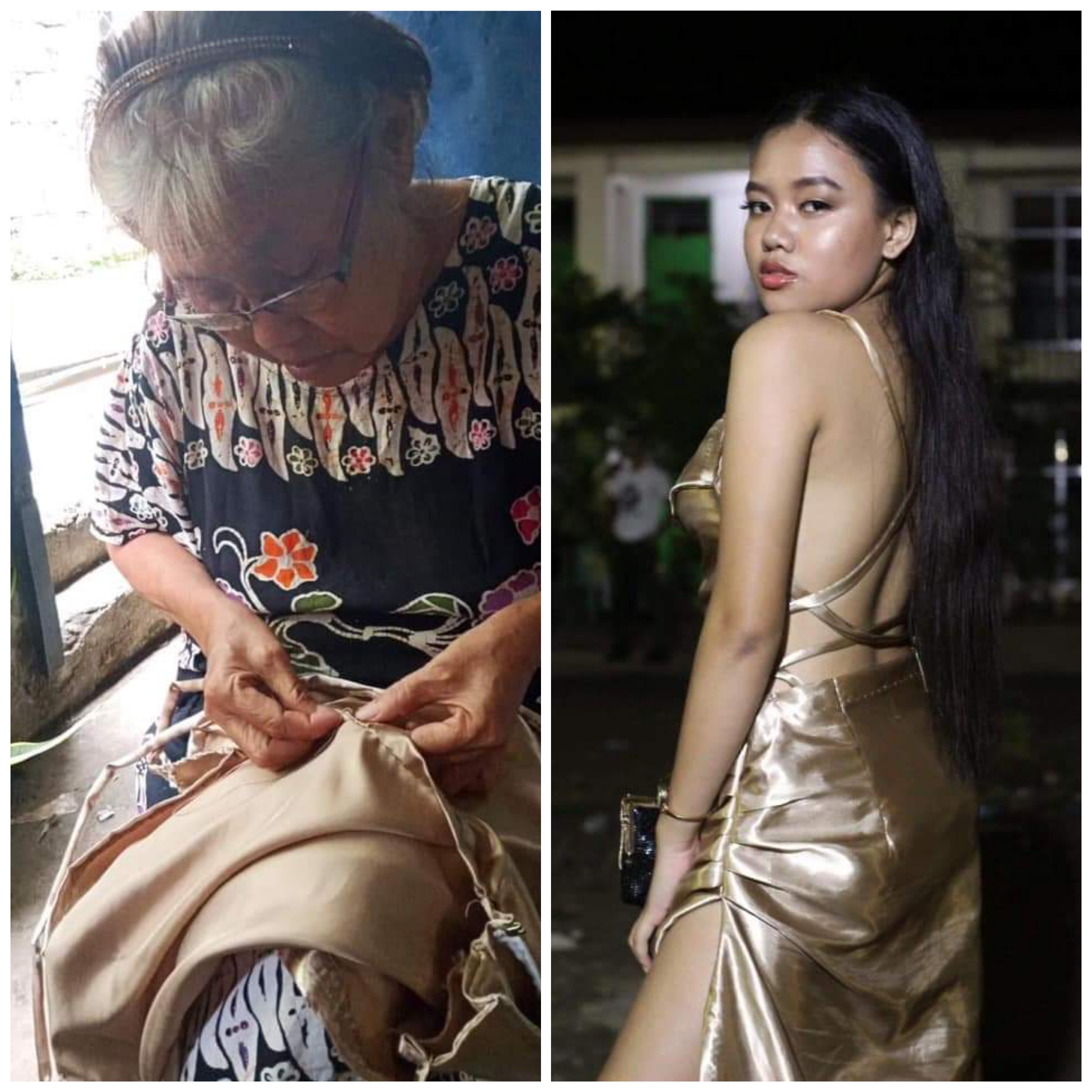 Grandmother Jovita Baldeo's handsewn prom gown for her grandchild went the rounds of social media with netizens praising the "Lola's love".
The 72-year-old Lola Jovita's act of love for her granddaughter, a grade 10 student of Masbate Comprehensive National High School who needed a prom dress but had no budget to rent or buy one, swept Twitterverse and went on to other social media, eliciting netizens' sharing of their own memories of grandmothers and mothers doing the same for them.
The creations of Lola Jovita, fondly called Mamay by her granddaughter Arianne Contreras, were posted on Twitter on March 1, 2020, with the caption, "… i need to show off my mamay. she handsewn my dress morning of the prom day and the dress is only 120 pesos. shes genius I love her."
The Php 120 was for the two meters of silk fabric for the gown that Lola Jovita used to customize her American supermodel Gigi Hadid-inspired dress for her grandchild's prom night.
Contreras said she had to ask the favor from her grandmother, who is a skilled seamstress, but unfortunately, the sewing machine suddenly broke down so her grandma had no choice but to hand sew her gown the morning of the prom day.
Arianne said she felt special for having a grandmother like her Lola Jovita who also helped the young girl with her hairstyle and makeup.
She also revealed that her grandma actually made 2 gowns. "actually made 2. this one was made the day before the prom. funny how the sewing machine didn't work when we were bout to start (Woman facepalming) this is handsewn yes hahahahaha," she tweeted.
Contreras' tweet as Fely Dapa @moonagape has racked up over 12.4K retweets and 92.2K likes as of this writing.
Twitter user Daddy Juan @Juan_Kalbo even christened the handiwork "Mamay's Couture" while @reyzinsey recalled, "I cried when I saw this❤ my mama used to do this whenever I need a costume for an event and she even stays up until morning just to finish it".
More tweets encouraged Contreras to care for her grandmother with @jnnvndlcrz saying, "Go, love your Mamay more…" and @Ardaebiyok asking, "Take care of her pleaseee, miss ko na tuloy lola ko"
Facebook user Nyle Cabarles shared, "parang si nanay ko, tinatahi din nya damit ko panggraduate at pang angel ko sa simbahan <3". Another Facebook user Sally Jorge also commented "Ang Nanay ko siya ang nag tatahi ng mga damit ko by hand noong bata pa ako Sa probensiya."
Lola's love is everything!
ik this has been everywhere hahah but i need to show off my mamay. she handsewn my dress morning of the prom day and the dress is only 120 pesos. shes genius i love her pic.twitter.com/SRkjLGGImY

— fely dapa⁷ (@moonagape) March 1, 2020
Another handsewn prom dress, this time by Western Mindanao State University student Maverick Francisco Oyao who designed a Michael Cinco couture-inspired ball gown for his younger sister Lu Asey Oyao, was adored by netizens who made him trending on social media.
Ciara Velasco Gan, a Filipina teen highschool graduate of Colegio San Agustin in Makati, hand-painted her graduation ball dress and caught the attention of nearly 400 thousand netizens.
SEND CHEERS in the comments below to Lola Jovita and Arianne Contreras for inspiring the world with their handsewn prom gown!
Facebook Comments