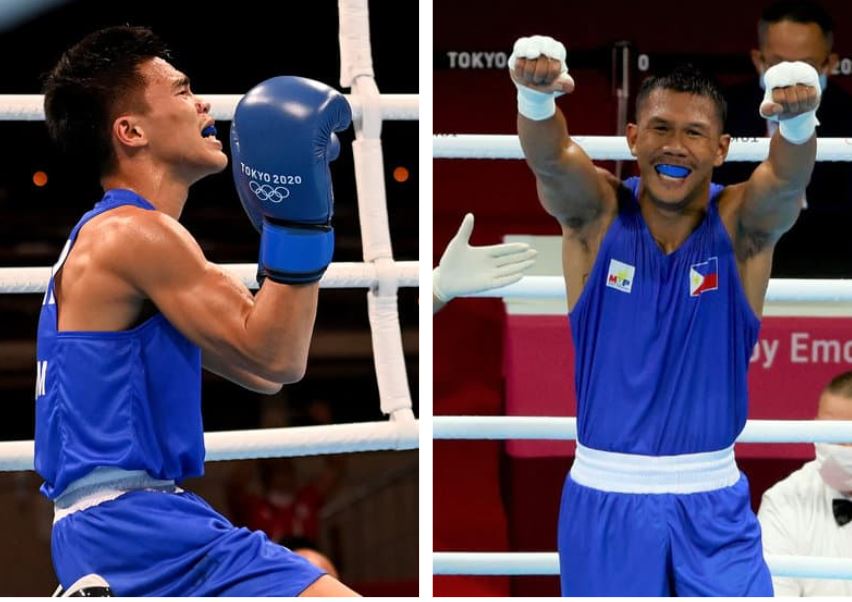 Olympics Results for Team Philippines on August 5, 2021: Carlo Paalam goes for Gold in his next fight while Eumir Marcial wraps up his Tokyo stint with a Bronze in boxing.
Golf bets Yuka Saso and Bianca Pagdanganan continue to Round 3 on the greens of Tokyo.
EUMIR MARCIAL (Boxing)
Filipino boxing champion Eumir Marcial wrapped up his Olympics stint with a bronze medal in the Men's Middleweight (69-75kg) after losing his semifinal match with Ukraine's Oleksandr Khyzhniak.
The Ukrainian won via split decision, 3-2, with 2 judges scoring for Khyzhniak, 29-28, and the other two judges ruling for Marcial, 29-28. A fifth judge turned the decision in favor of Khyzhniak scoring it 30-27.
Marcial made it to the semifinals after excellent showings in the first two ring bouts.
Eumir Marcial won his quarterfinals match with a sensational first-round knockout of Armenian champion Arman Darchinyan.
In his Round of 16 match Marcial quickly dominated Algeria's Younes Nemouchi, causing the referee to stop the contest in Round 1.
Marcial started his Tokyo Olympics bid with an outright spot in the Round of 16, bypassing the Round of 32 matches by virtue of his AIBA Top 4 rank.
Eumir Marcial's bronze is the boxing team's second medal in Tokyo after Nesthy Petecio's silver finish.
The AIBA Men's World Boxing Championships silver medalist punched his ticket to the Summer Games in Japan after winning his middleweight bout at the Asia Oceania Olympic Qualifiers in Amman, Jordan last year.
Marcial was the Philippines' male flagbearer in the Tokyo Olympics opening ceremony.
The last medal by a Filipino in men's boxing was courtesy of Manuel "Onyok" Velasco's silver in the 1996 Atlanta Games.
CARLO PAALAM (Boxing)
Carlo Paalam is going for the Gold medal final match after defeating Japan's Ryomei Tanaka in the Men's Flyweight (48-52 kg.) semifinal of the Tokyo Olympics.
Paalam is assured of at least a silver medal finish in the final match after his 5-0 victory on Thursday.
Four judges overwhelmingly scored points for the Filipino boxer, 30-27, while a fifth judge scored 29-28.
Paalam earlier delivered a major upset over reigning Olympic champion Shakhobidin Zoirov of Uzbekistan, winning their quarterfinals match by points, 4-0 after the referee stopped the fight in round 2.
The pride of Cagayan de Oro advanced to the quarterfinals after winning his Men's Flyweight Round of 16 fight against Mohamed Flissi of Algeria via unanimous decision, 5-0.
Paalam advanced to the Round of 16 Preliminaries after winning his ring bout via split decision, 4-1, against Brendan Irvine of Ireland in the Men's Flyweight Round of 32.
Carlo Paalam meets Galal Yafai of Great Britain for the gold medal fight on Saturday, Aug. 7, at 1:00 p.m.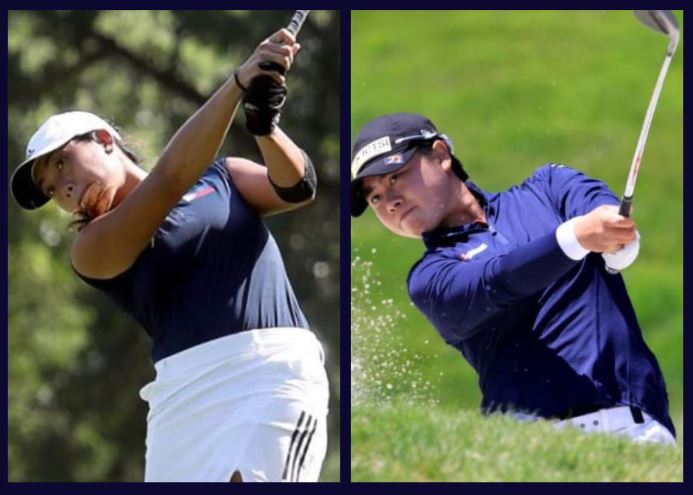 BIANCA PAGDANGANAN (Golf)
Bianca Pagdanganan slid down 2 spots to a tie for 27th place in Round 2 of the Women's Individual Stroke Play.
Pagdanganan fired off 2 under par for 71 on Thursday, two notches down from her 69 in Round 1
Bianca Pagdanganan started her bid for the Philippines' first Olympic medal in golf, wrapping up Round 1 of the Women's Individual Stroke Play tied for 7th place.
The Filipina golfer booked a trip to Japan through the second qualification quota after placing 42nd in the world rankings.
YUKA SASO (Golf)
Yuka Saso showed an improvement in Round 2, moving up 13 notches to join 34th place.
The US Women's Open champion hit a 3-under par 68 with five birdies, a marked improvement from her Round 1 performance which placed her at 47th place after delivering a 3-over par 74.
The Filipino-Japanese golf sensation officially booked her Tokyo Olympics berth in June, joining golfers Juvic Pagunsan and Bianca Pagdanganan after completing the KPMG Women's Professional Gold Association (PGA) Tournament in the United States.
MEET: 19 Filipinos campaigning for Philippines' 1st Olympic Gold in Tokyo
How to Watch 19 Filipino Olympians Compete in Tokyo Olympics
Good News Pilipinas is celebrating its 15th Anniversary in 2021 by giving away prizes! Subscribe to our Good News Pilipinas! TV YouTube channel and enter the raffle by sending us an email to editor@goodnewspilipinas.com saying what you like about our site.
Facebook Comments