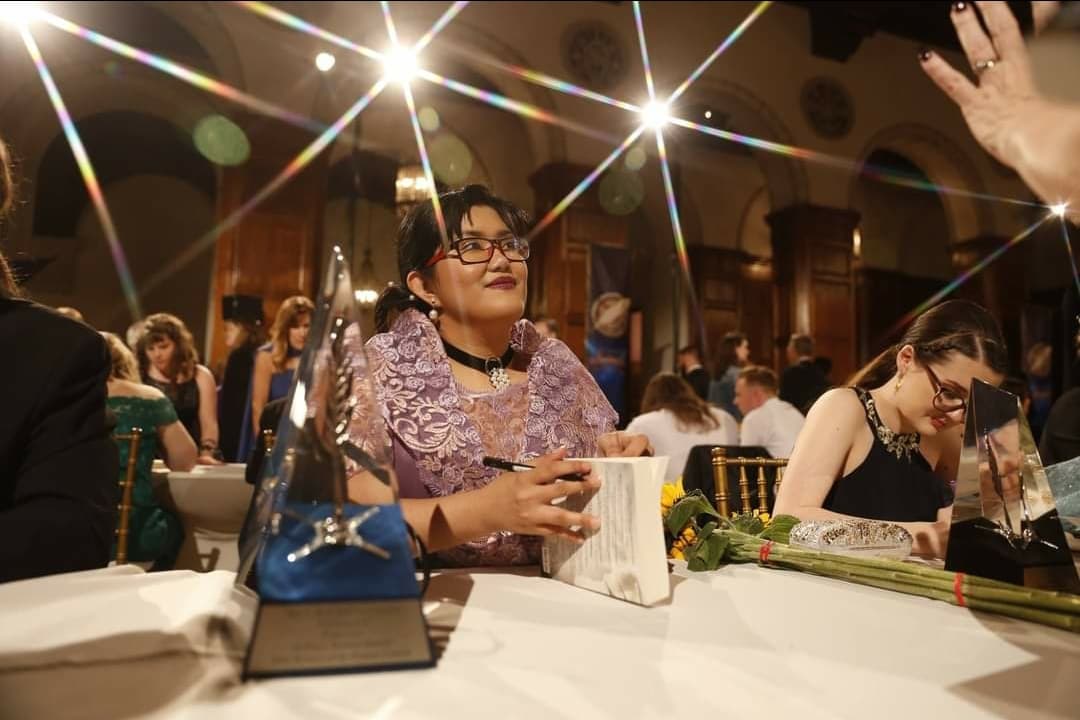 Filipina fantasy and science fiction writer Vida Cruz has been nominated under the Best Related Work category at the 2021 Hugo Awards.
Cruz is nominated along with her teammates—L.D. Lewis, Brent Lambert, and Iori Kusano—for their work putting up their inclusive fringe event at FiyahCon 2020.
The Hugo Awards is an annual literary awards event for the previous year's best science fiction or fantasy works and achievements. It is considered the premier award in science fiction. Administered by the World Science Fiction Society, The Hugo Awards is named after Hugo Gernsback – founder of Amazing Stories – a pioneering sci-fi magazine
FiyahCon, where Vida was nominated for, is an international virtual convention hosted by Fiyah Literary Magazine, which honors contributions of BIPOC writers—Black, Indigenous, and People of Color—in science fiction and fantasy.
FiyahCon 2021 will take place from September 16 to 19, 2021. Vida and Iori are co-directing the event, L.D. is director, and Brent is senior programming director.
At other major international literary conferences, BIPOC creators have always had a difficult time getting recognized as viable panelists or creators. This has been a systemic problem for many years now.
For this reason, Vida and her team decided to put up their fringe event at FiyahCon 2021. They want to put up a platform where everyone is welcome, regardless of time zone and race. International conferences, such as the World Science Fiction Convention (or WorldCon), are usually held in the U.S. and cost hundreds of dollars, making it difficult for people outside of the U.S. to attend.
"That's why we were nominated—for creating a safe space in the scene for everyone to be heard," says Vida. She and her team "came up with panel topics that people of color would want to be on but rarely get invited to because they're usually put in 'diversity 101 panels.' For example, 'Food as World Building,' 'Re-imagining Magic,' and 'Destroy all Empires,' which is a post-colonial panel."
Additionally, in their event's Code of Conduct, Vida and her team declare that they would not tolerate any outward discriminative behavior and microaggressions. Moderators have been instructed to just gloss over audience questions that may cause unnecessary emotional labor for panelists.
Vida is only the fifth Filipino to ever be nominated for the Hugo Awards. She's using the honor to help widen the path to international recognition for Filipino creatives.
"I hope that people at home will start to think that they can aspire to be part of an international community. I hope they see that it is possible for Filipino writers to be nominated for big industry awards," says Vida.
Her nomination is a testament to the fact that a homegrown Filipina can do anything. "The Filipinos who were nominated before me are from the Filipino diaspora," says Vida. "I'm the first nominee based in the Philippines. I'm not trying to drive a divide between our two communities. But if anyone aspires for the same career path as mine, I'd like to tell them that it's also possible to do it from our shores."
In fact, Vida is extending an invitation to local science fiction writers: "I'm always looking for new people for our panels, locally and internationally. Drop me a line. Maybe we can invite you to FiyahCon to be one of our panelists this year. Getting recognized for our work is hard. But we need to keep doing our best."
Vida is an accomplished writer in speculative fiction. Her website https://vidacruz.org is proof of a prolific literary career. Her short fiction appears or will appear, in various anthologies including Strange Horizons, PodCastle, and Expanded Horizons. In 2019, she published her first fantasy short story collection, Beyond the Line of Trees.
Vida has been nominated, recommended, and put on the longlist for a Hugo Award, a British Science Fiction Award, and a James Tiptree Jr. (now Otherwise) Award. Her novelette Odd and Ugly won her first place for the second quarter of the 2017 Writers of the Future contest.
She was a writing fellow for Fiction at the 51st Silliman University National Writers Workshop; a writing fellow for Novel-in-Progress at the 20th Iligan National Writers Workshop; and a writing fellow at the first Amelia Lapeña-Bonifacio Writers Workshop.
She has written articles for the National Book Development Board (NBDB), the UK's Post-colonial Studies Association, Spot.ph, GMA News Online, and The Philippine Online Chronicles.
Currently, aside from her work with FiyahCon, Vida is a freelance book editor with The Darling Axe.
Filipina writers have been making their mark in the world of literature with Carla Montemayor winning the London Writers Award and Donna Avellana Künzler winning Gold at the Literary Titan Book Awards.
SEND CONGRATULATIONS and GOOD LUCK to Philippines-based fantasy writer Vida Cruz for receiving a Hugo Awards nomination!
Good News Pilipinas is celebrating its 15th Anniversary in 2021 by giving away prizes! Subscribe to our Good News Pilipinas! TV YouTube channel and enter the raffle by sending us an email to editor@goodnewspilipinas.com
Facebook Comments