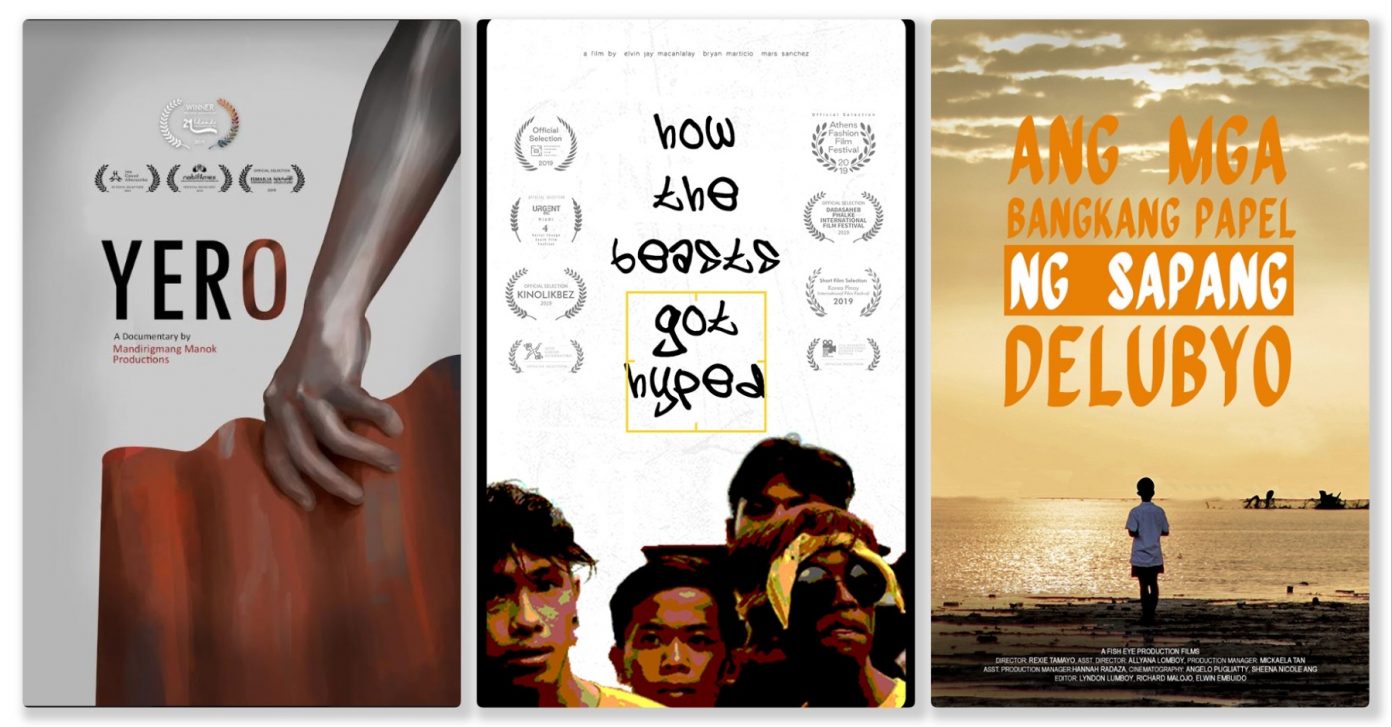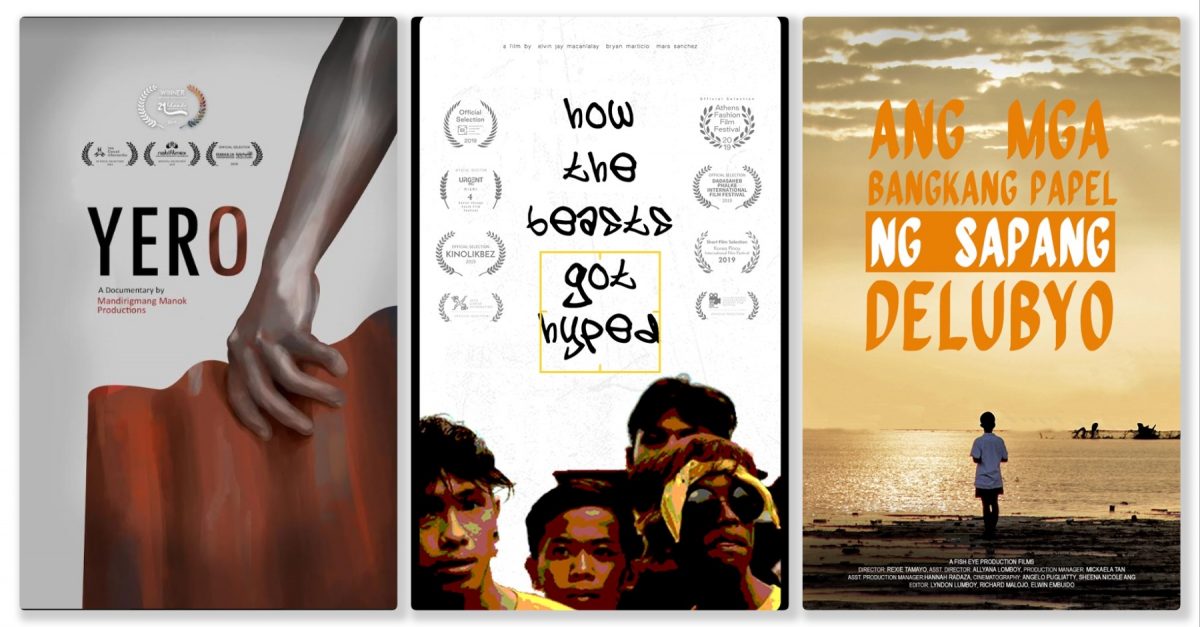 University of the East (UE) Caloocan students are raising the Philippine flag in international competitions with their short films slated for screenings in festivals in Europe, the United States, and Asia this October to November.
Three student productions from the UE College of Fine Arts, Architecture and Design (UECFAD) are vying for awards.
1. How the Beasts Got Hyped
By Elvin Jay Macanlalay, Bryan Marticio and Mars Sanchez
Competing at the following festivals:
Josiah Media Festival: October 17 to 19, 2019 San Antonio, United States
Fashion Film Festival Istanbul: November 9 to 10, 2019 Istanbul, Turkey
Fashion Film Festival Milano: November 6 to 10, 2019 Milan, Italy
XV Panorama Internacional Coisa de Cinema: October 30 to November 6, 2019 Bahia, Brazil
"How the Beasts Got Hyped" was previously screened at the:
Dadasaheb Phalke International Film Festival in India
Kinolikbez X Documentary Film Festival in Russia
Philippine International Film Festival in Korea
17th Hyperfest International Student Film Festival in Romania
AFFF Athens Fashion Film Festival in Greece
Lift-Off Global Network – First time Filmmaker Sessions in the United Kingdom
2019 Music Shorts Film Festival in the USA
Competed at Nabifilmex 6
Competed at 30th Gawad Alternatibo
The documentary film is a final project under Prof. Richard Legaspi's class. It;s synopsis reads:
"How the Beasts Got Hyped" focuses on the daily routine of "hypebeasts" or people who are "beasts" (obsessed) about the "hype" (in fashion) and their mutual interest in street-style fashion, which provides a sense of community among its followers.
Filmmaker Elvin Jay Macanlalay shared to Good News Pilipinas the group's message delivered through the film:
"What we wanted is solely to support them. The story recognizes the importance of collective identity, camaraderie and solidarity in the face of the animosity of the majority, or just simply rediscovering a lost freedom."
2. Mga Bangkang Papel sa Sapang Delubyo
By Rexie Robles Tamayo
Senior student Rexie Robles Tamayo's "Mga Bangkang Papel sa Sapang Delubyo" will compete in the short film category of the 26th Annual Filipino International Cine Festival or FACINE in San Francisco, California on October 26.
The short film revolves around Tutoy, a naïve child with a penchant for Greek mythology, who suddenly finds himself in the middle of a tragedy and feuding siblings.
Rexie Tamayo shared to Good News Pilipinas that this is her first time to join an international film competition.
Tamayo shares: Mga Bangkang Papel ng Sapang Delubyo is inspired by the very place where it was shot at, and the actors are residents of that place. I wanted to make other people see the reality of life for these kids, who are the casualties of this administration's war on drugs. I want the audience to see the injustices and the political climate in that place and take action so that the kids in that place wouldn't have to lock themselves in at exactly 6 pm just so they wont be the next body to float in the lake outside.
The kids who are orphaned by this administration's war on drugs are the ones who are paying the high price of this facade of peace that the privileged are so keen to exalt and enjoy. I just want people to see that. That every time they rejoice about a dead body,there's at least one kid out there, fishing their parent's body out."
3. Yero (Corrugated Galvanized Iron)
By John Lanbert Rafols, Jay Condeno and John Nico Nunag
The award-winning 13-minute documentary by UE CFAD Advertising Arts graduates John Lanbert Rafols, Jay Condeno and John Nico Nunag is part of the official selection of the exground filmfest 32 in Germany from November 15 to 24.
"Yero" previously screened at the following festivals:
Best Short Documentary Winner, 3rd Edition of 21 Islands International Short Film Festival in New York
competed at the 21st Ismailia International Film Festival for Documentary and Short films in Egypt
competed at the 30th Gawad CCP Para sa Alternatibong Pelikula at Video
screened at the 6th Nabunturan Independent Film Exhibition (Nabifilmex 6) in Compostela Valley
Yero was a final project for the video production class of Prof. Richard Legaspi.
The documentary synopsis: "Yero" reveals the harsh conditions inside a corrugated-iron recycling factory, as seen through the life of two workers, Armando Bucog and Rowil Galicia. The film documented the daily struggle of the workers inside the hazardous environment, as they scavenge through metal scraps without safety tools or protection for themselves from persistent hazards and imminent danger.
Filmmaker John Lanbert Rafols shared to Good News Pilipinas the group's message being delivered through the film:
"Our film is sort of an exposé. These workers lacked the safety privileges that could protect them in the hazardous materials they work on. We believe that it should only be right to address their conditions, and hope in the future that these factories ensures the safety and the protection of their workers."
4. Maling Akala: Ang Misteryo ng Unamuno
By Elvin Jay Macanlalay and Arvileen Yongzon
The animated film "Maling Akala: Ang Misteryo ng Unamuno" was nominated in AnakTV's Sinebata 2019. Produced by Piko Productions as a requirement for Prof. Ronwell Bacani's class, the five-minute animation takes on a legendary Philippine mythical creature named Bungisngis and a mischievous child named Ron Ron, as they journey through the woods after a calamity hits their village, Unamuno. Their paths cross and they go on an adventure together.
"Maling Akala" also vied for awards at:
Nabifilmex
Gawad Alternatibo
student category of Pagwanawanan Film Festival
2nd Manila Student Film Festival
Recoletos Film Festival
11th Philippine Animation Festival or Animahenasyon 11
CineKasimanwa: The Western Visayas Film Festival
It was also exhibited at the Sinehan sa Summer 2019 in New York and is one of the 20 finalists in the open category of the 6th Urduja Film Festival in Pangasinan this October.
5. Dumbo
By Jonica "Nica" Aque, Ariane Semana, Zyon Kierulf, Kim Bautista, Charl Cercado Poyaoan, Jessa Victoriano, Matthew Bautista Adolfo
"Dumbo" was nominated at the AnakTV's Sinebata 2019. The short traditional animation is about a kid who unknowingly becomes depressed from feeling left out, alone and from having inattentive parents, which are too much for him to bear.
"Yero," "How the Beasts Got Hyped," "Maling Akala," and "Dumbo," represented UE in the first Cinestudyante Film Festival organized by Seymour Barros Sanchez held at the Santolan Town Plaza from September 25 to October 1, 2019.
Philippine student films have gained worldwide attention, more recently at the Mapua University short films which screened at the 1st Korea PInoy International Film Festival. Student films swept awards at the Hanoi International film Festival.
SEND congratulations and well wishes in the comments below to the UE filmmakers and their mentors for raising the Philippine flag in international film festivals!
Like, Follow, Subscribe to GoodNewsPilipinas.com Facebook, Twitter, Instagram, Good News Pilipinas! TV on YouTube, new story notifications and e-mail newsletters for updates on more Filipino Pride stories.
Facebook Comments