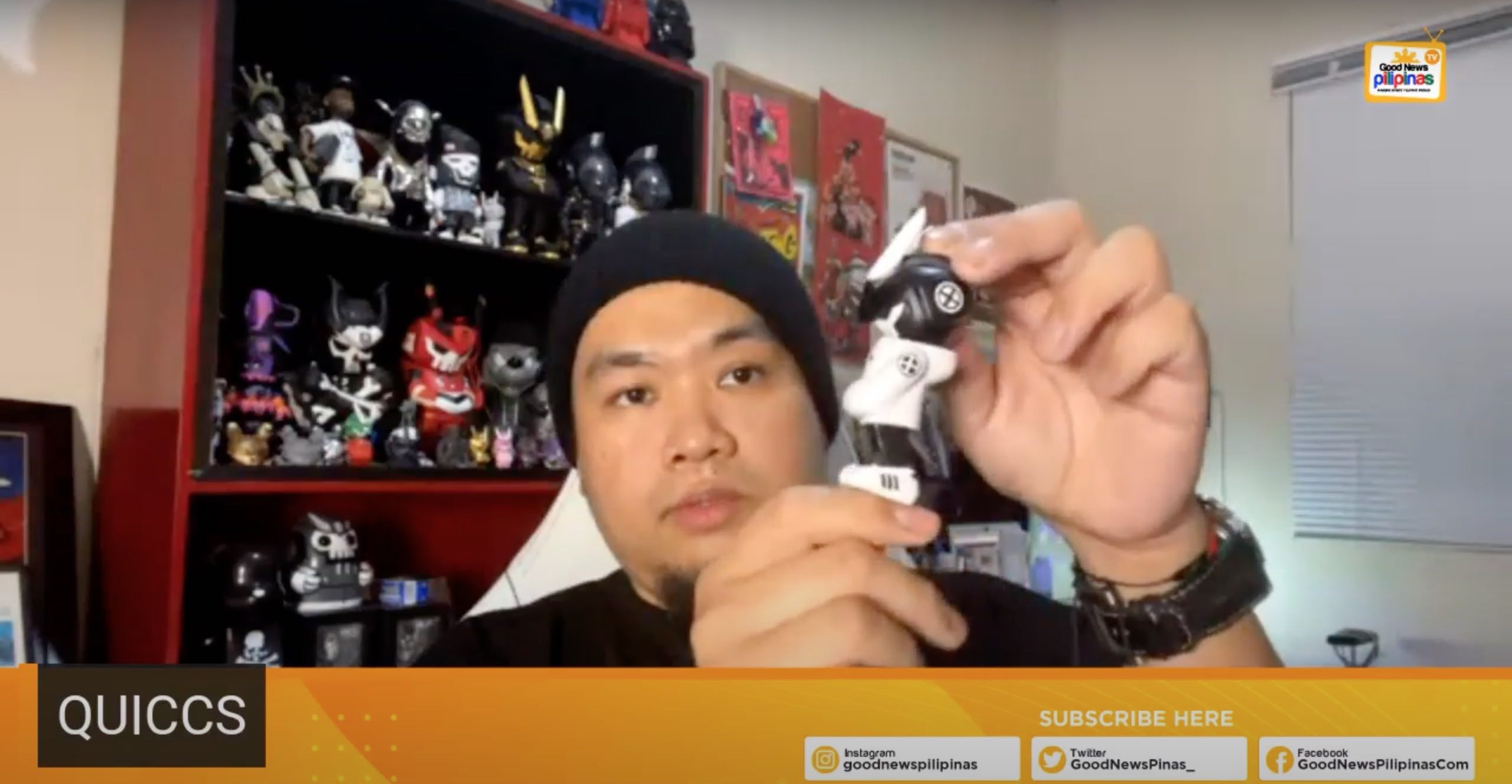 Watch New York Designer Toy Awards' three-peat Artist of the Year Juanito Maiquez, also known as Quiccs, talk about his collaboration with iconic brand Adidas as their first Filipino Creator, his passion for designing toys, and more in an exclusive interview on the Good News Pilipinas! TV YouTube channel.
Quiccs whose work gave him rockstar status among local and international toy enthusiasts continues to achieve global recognition for his craft by winning accolades and collaborating with iconic brands.
The superstar artist and toy designer collaborated with Adidas as their first Filipino Creator and has designed shoes and shirts for the famous sportswear brand.
International chair manufacturing company Secretlab also teamed up with Quiccs for a special limited edition gaming chair.
Last year, the Pinoy visual artist added yet another feather to his cap after becoming a three-time Designer Toy Awards (DTA) Artist of the Year in New York.
The award-winning toy designer, graffiti artist, and illustrator joins Good News Pilipinas! TV anchor Trixie Esguerra of Positivitrix in the fourth episode of the new series, "Filipino Pride Newsmakers".
In the episode, Quiccs excitedly shares how he began designing toys and his proudest moments as a Filipino artist making waves in the designer toy community, both locally and internationally.
Despite his world-class stature as an artist, Quiccs remains down-to-earth and humble. He shares his tips and advice for young Filipino artists in the interview.
Quiccs also revealed the pros and cons of being a Filipino toy designer, his inspirations, and more.
Fans of the Bulletpunk Universe brand creator, who is known for fusing Japanese robot anime shows, graffiti art, and hip-hop culture, should expect to see more from him this year.
Quiccs shares that his team is planning the release of a non-fungible token (NFT) based game where players can battle with each other around the world.
Fans can stay updated on Quiccs' projects by following him on his official Facebook account, Instagram, and website.
The new episode is part of the series introduced as the "Filipino Pride Newsmakers" which features live interviews with personalities from the Philippines and around the world who are making good news headlines for making every Filipino proud.
The first batch of the interview series which premiered in February with Morissette, Christian Bautista, and Chinkee Tan will also feature candid interviews with Moy Ortiz of The CompanY, top singer-songwriter Trina Belamide, indigenous peoples advocate Bayang Barrios, and Liter of Light Filipino innovator Illac Diaz.
WATCH the premiere on Friday, February 25, 3 PM, of the exclusive interview with the Philippines' acclaimed toy designer Juanito "Quiccs" Maiquez and SUBSCRIBE for notifications on more fresh video content on the Good News Pilipinas! TV YouTube channel this 2022!
TELL US your good news story tips by messaging GoodNewsPilipinas.com on Facebook, Twitter, Instagram, or e-mail editor@goodnewspilipinas.com and WATCH Good News Pilipinas TV YouTube for more Filipino Pride stories!
Facebook Comments