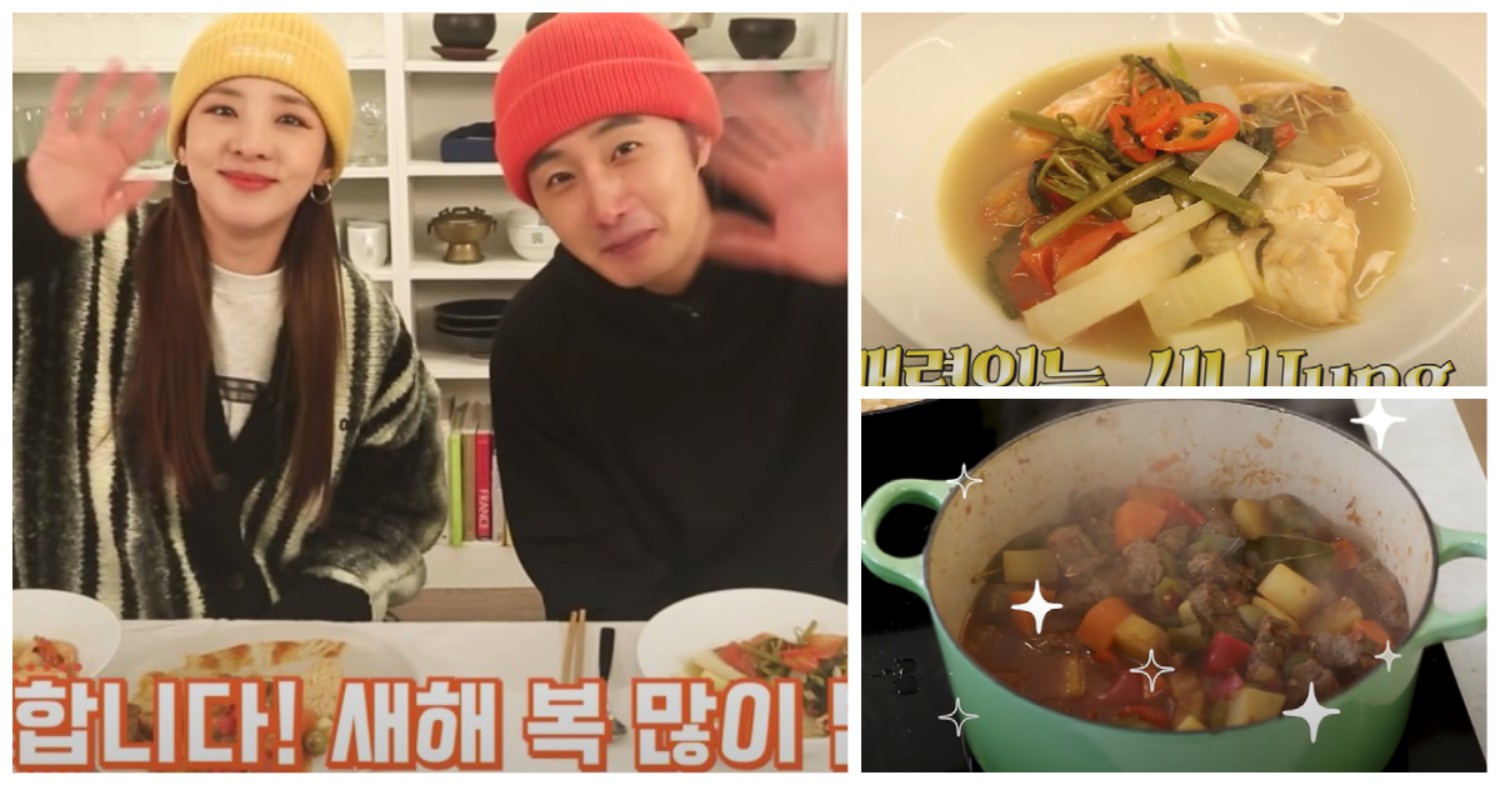 Korean drama actor Jung Il-woo (Cinderella with Four Knights) prepared Filipino dishes for his co-star and long-time friend K-pop star and Pinoy favorite Sandara Park in a recent cooking video.
In his YouTube post uploaded on January 29, 2021, Kdrama star Jung Il-woo showed fans around the globe how to whip up popular Filipino meals that 2NE1 singer Sandara Park loved to eat back when she was still living in the Philippines.
"I'll be cooking some Filipino foods for Dara," Jung Il-woo told viewers. The Hallyu star had essayed memorable roles in Kdramas as a chef in Cool Guys, Hot Ramen (2011), and more recently in Sweet Munchies (2020).
Il-woo made sure to research Filipino cuisine for his "The Return of Iljimae" co-star Sandara Park whom he has been close friends for 13 years.
"Wow, I'm really touched," Sandara Park said. "I mean…who is going to cook Filipino food for me in Korea?"
First up in the cooking tutorial is Filipino-style beef stew Beef Kaldereta followed by traditional tamarind soup Seafood Sinigang with shrimp, explained Il-woo.
"Sinigang is my favorite!" Sandara Park exclaimed.
"I wanted to try too when I saw you eating that dish," Jung Il-woo replied, referring to Park's viral YouTube video where she visited a Filipino market in South Korea to get ingredients for the sour soup native to the Philippines.
Korean pop sensation Sandara Park chatted about famous travel spots in the Philippines and Jung Il-woo admitted he has never been to the country. According to Park, her favorite is Palawan, renowned for its pristine white beaches and natural attractions.
"Let's go together when the pandemic is over," Il-woo said.
In the end, Korean idol Jung Il-Woo was unable to recreate the exact flavor of the signature Filipino dish Sinigang, Park's favorite, on his first try.
"This is not actually it. But it tastes pretty good," Park said, adding that the powdered product Sinigang mix was missing.
The two friends then sat down to eat, reminiscing on memories since starring in the same Korean drama together in 2009. Il-Woo thanked his "only celebrity female friend" for collaborating with him on another video for his YouTube channel as well as Park's continuing support for him as an actor.
K-Pop superstar Sandara Park started her acting and singing career in the Philippines and rose to fame as a contestant on the local talent show Star Circle Quest in 2004. The South Korean celebrity speaks Tagalog fluently and has frequently featured Filipino culture and the country in her YouTube videos.
Celebrities who have spotlighted Filipino cuisine include Hollywood celebrity and singer Selena Gomez who prepared adobo with the help of Filipino-American professional chef Jordan Andino and English actress Florence Pugh who talked about her love for the Pinoy dish Lumpiang Shanghai on her Instagram account.
SEND CHEERS in the comments below to Korean celebrities Jung Il-woo and Sandara Park for putting the spotlight on Filipino food in a cooking video and WATCH them whip up Filipino dishes Beef Kaldereta and Seafood Sinigang here!
Are you a Proud Filipino? Get more good news stories on Filipino Pride! Subscribe to GoodNewsPilipinas.com and our YouTube channel: Good News Pilipinas! TV
Facebook Comments