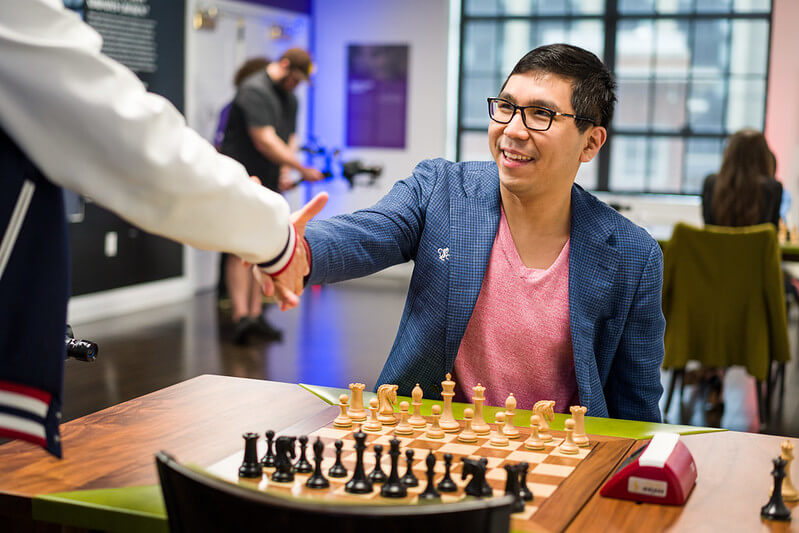 Wesley So used his second chance wisely and earned the right to battle for the 2023 American Cup championship title with his victory in the Elimination Bracket Final of the tournament being played at the Saint Louis Chess Club in the chess capital of Missouri, U.S.A.
Filipino American Grandmaster Wesley So will again face Japan-born American GM Hikaru Nakamura in the Champions' Grand Final match for the $50,000 cash prize following his win today against Armenian GM Levon Aronian.
So and Aronian drew their two rapid chess games of 25 minutes plus 10-second increment, requiring them to play two blitz tiebreaker games of 10 plus 5-second increment time control where So eventually prevailed by winning the first blitz game using black pieces and drawing the second.
In the American Cup post-game analysis and interview, Wesley So was asked how he prepared to win the day's match after losing yesterday's match against Nakamura in the Champion's Bracket. He said he had a good day but that it wasn't easy after nearly winning but eventually losing.
"Today was obviously a wonderful day and I'd like to glorify the Lord Jesus… It's not easy to lose a winning game, but my mom (Lotis Key) helped me. I just tell myself that this is part of the game of chess. Sometimes the best player wins, sometimes it doesn't happen.
"Mistakes are part of the game and my secret is to just keep improving, keep improving. There will always be missed chances, always gonna be blunders, but you just try to keep improving, increase your rating. And if the chips fall your way it's good and if not, just keep working," shared the 3-time U.S. Chess Champion who has been playing non-stop in the American Cup which started March 17 and will run until March 26.
Wesley So in his characteristic humble manner showed surprise at the favorable infographic on his and Nakamura's Lifetime Matchup in Classical Chess which showed the latter, now a popular chess streamer, winning only one game, losing 4, and drawing 22 games against So.
"Hikaru is a very strong player and the wins I had against him were from 7 years ago, but I don't even remember beating him four times," So said, dismissing his supposed advantage going into the Grand Finals against the tournament top-seed and heavy favorite to win.
Rematch between Wesley So @GMWesleySo123 and Hikaru Nakamura for #TheAmericanCup championship goes live on March 24 at 1:30 PM CDT (March 25 at 2:30 AM PST) @STLChessClub STORY on @GoodNewsPinas_ https://t.co/HU41IPlBNa

— Angie Quadra-Balibay (@AngieQBalibay) March 24, 2023
In their first meeting in the Champion's Bracket Final, 3-time U.S. Chess Champion Wesley So and 5-time U.S. Chess Champion Hikaru Nakamura drew the 2 classical games, which sent them to the 2 time-pressured rapid tiebreaker games that again ended in a tie with each player taking a win.
The deadlock was finally broken with two blitz games ending in favor of Nakamura who took the first seat in the American Cup Grand Finals, while So was relegated to the Elimination Bracket Final against Aronian who booked his ticket to the final in the bracket where defeated players play speed chess to get another chance to play for the championship title.
Before losing in the Champion's Bracket Final, Wesley So had zero losses and had defeated top players Italian American GM Fabiano Caruana and American GM Sam Shankland in the double-round knockout chess tournament between the 8 best overall players living in the United States.
After So defeated Aronian, he now returns to the Champion's Bracket to again battle Nakamura in two Classical Chess games with a time control of 90 minutes plus a 30-second increment.
The American Cup Grand Final is scheduled on March 24 at 1:30 PM CDT (March 25 at 2:30 AM PST) at the World Chess Hall of Fame at the Saint Louis Chess Club.
Wesley So is a three-time US Chess Champion, a two-time Grand Chess Tour Champion, the inaugural World Fischer Random Chess Champion, and the current Chess Global Champion who started his career in the Philippines. He is playing to win his second title this year after his victory at the World Chess Armageddon Championship Series: Americas leg held in Berlin, Germany, and earning a spot in the tournament's Grand Finale.
Wesley So is the current leader of the FIDE Circuit, the newest qualification path to the 2024 Candidates Tournament which decides the challenger for the World Championship match.
SEND CONGRATULATIONS & WATCH Wesley So play in the American Cup Grand Final live here on March 24 at 1:30 PM CDT (March 25 at 2:30 AM PST) and SEND WELL WISHES in the comments below as he battles for the American Cup Championship!
Good News Pilipinas is a Lasallian Scholarum Awardee. TELL US your good news story tips by messaging GoodNewsPilipinas.com on Facebook, Twitter, Instagram, or e-mail editor@goodnewspilipinas.com and WATCH Good News Pilipinas TV YouTube & Good News Pilipinas TikTok for more Filipino Pride stories!
Facebook Comments