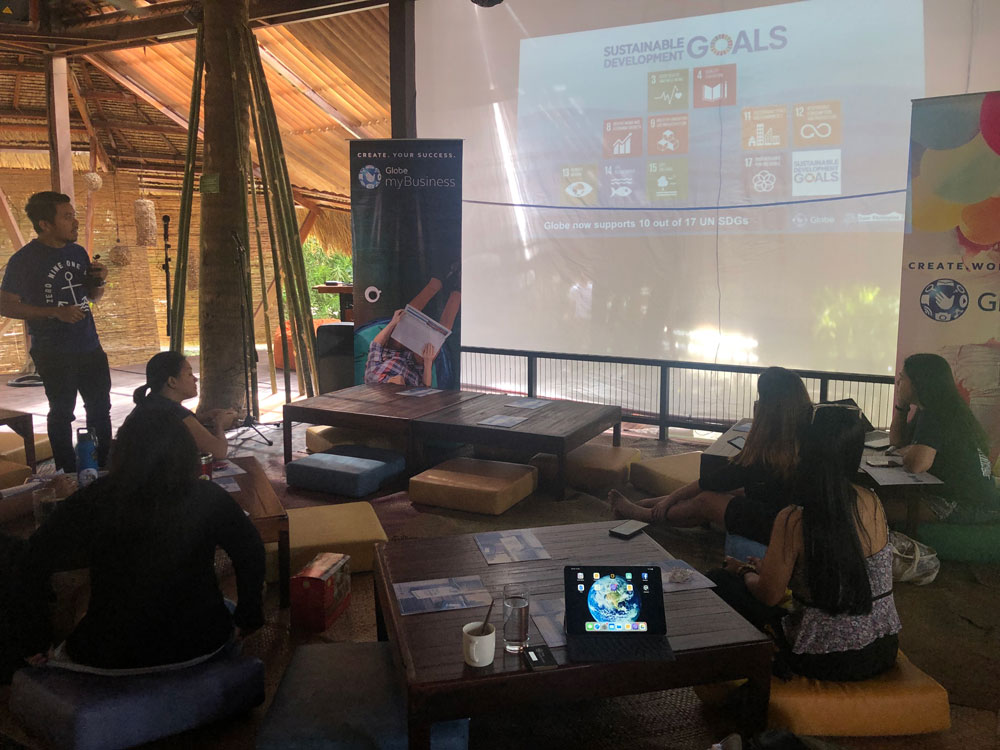 The world's renowned surfing mecca, Siargao, is receiving help to preserve its marine biodiversity amidst the influx of tourist arrivals.
Siargao, ranked 3rd top travel destination for 2019 by international travelers, is being helped through the efforts of Globe Telecom and Save Philippine Seas (SPS). The private organizations are leading awareness workshops among the island's businesses to implement conservation efforts for the Surigao del Norte island's natural resources.
The environmental worked with 30 business owners of micro, small, and medium enterprises (MSMEs) to discuss best practices on sustainability and biodiversity
During the workshop, Globe myBusiness and SPS shared tips on how to integrate sustainable best practices into day-to-day operations of businesses. These include the use of ecobags, reusable utensils, refillable containers and the reuse of printed tarps and signage. The business owners were also requested not to use sand, seashells, corals, and sea stars as decorations as well as avoid balloons and lantern releases.
"This program of Globe about Marine Biodiversity and Sustainable Business Practices is a big help to the municipality of General Luna. The program serves as a tool to give proper education and awareness to every household and every barangay in order to solve our solid waste management problem.
I would like to appeal to the local community and all business establishments here in General Luna that we help each other and work together for the success of our environment conservation efforts; for the prosperity and progress of our own municipality," said Jose Wilbert L. Gorgonio, Municipal Environment and Natural Resources Officer, General Luna.
While the island is very progressive and has become a booming tourist destination, Siargao is not yet too commercialized, thus, an early intervention is ideal to avoid the pitfalls that Boracay had encountered.
Siargao has several establishments in the capital of General Luna which are working together to create a better sustainable development, making it one of the best places to start the awareness campaign.
Siargao, along with Boracay and Palawan, were the Top 3 Best Islands in the World for 2018 in the Readers' Choice Awards.
The Philippines is considered as one of the 25 biodiversity hotspots in the world but it is also the 3rd largest polluter of plastic into the ocean, according to Earth Day Network, prompting Globe myBusiness to help address the situation in Siargao island.
Facebook Comments