The Philippines honoured 10 senior citizens as its unsung heroes during the 28th Sampung Ulirang Nakatatanda (Outstanding Older Persons) Awards.
The Filipino elders were recognized for contributing to nation-building even in their later years.
The 2018 Outstanding Older Persons ages ranged from 70 to 107 years old.
The list is comprised of an environmental and disaster risk reduction management promoter, an HIV/AIDS awareness advocate, a community teacher, a community organizer, an urban poor organizer, a human rights activist, a tribal leader, a peacemaker, a women rights advocate, and an elderly persons worker.
The Coalition of Services of the Elderly (COSE) led the celebrations in awards ceremonies held in October in Quezon City.
"We always say that older persons play a big part in the nation-building but we seldom show our appreciation of what they have done to our society. The Sampung Ulirang Nakatatanda Awards is our simple way of searching for these unsung heroes and honoring the services and efforts that they have shared in making our nation a better one," says Emily Beridico, COSE Executive Director of the value of the annual awards.
The 10 Sampung Ulirang Nakatatanda (SUN) Awardees for 2018 are: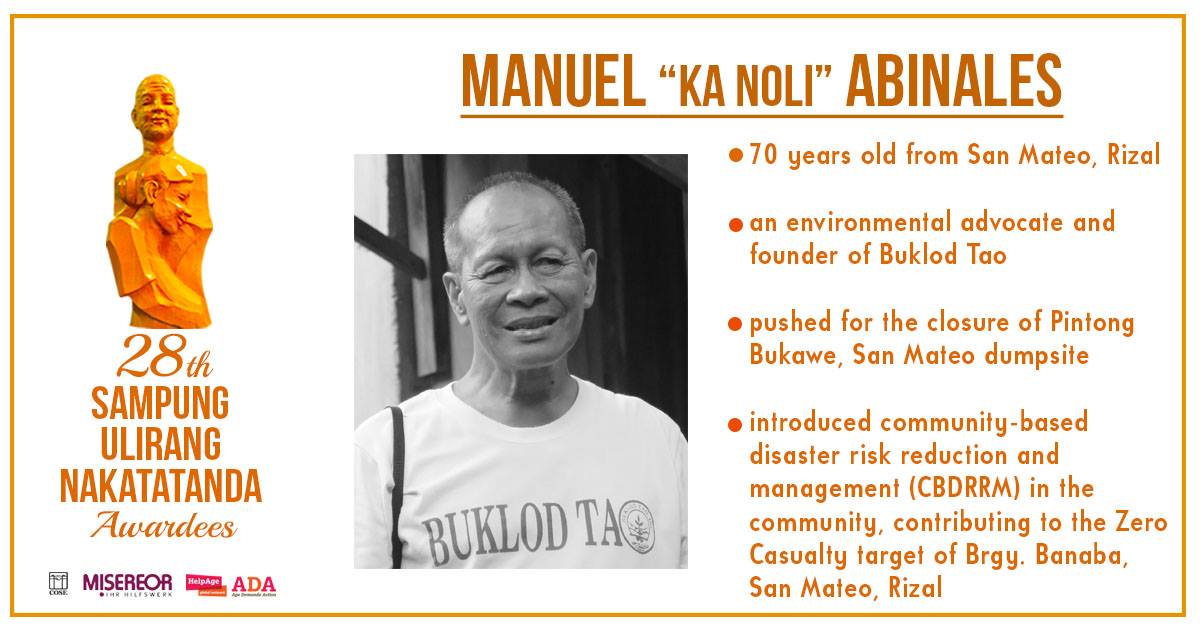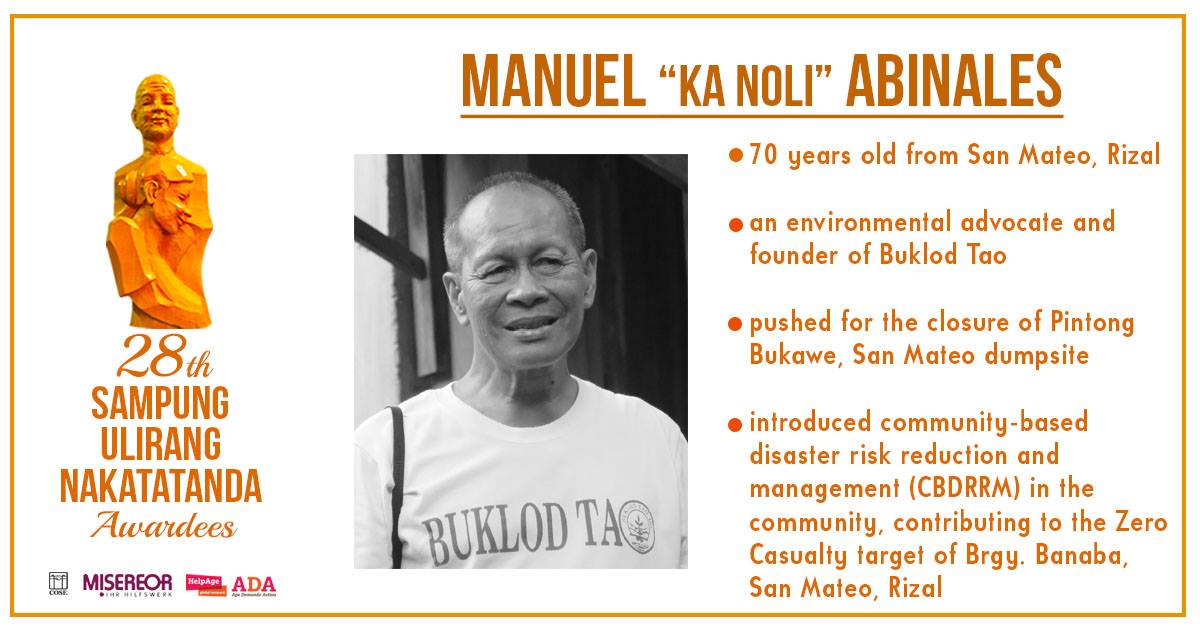 MANUEL "Ka Noli" ABINALES is a 70-year-old environmental advocate and promoter of Community-Based Disaster Risk Reduction and Management (CBDRRM) approach from San Mateo, Rizal. He was instrumental in the closure of Pintong Bukawe dumpsite and zero casualty in disaster in San Mateo, Rizal. He is also the founder of Buklod Tao, a people's organization that helps communities prepare in disasters.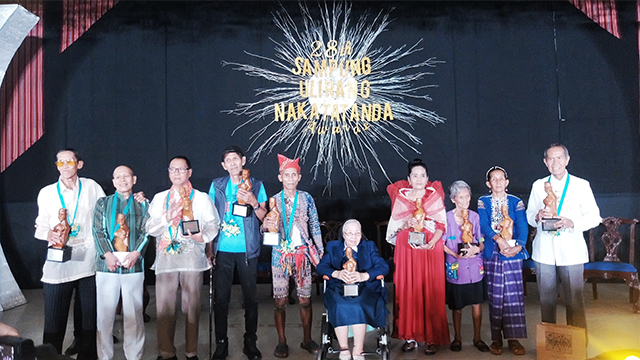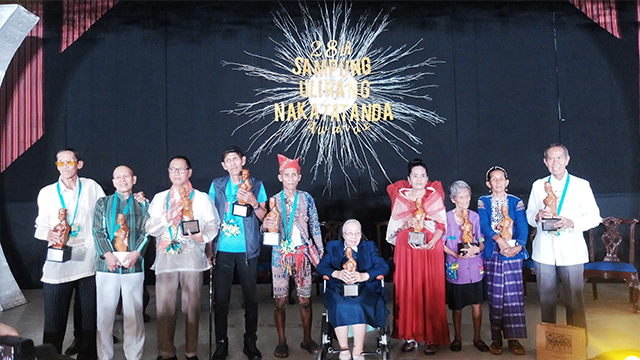 ARTURO APORA, 72 years old from Bulacan, actively engages in increasing public awareness on HIV/AIDS since 1992. He has become a lecturer on HIV/AIDS and community support through Positive Action Foundation Philippines, Inc. (PAFPI), and goes around health clinics, communities and universities to expand this advocacy.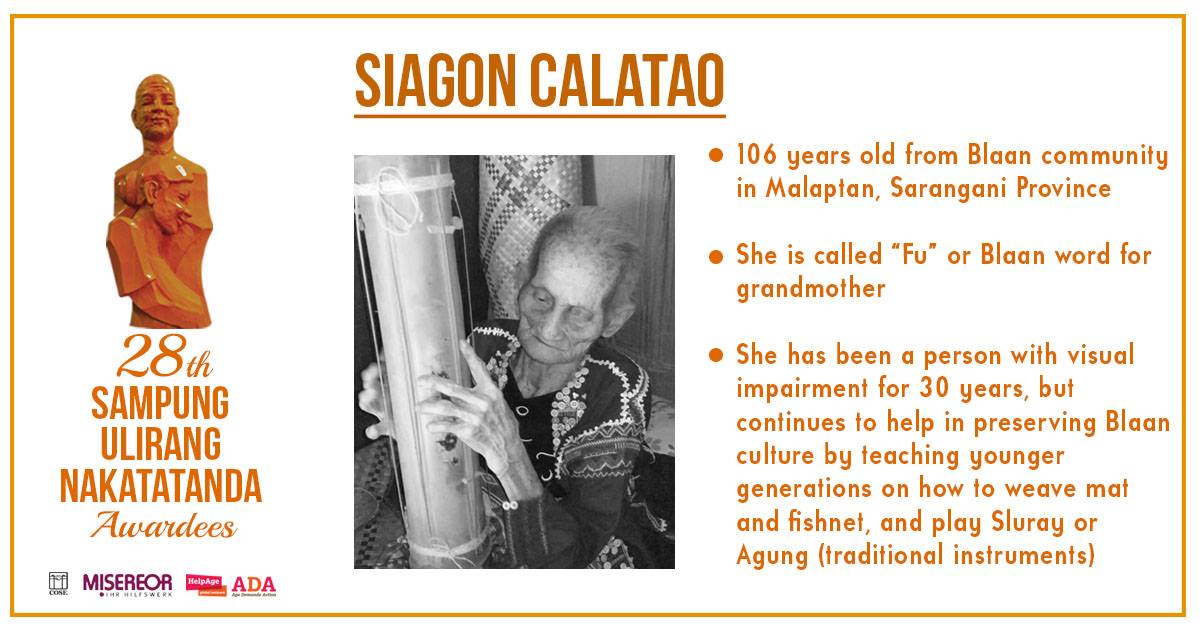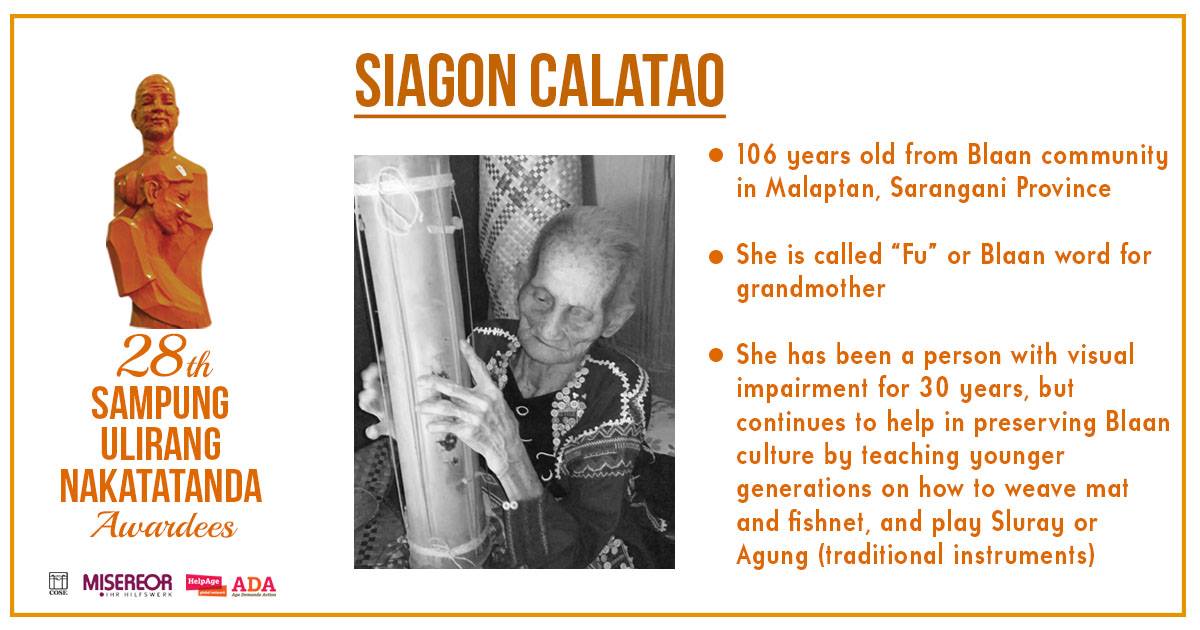 SIAGON CALATAO from the Blaan community of Malapatan, Sarangani Province is the oldest awardee in the history of SUN Awards at the age of 107. She is a person with visual impairment for 30 years now, but continues to teach younger generations of her knowledge on Blaan culture, like weaving of mats and fishnets and playing of traditional instruments like Sluray ang agung.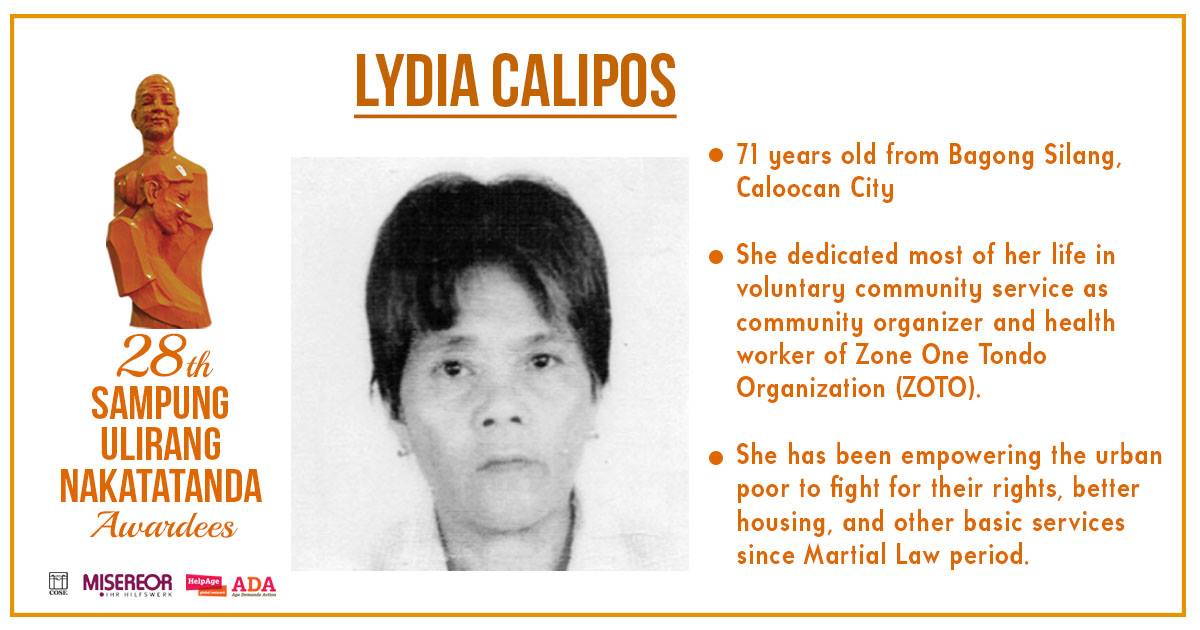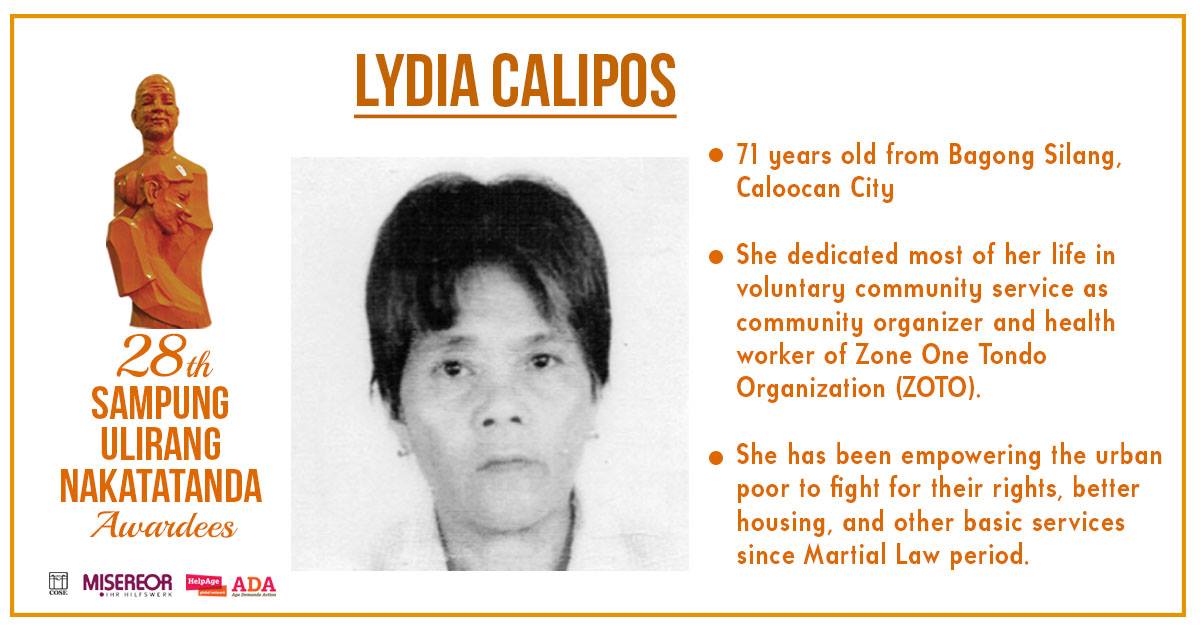 LYDIA CALIPOS, 71 years old from Bagon Silang, Caloocan City, has dedicated most of her life in voluntary community service as community organizer and community health worker of Zone One Tondo Organizations (ZOTO). She regularly goes around to organize urban poor people and fight for the rights of the marginalized since Martial Law time. Through her efforts, about 800 families of Smokey Mountain had relocated and received better housing in Bagong Silang, Caloocan City.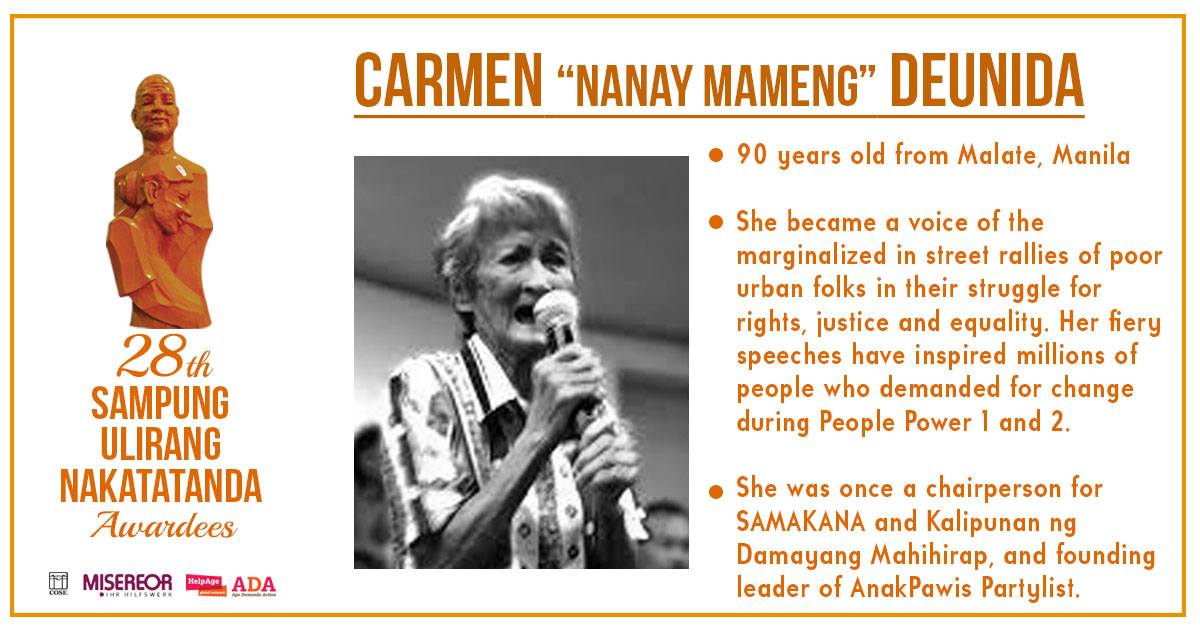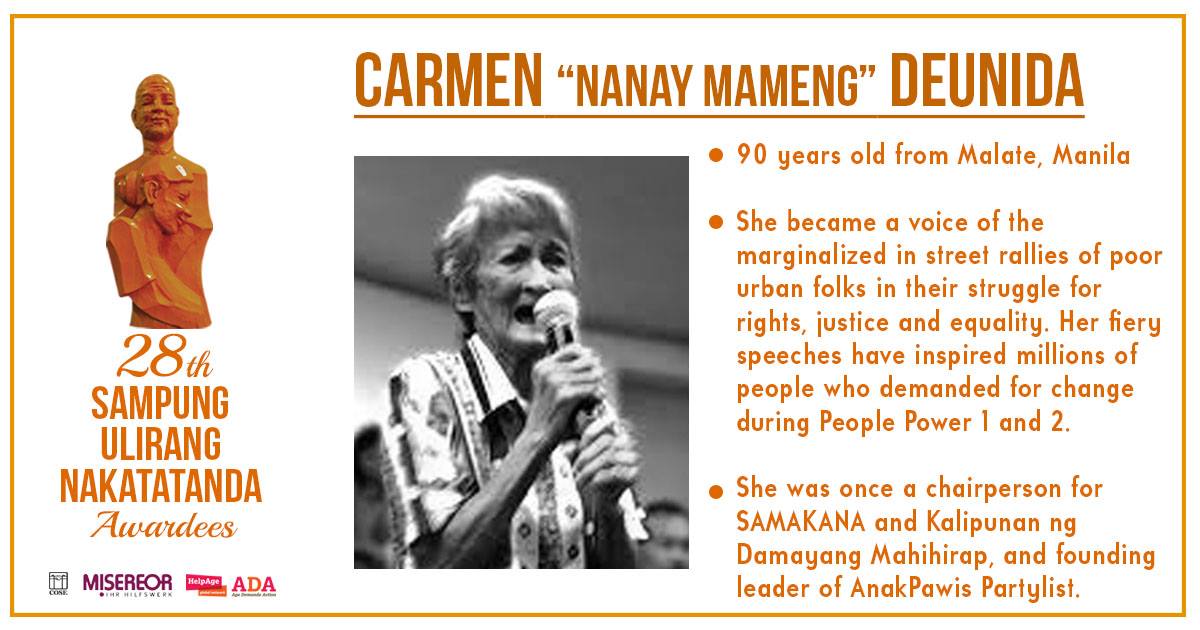 CARMEN "Nay Mameng" DEUNIDA, 90 years old from Malate, Manila is a familiar figure in street mobilizations. She is one of the fiery voices of the marginalized in street rallies of poor urban folks in their struggle for rights, justice, and equality. She became chairpersons of different poor organizations like Samahan ng Maralitang Kababaihang Nagkakaisa (SAMAKANA) and Kalipunan ng Damayang Mahihirap (National Alliance of Urban Poor in the Philippines), and was one of the founding members of AnakPawis Partylist.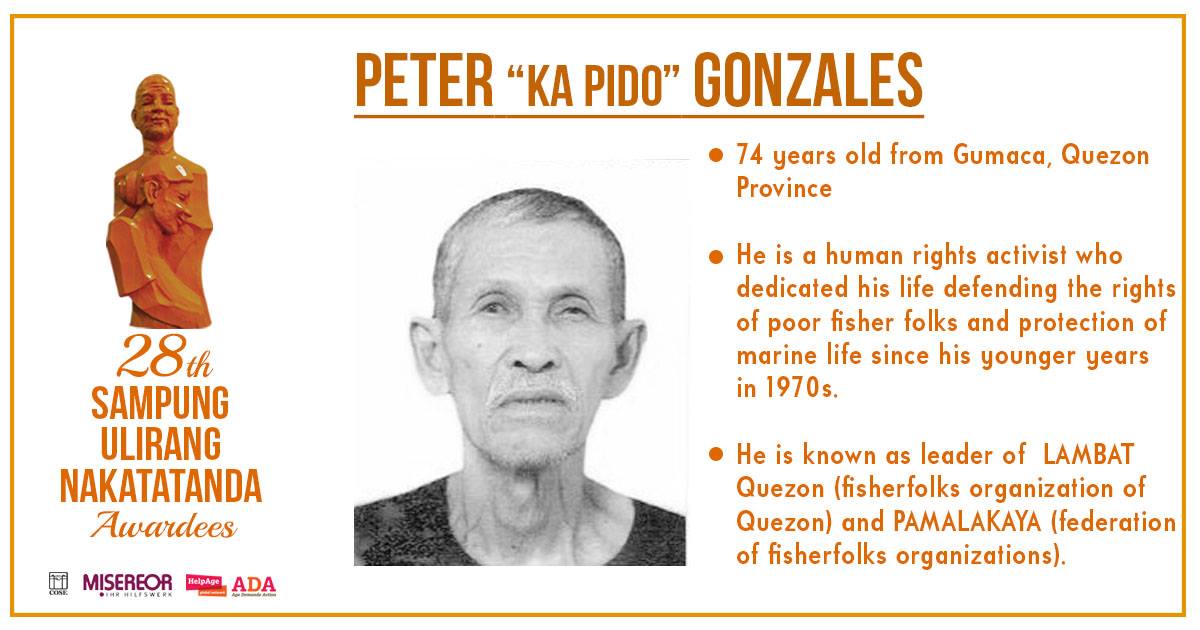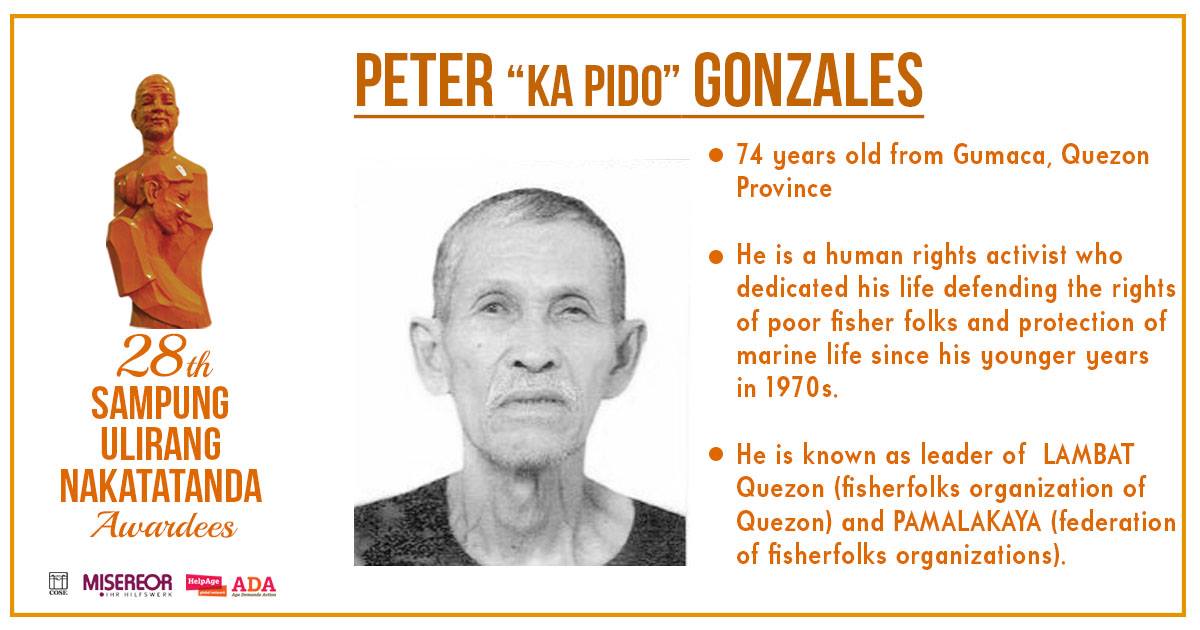 PETER "Ka Pido" GONZALES, 74 years old, is a human rights activist from Gumaca, Quezon Province who dedicated his life defending the rights of poor fisherfolk and the protection of marine life in the Philippines, particularly in the Southern Luzon since 1970s. He is a known leader of LAMBAT Quezon and PAMALAKAYA, organizations of small and poor fisherfolk.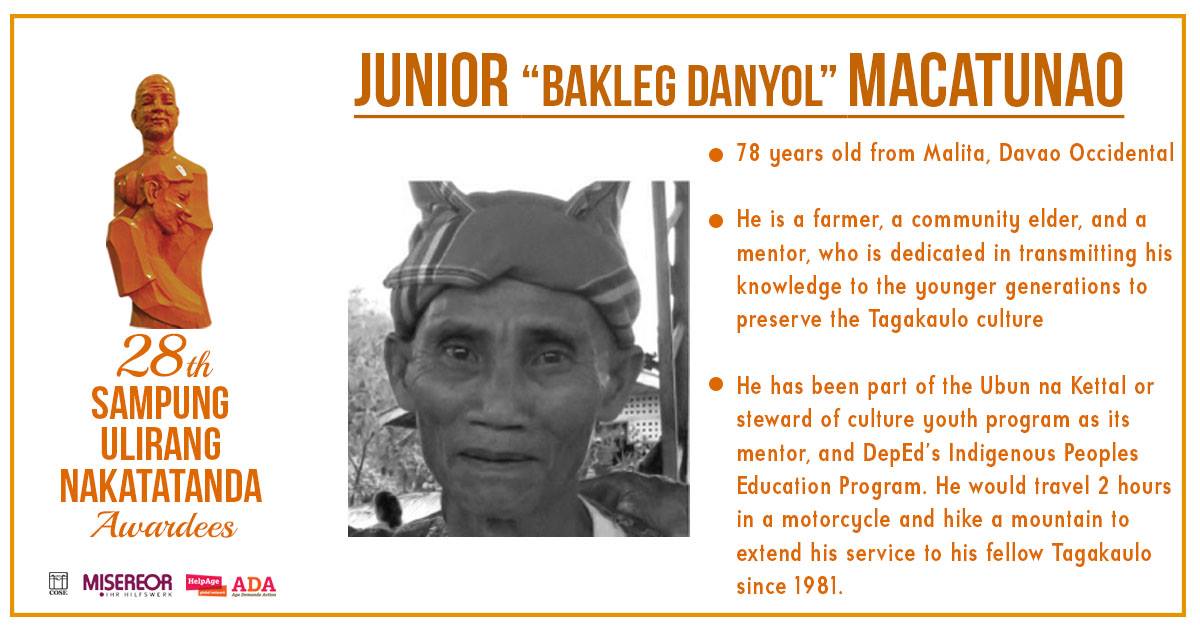 JUNIOR MACATUNAO, 78 years old member of Tagakaulo tribe from Malita, Davao Occidental. He is also known as Bakleg Danyol. He is a farmer, a community elder, and a mentor who loves his people and is dedicated in transmitting his knowledge on Tagakaulo culture to the younger generations of their tribe. As a leader, he would not mind traveling different communities for two to three hours by foot and motorcycle. He is also part of Ubun na Kettal or steward of culture youth program, and DepEd's Indigenous People's Program.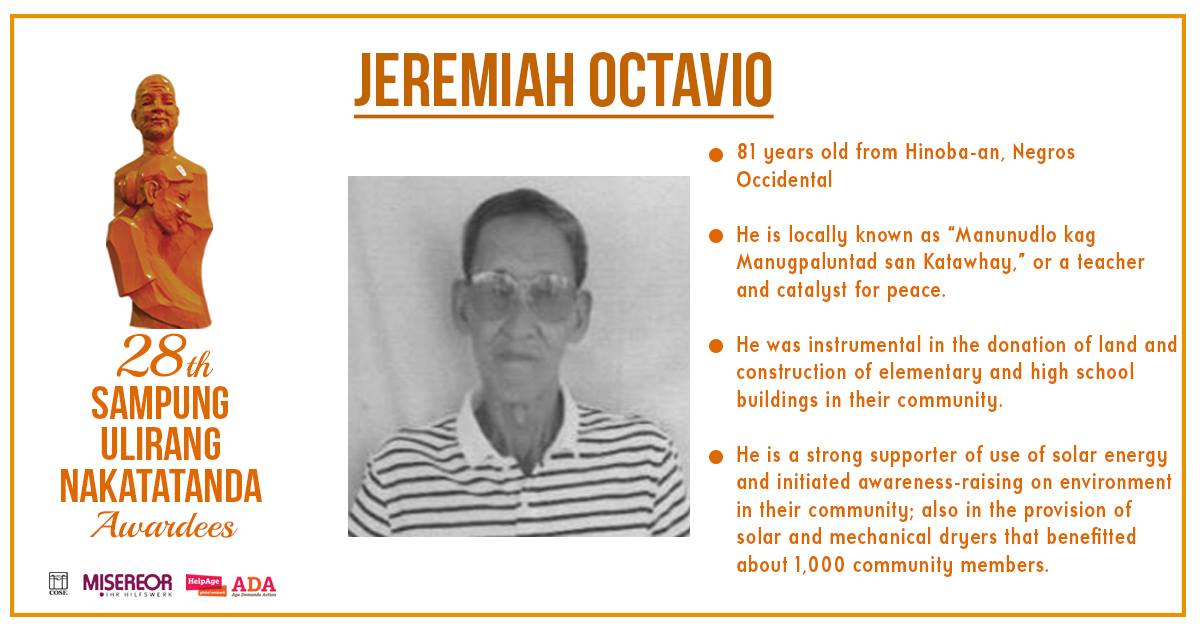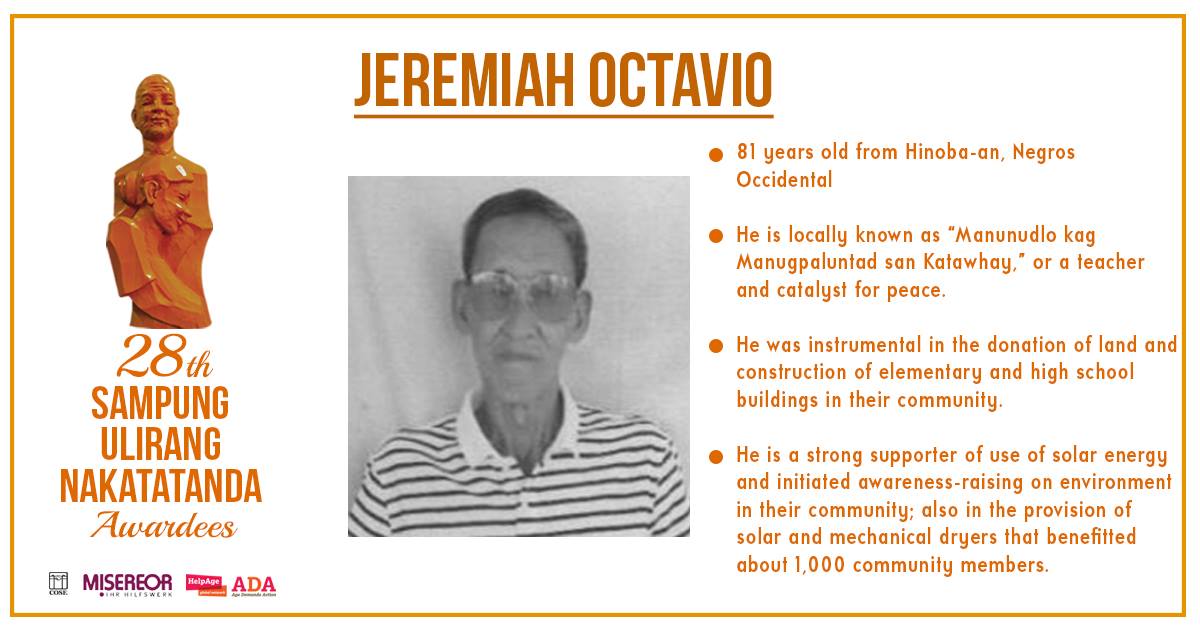 JEREMIAH OCTAVIO, 81 years old from Hinoba-an, Negros Occidental is locally known as "Manunudlo kag Manugpaluntad san Katawhay," or teacher and catalyst for peace. He was instrumental in the donation of land and construction of elementary and high school buildings in their community. He was also instrumental in the provision of solar and mechanical dryers that benefit about 1,000 community members.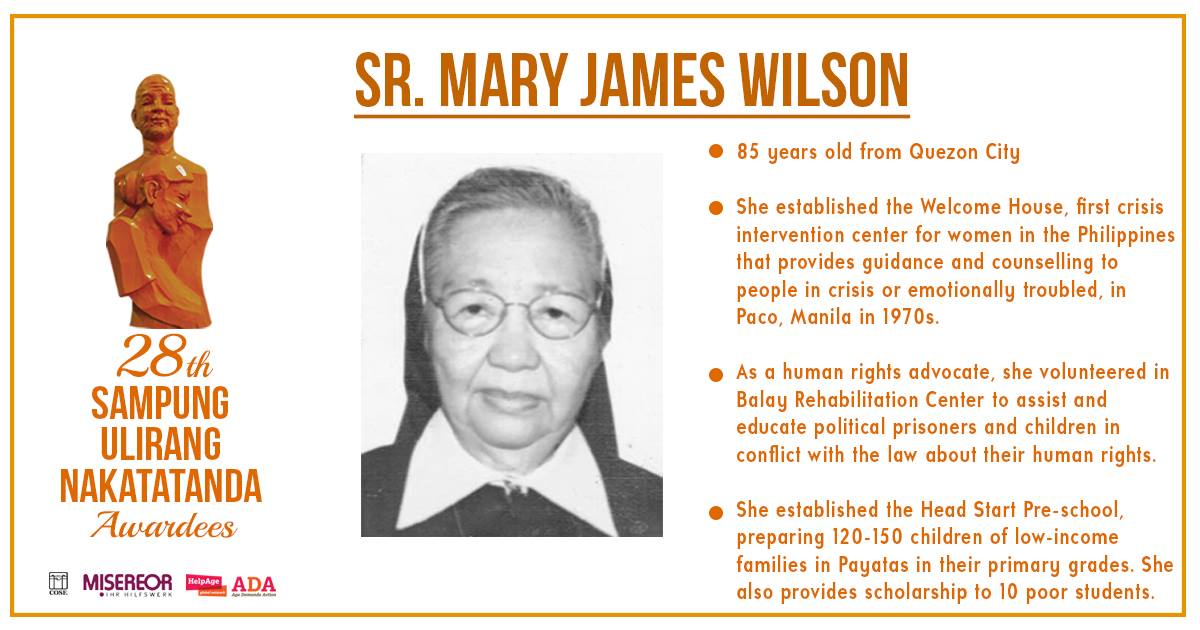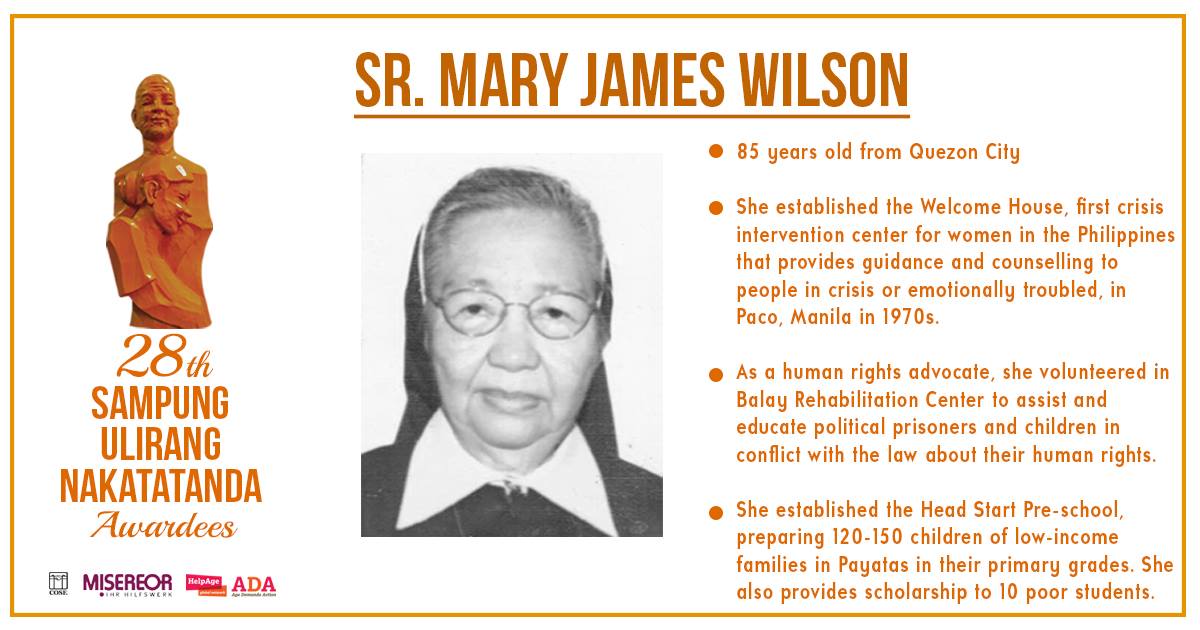 Sister MARY JAMES WILSON, 85 years old resident of Quezon City. She established the Welcome House in Manila, the first crisis intervention center for women in the Philippines through the Religious of the Good Shepherd Mission. She later on established the Head Start, a center that gives preparatory education to children of low-income families, mostly scavengers, in Payatas, Quezon City.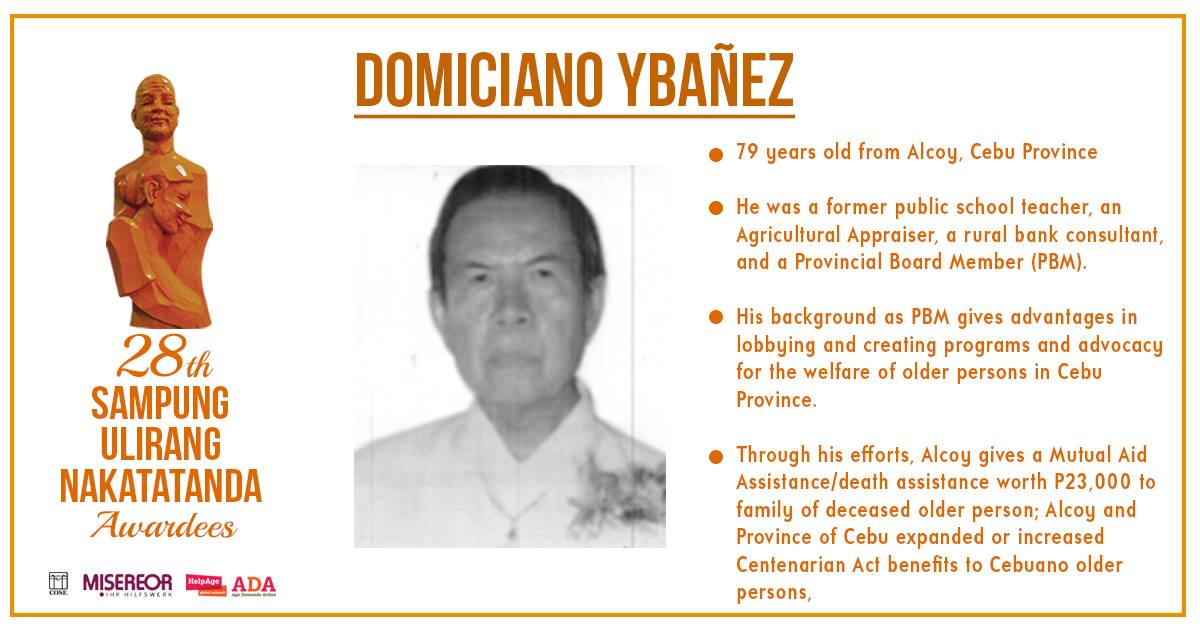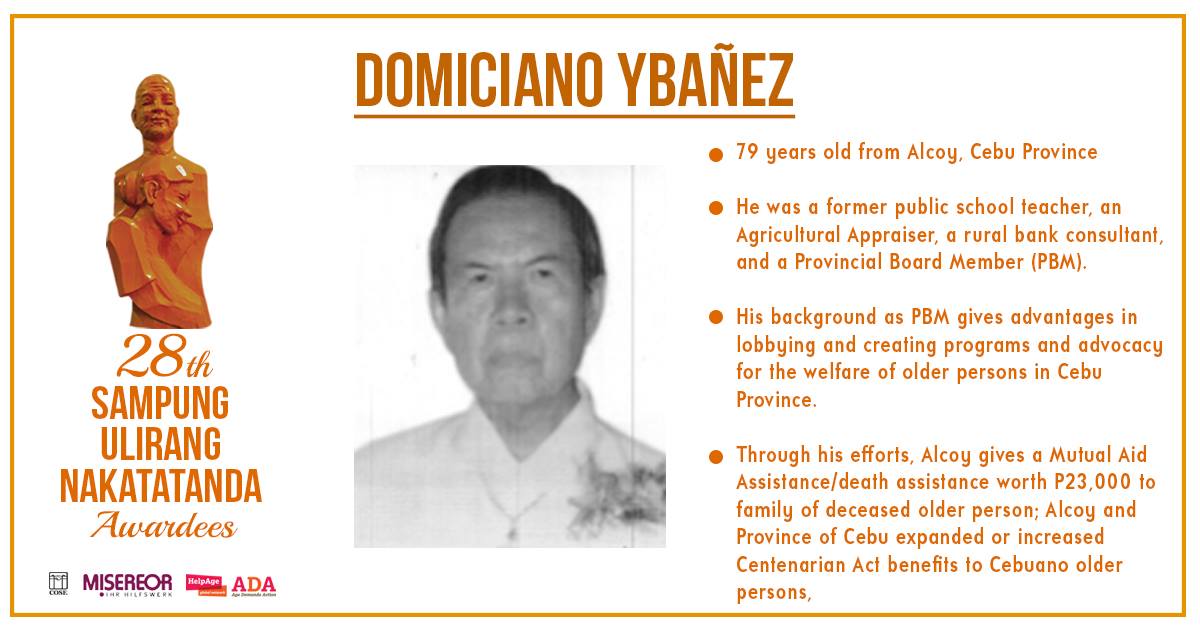 DOMICIANO YBAÑEZ, 79 years old from Alcoy, Cebu was a former public servant, public school teacher, agricultural appraiser, and rural bank consultant. He was instrumental in expanding their local government units' assistances to senior citizens like the Mutual Aid Assistance to family of deceased older person, and the Centenarian Act in the Municipality of Alcoy and the Province of Cebu.
The 2018 Outstanding Older Persons awardees were chosen from nominations coming from different communities from Luzon, Visayas, and Mindanao and were chosen by a panel of judges to receive the SUN trophy and cash prize for "selfless, exemplary and significant contributions to their chosen sector, group, or community despite their own limitations in life."
Facebook Comments