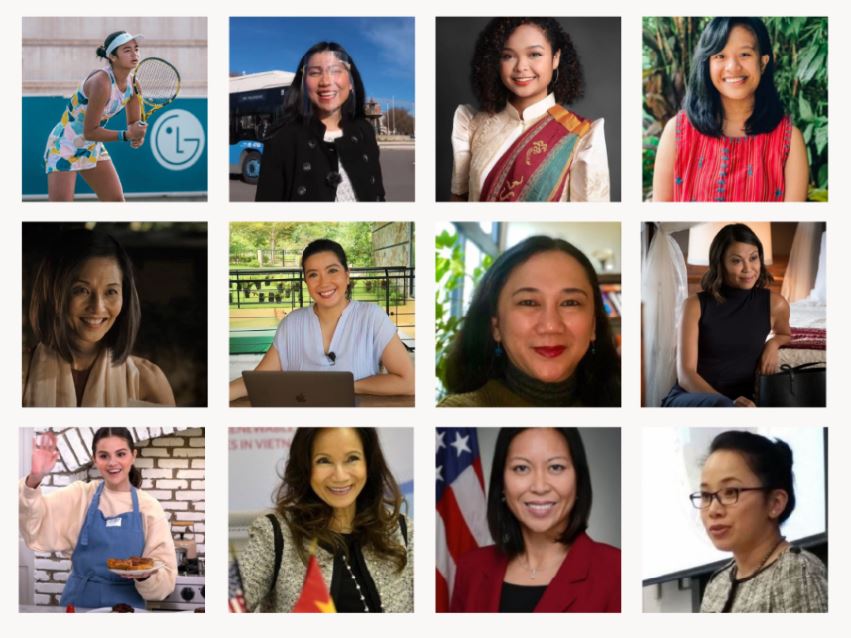 Here are 12 Filipinas bringing honor to the Philippines on International Women's Day, March 8, 2021, amid a global celebration set against a backdrop of unprecedented challenges.
These Filipino women's recent achievements in various fields help raise awareness about their heritage and advocacies.
Whether they were born in the Philippines or born to Filipino parents elsewhere in the world, these excellent artists, champion athlete, outstanding teachers, political leaders, and youth leaders gave the nation something to be proud of just within the first months of the year 2021.
As International Women's Day (IWD) 2021 carries the theme "Choose To Challenge", GoodNewsPilipinas.com presents these 12 Filipinas who faced challenges in their fields and came out winners.
OUTSTANDING ARTISTS
Filipino immigrant Carla Montemayor wins London Writers Award
Carla Montemayor, born and raised in Manila and educated at the University of the Philippines, migrated to the United Kingdom 16 years ago.
The Filipino immigrant won the London Writers Award (LWA) for Narrative Non-Fiction given by Spread the Word, a writer development agency championing the underrepresented and marginalized voices in the United Kingdom publishing industry.
Montemayor represents the Filipino community among the 30 London-based writers announced in January who will be supported and nurtured through a ten-month development program in preparation for meeting with agents and publishers and pursuing their writing careers.
FIND OUT MORE about Carla Montemayor's immigrant story here.
Karate Kid's Tamlyn Tomita fights for Filipino nurses representation on American TV
Filipino-Japanese Tamlyn Tomita who reprises her role as Karate Kid Ralph Macchio's love interest in the new Cobra Kai Season 3 on Netflix, has been fighting for Filipino nurses' representation in American television medical dramas, especially during the pandemic.
Tomita, who traces her roots to a Filipina mother and a Japanese American father, was born in Okinawa and raised in San Fernando Valley.
Tomita revealed that she fought with writers for a Filipino nurse regular on "The Good Doctor" and continued to advocate for such characters.
"… I continue to fight for especially during this pandemic time is the representation of Filipino nurses on medical dramas throughout the decades of American television. I fought for a Filipino nurse regular on ["The Good Doctor"] in the writers' room for all three years. But shooting in Canada, there's not a lot of opportunity for persons of Filipino heritage. It's something that I'm always very cognizant of. "Where are the Filipino nurses? Whether they're Filipino born or American born, that's what's been missing in a lot of the storytelling of American television."
READ MORE about Tamlyn Tomita's advocacy for representation in Hollywood here.
Hollywood's Selena Gomez showcases Pinoy heritage
Hollywood celebrity and Grammy-winning singer Selena Gomez showcases the Filipino culture on her HBO Max cooking show, Selena + Chef.
Selena Gomez whipped up Adobo, the well-known national dish of the Philippines with the help of professional chef Jordan Andino, the Filipino cuisine expert and host of "Late Nite Eats" on the Cooking Channel.
WATCH Selena cook the Filipino adobo in the video here.
Fil-Am actress Tess Paras is 1st Asian female director of "Showcase"
Filipino-American actress Tess Paras is set to be the first Asian female director for Viacom-CBS' upcoming 2021 Virtual "Showcase", bringing her on-cam advocacy for representation in Hollywood to behind the scenes.
The Filipina celebrity, who starred in CW's "Crazy Ex-Girlfriend" and Amazon's "Just Add Magic," is set to executive produce and direct "Showcase," a hybrid comedy show that is known for Broadway-worthy live performances highlighting diverse talents.
Tess Paras is an actress, writer, and director based in Los Angeles has been vocal about championing Asian American representation and inclusion in Hollywood.
GET TO KNOW MORE about Tess Paras and her work behind the scenes here.
WOMEN IN SPORTS
Philippines' Alex Eala victorious over Spain's ace, claims 1st pro tennis title
Alexandra "Alex" Eala raised the Philippines' colors over Spain as the teen tennis world champion won her very first professional tennis championship title at the International Tennis Federation's (ITF) Women's World Tennis Tour.
The country's new world champion claimed a come-from-behind victory over Spain's multi-titled pro champion, Yvonne Cavelle-Reimers, in the W15 Manacor Women's Singles Finals in January.
The 15-year-old Alex Eala defeated the 28-year-old Cavelle-Reimers on Spanish soil, delivering a blow to the hometown bet after 3 sets.
CHECK OUT Alex Eala's journey towards her first women's professional championship title here.
TEACHING EXCELLENCE
UP historian Dr. Ros Costelo receives highest academic honors in Spain
University of the Philippines historian Dr. Ros Costelo received the mark of sobresaliente cum laude, the highest possible recognition that can be bestowed by the Spanish educational system when she graduated with a doctorate degree in Contemporary History from the Universidad Complutense de Madrid, Spain's most prestigious academic institution which counts Jose Rizal and Antonio Luna among its distinguished alumni.
Dr. Costelo was awarded the highest academic honors after the successful defense of her doctoral thesis in front of a panel composed of some of the most well-known historians from both Spain and the Philippines in late January, the Embassy of the Philippines in Madrid announced on February 12, 2021.
Ros Costelo hails from Tunga, Leyte. She has a bachelor's and master's degree in History from the University of the Philippines and is currently an assistant professor at the Department of History in UP Diliman.
Dr. Ros Costelo's passion project was recently released: the first-ever Jose Rizal Virtual Walking Tour Madrid.
LEARN MORE about UP historian Ros Costelo and her passion for history here.
Filipino journalist Kara David teaches journalism and TV scriptwriting
Multi-awarded Filipino broadcast journalist and University of the Philippines teacher Kara David is sharing free video tutorials for students and teachers of journalism and TV scriptwriting.
David's first 5-minute YouTube video shows the journalist and teacher giving tips on the use of video illustration, how to write sentences for broadcast, and writing a report outline.
The GMA Network news anchor-correspondent and UP Diliman College of Mass Communication teacher's lessons are based on her decades of experience.
The original version of the video was intended for the teacher broadcasters of the Department of Education (DepEd) since the current schoolyear shifted online, and soon to be on TV, due to the coronavirus disease pandemic.
VIEW teacher Kara David's journalism lessons on YouTube here.
POLITICAL LEADERS
Filipina leaders appointed to top posts in U.S. government
Three Filipina leaders have been named to top government posts under the administration of new United States President Joe Biden, an affirmation of the government's track towards diversity in America's leadership.
Three Americans of Filipino descent Gloria Steele, Camille Calimlim Touton, and Veronica Valdez are now serving as the acting heads of federal and development agencies after they were appointed by President Joe Biden shortly after his inauguration as the 46th president of the United States in January.
Gloria Steele serves as the Acting Administrator of the United States Agency for International Development (USAID).
Camille Calimlim-Touton serves as Deputy Commissioner of the Bureau of Reclamation in the Department of Interior.
Veronica Valdez of the Department of Defense was appointed to Special Assistant to the Assistant Secretary of Defense for Indo-Pacific Security Affairs.
MORE about the Filipina officials in the U.S. government in this article.
YOUTH LEADERS
Filipina youth leaders Louise Mabulo and Josefa Tauli win NatGeo Young Explorers Awards
Filipina youth leaders Louise Mabulo and Josefa Tauli, both from the University of the Philippines, have been named recipients of the Young Explorer awards of the National Geographic Society which gives funding to young people engaged in impact-driven efforts to address global issues.
Cacao farming advocate Louise Mabulo of Camarines Sur and Josefa Tauli, indigenous youth from Cordillera, joined the Fall 2020 cohort of Young Explorers announced by the National Geographic Society in January.
The batch is comprised of 24 people from around the world, between 17 and 25 years old, who are on the frontlines of the most complex and urgent issues of our time.
KNOW MORE ABOUT Louise Mabulo and Josefa Tauli's advocacies here.
International Women's Day has been observed around the world since 1911 and has been marked by campaigns for women's rights and welfare, and the celebration of women's achievements.
"A challenged world is an alert world and from challenge comes change.
So let's all choose to challenge," IWD 2021 describes the context of this year's celebration.
"How will you help forge a gender equal world? Celebrate women's achievement. Raise awareness against bias. Take action for equality."
HOW ARE YOU celebrating International Women's Day this year? SHARE your story in the comments below.
Good News Pilipinas is celebrating its 15th Anniversary in 2021 by giving away prizes! Subscribe to our Good News Pilipinas! TV YouTube channel and enter the raffle by sending us an email to editor@goodnewspilipinas.com
Facebook Comments