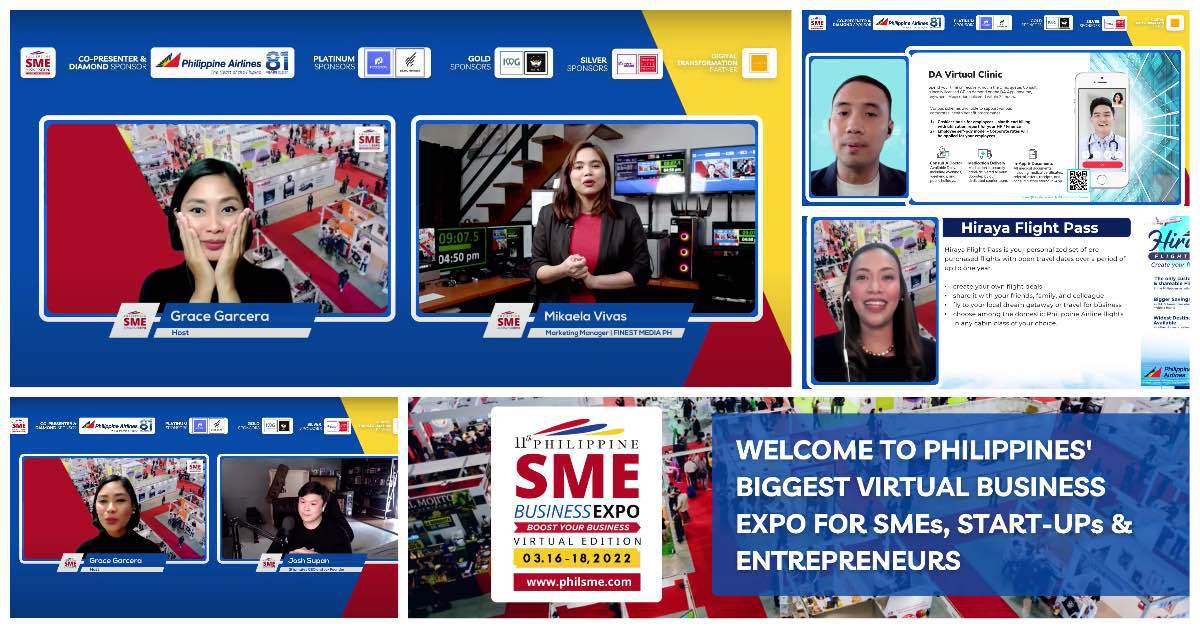 Filipino small business owners and industry experts in e-commerce, e-finance, virtual offices, human resource tools, travel, edutech, and many more, have come together for the talks of the Philippines' biggest virtual business Expo for SMEs, start-ups, and entrepreneurs which wraps up its second virtual edition on March 18.
The annual Philippine SME Business Expo is currently being held online for the second time following the successful hosting of its first virtual edition in 2021.
The 2022 business expo again serves as a platform for small and medium enterprises (SMEs) to network with potential partners and customers, explore new business solutions, and empower business owners to bounce back after the COVID-19 pandemic struck the world in 2020.
This year's 11th PHILSME organized by Mediacom Solutions Inc. kicked off on March 16 and will run until March 18 on the Whova virtual platform and has so far gathered over 3,000 visitors from across the country and the world.
In the expo, attendees have the opportunity to participate in live learning sessions, as well as network and connect with exhibitors and visitors by going around the booths virtually in this year's local business gathering dominated by companies offering new business solutions like digital banking and financing, digital marketing, content creation, human resource tools, e-commerce, virtual office spaces, and many more.
PHILSME DAY 1 & 2 TALKS
The first day of the Philippine SME Business Expo started off with a bang while the award-winning Good News Pilipinas news and information website which celebrates the good in Filipinos and the Philippines joined some 80 exhibitor entrepreneurs, owners, and employees of Filipino and Philippine-based businesses.
The three-day online expo began on March 16 with an opening message from Philippine SME Business Expo's Founder and Managing Director David Abrenilla who emphasized the importance of adopting new and innovative business solutions in today's fast-growing digital economy.
The online live learning sessions during the first two days of the event included this year's event sponsors NextPay, Benchmark, IWG (Regus & Spaces), Philippine Airlines, Finest Media PH, STREAMTECH, Prestige Paper Products, and the expo's digital transformation partner BusyBee who offered special deals and opportunities along with valuable insights and advice to show the way for small businesses to thrive under the new normal.
PHILSME DAY 3 LIVE TALKS
As the third and last day of the expo unfolds on Friday, March 18, exhibitors and sponsors alike continue to showcase their innovative products and services.
The live learning sessions of the day will be headed by women-led SMEs Fullfill, an e-commerce business hub, and Abakada Studios, an Edutech company, to offer their expertise on digital learning solutions and end-to-end e-commerce solutions, respectively.
The day's sessions include the services of Allcare, a healthcare solutions platform that makes company benefits like HMO, insurance, dental, and other perks accessible to freelancers, contractors, gig workers, and MSMEs, while Prestige Paper Products will tackle packaging solutions and sustainability for small business owners.
Also headlining some of the sessions are SMEs as well as large enterprises that are offering digital and financing solutions like tHRead, a full-suite, cloud-based HR and Payroll software, and ULoan by Unicapital, a leading provider of loans and financing specifically focused on the SME and retail market.
The following is the list of live learning sessions scheduled on March 18, 2022:
Digital Learning Solutions for SMEs and Schools
Speaker: Abakada Studios
End-to-End Ecommerce Solutions for SMEs
Speaker: Fullfill
For Employers That Care: SME-Tailored Employee Benefits
Speaker: Allcare
Paper, Packaging, and Sustainability for SMEs
Speaker: Prestige Paper Products
Digital Business Transformation Solutions for SMEs
Speaker: Marvin Alberto
Financing Solutions & Investment Opportunities for SMEs
Speaker: ULOAN by Unicapital
E-Commerce Marketplace & Drop Shipping Solutions for SMEs
Speaker: Market Deals
Franchising Your Business
Speaker: RK Franchise Consultancy
Importance of B2B Digitalization
Speaker: Tinvio
Cost-Volume-Profit (CVP) Analysis for SMEs
Speaker: Fast Solutions & Technology
Rewards and Loyality Solutions for SMEs
Speaker: Sodexo
Business Travel Promotions for SMEs
Speaker: Philippine Airlines
The Phil SME virtual expo is the country's biggest expo, conference, and networking event for small and medium enterprises (SMEs), start-ups, and entrepreneurs founded in 2013. You can still register to attend for free through this PHILSME link.
The 10th Philippine SMEs Business Expo held last year highlighted business owners such as Filipino food business incubator RJ Ledesma and Filipino author-entrepreneur Wilson Lee Flores and many more.
SEND CHEERS in the comments below to the organizers of the Philippines' Biggest Virtual Business Expo for SMEs, Start-Ups, and Entrepreneurs, the 11th Philippine SME Business Expo, and SEE YOU at the virtual booth of Good News Pilipinas at the event!
TELL US your good news story tips by messaging GoodNewsPilipinas.com on Facebook, Twitter, Instagram, or e-mail editor@goodnewspilipinas.com and WATCH Good News Pilipinas TV YouTube & Good News Pilipinas TikTok for more Filipino Pride stories!
Facebook Comments