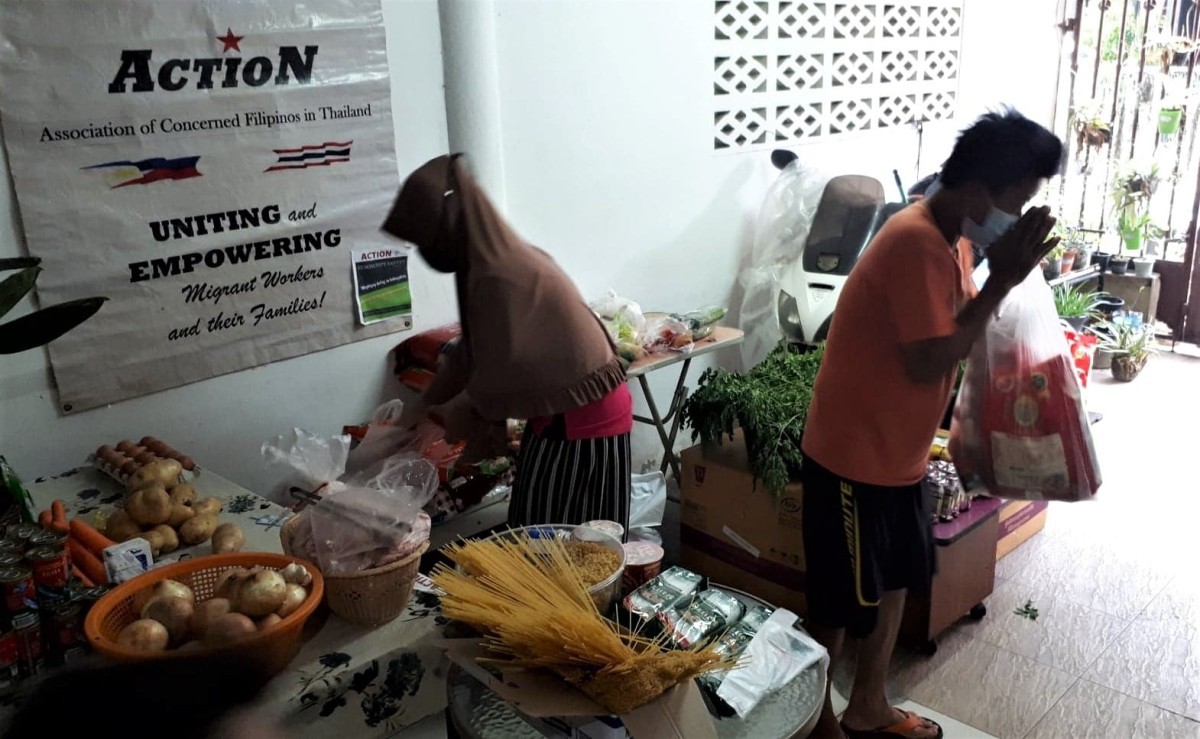 A Filipino organization has opened a community pantry in Phuket, Thailand, taking inspiration from the Maginhawa Community Pantry initiative in the Philippines.
The new overseas community pantry follows another pantry opened in the city of Dili in Timor-Leste.
The ACTION-Association of Concerned Filipinos in Thailand launched its own community pantry on May 1, 2021, to help Filipino migrant workers during the COVID-19 crisis in Thailand.
ACTION earlier called for cash and in-kind donations on social media to aid hotel employees, musicians, and informal workers whose livelihoods had been severely impacted by the pandemic.
"The latest spike in Covid cases is taking its toll on the Filipino migrants in Thailand. The hardest hit are the workers in the tourism-related sector, namely the hotel workers and musicians and informal migrant workers who needed provisions for food to survive in these trying times," ACTION wrote.
The group established the community pantry a day after food items and donations poured in from compassionate individuals.
Free grocery items, including rice, eggs, noodles, and vegetables, are available in the community pantry for needy Overseas Filipino Workers (OFWs) in the pantry set up in Chalong, Phuket, Thailand.
However, due to new restrictions imposed as a result of the coronavirus outbreak in Thailand, the pantry has been temporarily closed and modified to an "Ayuda-meet-up-Abutan" style, as of May 15, 2021.
Needy individuals may still get in touch with the organization's official Facebook page and call ahead to get free goods and groceries.
Community pantries have been springing up in various neighborhoods from Luzon to Mindanao in the Philippines after 26-year-old Ana Patricia Non opened the "Maginhawa Community Pantry" on April 14, 2021.
To mark one month of the charity initiative's existence, Non invited Filipinos to a virtual benefit concert to raise funds to buy farmers' harvests for various pantries in Metro Manila.
SEND CHEERS in the comments below to the ACTION-Association of Concerned Filipinos in Thailand for opening a community pantry to help Filipino migrant workers during the COVID-19 crisis in Thailand.
Good News Pilipinas is celebrating its 15th Anniversary in 2021 by giving away prizes! Subscribe to our Good News Pilipinas! TV YouTube channel and enter the raffle by sending us an email to editor@goodnewspilipinas.com
Facebook Comments