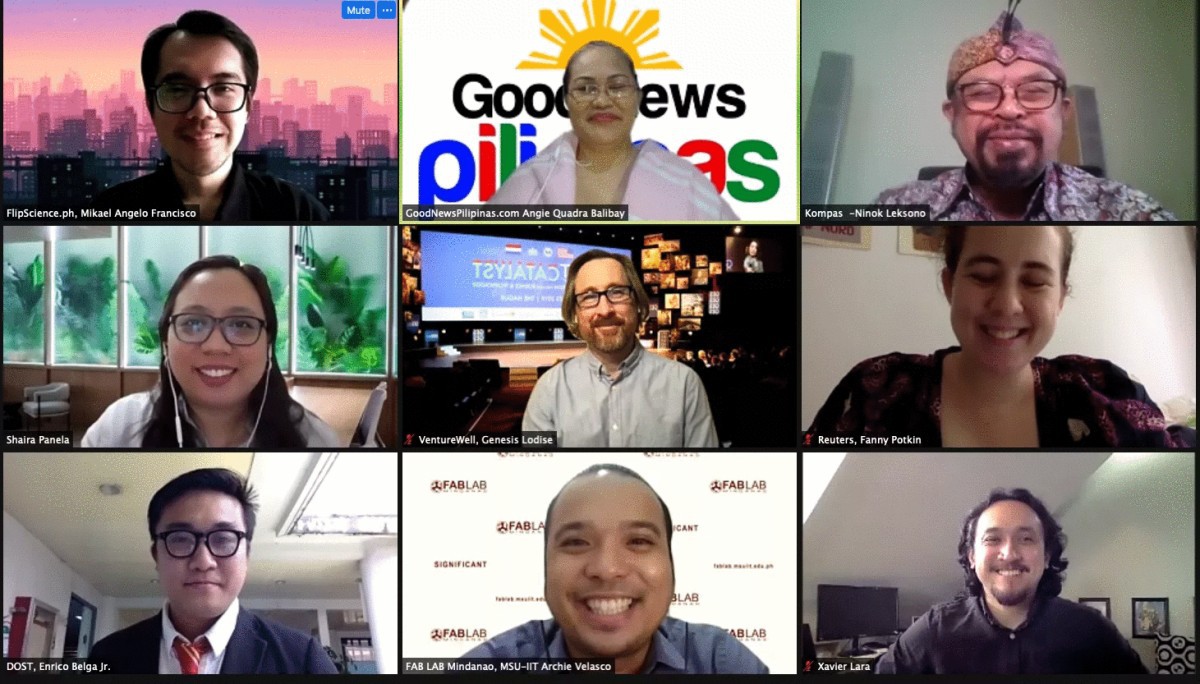 The need for fact-checking science news and information online became a focal point in the free webinar "Science, Technology, and Innovation Journalism in the 4th Industrial Revolution" held to mark World Press Freedom Day.
The online event is part of the "Makers without Borders" webinar series of the United States Embassy's American Spaces Philippines with Fab Labs Philippines, Fab Lab Mindanao, and the Mindanao State University-Iligan Institute of Technology serving as cooperating partners for the episode that went live on May 19, 2021.
Archie Velasco, Director of Fab Lab Mindanao, organized the webinar to observe the annual World Press Freedom Day led by the United Nations on May 3.
The Facebook live session was moderated by Enrico Belga, Jr., Information Officer of the Department of Science and Technology Philippines (DOST Philippines).
John Law, Chargé d'affaires of the U.S. Embassy in the Philippines, and DOST Secretary Fortunato de la Peña gave their messages in support of the initiative.
Secretary De la Peña emphasized the value of science journalism. "I have realized only lately that science technology and innovation become something real or something people can relate to when it is communicated to them well, and at the right time. During this crisis, which we have all faced, we became more interested in what solutions science and technology and innovation can bring. And we look up to our media persons journalists, to convey them to us. It is very seldom that our scientists and researchers will be the ones to communicate to us in our layman's language, what innovations and new knowledge they have come up with. It takes journalists to convey them to us well," said the DOST chief.
The webinar revolved around the challenges in reporting science and technology, the use of new media, debunking pseudoscience and conspiracy theories, and encouraging more Filipinos to get into careers in Science, Technology, Engineering, and Math (STEM).
Viewers also learned how to spot and correct viral misinformation on the internet using tested fact-checking approaches from the participating media champions and science journalists.
Role of media in science and technology communication
Mikael Francisco, Editor in Chief of FlipScience.ph, shared tips for effectively communicating simple science concepts to audiences and the media.
Dr. Ninok Leksono, the Senior Editor of Harian Kompas/Kompas Cyber Media, highlighted the differences between traditional and new media in Indonesia.
"The situation is that the newspapers, the traditional mainstream media, from time to time is in the decline. So that we have lost almost 80% of its circulations, and that has been experienced by the newspapers. But on the other hand, there are so many online or dotcom media, and the number in Indonesia is estimated to be some 100,000 dotcom media companies but the problem with dotcom media is that it is difficult to, to say if it is a true story, the press is correct or true or not, false. Or sometimes they rely on clickbait," shared Dr. Leksono.
Angie Quadra-Balibay, Managing Editor and writer of GoodNewsPilipinas.com, provided her insights on advocacy journalism and the value of publishing stories about science and tech innovations in the Philippines during the Covid-19 pandemic.
For his part, VentureWell Communications Manager Genesis Lodise talked about how the U.S. Department of State's Global Innovation through Science and Technology (GIST) initiative supports a community of the leading science and technology innovators from around the world.
This was followed by freelance science writer Shaira Panela's sharing on how critical journalism can convince policymakers to prioritize or improve the science and technology sector in the country.
"Before, I used to write a lot about science education in the Philippines, and I've been advocating the promotion of more scientists in the country since we lack scientists. And it has been noticed by some policymakers and included in their congressional resolutions, for example," Panela said.
Through the Balik Scientist Program (BSP) of the DOST, Filipino scientists, technologists, and experts are encouraged to serve and return to the country to offer their expertise in science, technology, and innovation.
"And then what happened was we became part of the group that proposed and eventually had several meetings with the Senate for the proposition of the Balik Scientist Act, where Filipino scientists are encouraged to come back to the Philippines to serve," Panela added.
Fanny Potkin, Reuters Southeast Asia Technology Correspondent, talked about the different approaches in promoting science, technology, and innovation in Southeast Asia.
"We have found that it can be often a challenging time to be reporting in science in this region when it ends up being on sensitive topics. For example, at the beginning of COVID in Indonesia, the government wasn't really public about the amount of cases. But it was important also, for transparency purposes, to have this out, and I find science journalism, especially has never been more important than now," Potkin shared.
Combating fake news and misinformation online
The panelists emphasized the importance of getting into the habit of verifying and fact-checking material found on the internet. The discussion also covered press freedom and responsible journalism in the age of social media.
"Countering conspiracy theories or pseudoscience, fake news, misinformation, disinformation, has to be a concerted effort among sectors of the society. Journos need to fact check with multiple sources who can back up the story with evidence. Content creators also need to follow this tradition to fact check so as not to mislead its audience," said Angie Quadra-Balibay of GoodNewsPilipinas.com.
"Audiences need to check the track record of the online sites releasing stories – what type of stories are published if their stories are sourced from the subjects of the story, or just a copy of other sites' stories, or based on rumors. And support these credible sites instead of the rumor-mongering ones," Quadra-Balibay pointed out.
"The government also needs to do its share of protecting its journalists and exacting justice on those who act against press freedom because the media is a bastion of democracy and is needed for nation-building," added Quadra-Balibay.
Regular citizens were also reminded of their responsibility to use media wisely in disseminating knowledge.
"I would go back to, I think, something that we all touched on at various points, which is to choose your media wisely. And when you are advancing ideas through social media, it's important to understand the impact that you are going to have on the people that you interact with, on those platforms that you're sharing this information with," said VentureWell Communications' Genesis Lodise.
"Be careful of the source, but also be aware of the impact that you are going to have by sharing this information. What is your purpose for sharing it? Are you trying to inform? Are you trying to gain an emotional response? Think a little more inward about why you are sharing something before you share it," Lodise adds.
"Even if you're confident about what you read, even if you really believe what you've read, you still have to look for, where are the sources? Where did this information come from? Basically, evidence over confidence," FlipScience's Mikael Francisco said.
The entirety of the live-streamed episode can be watched on the American Spaces Philippines Facebook page and website here.
Google News Initiative (GNI) is currently hosting a free webinar series for students, journalists, and fact-checkers.
SEND CHEERS in the comments below to the media champions and science journalists featured on the free webinar on Science, Technology, and Innovation Journalism in the 4th Industrial Revolution which is part of the "Makers without Borders" webinar series of the United States Embassy's American Spaces Philippines.
Good News Pilipinas is celebrating its 15th Anniversary in 2021 by giving away prizes! Subscribe to our Good News Pilipinas! TV YouTube channel and enter the raffle by sending us an email to editor@goodnewspilipinas.com
Facebook Comments