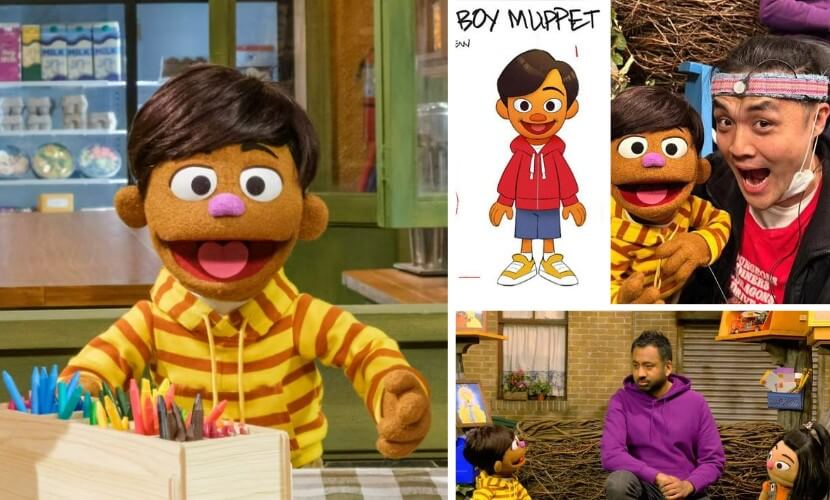 The world's friendliest street has just expanded its multicultural community. Sesame Street has proudly introduced TJ, a groundbreaking character who holds the distinction of being the first Filipino muppet in the renowned children's show's 53-year history.
TJ made his debut on May 8, 2023, in an episode titled "Showing Confidence with Kal Penn", where he reveals his vibrant personality. The muppet, with his brown skin, side-swiped black hair, purple nose, and yellow and orange-striped hoodie, is a delightful addition to the Sesame Street family.
During a segment shared with actor Kal Penn, muppets Grover and Ji-Young, the topic of confidence was explored. Penn explains, "Confidence is when you believe in yourself and your abilities or in the abilities of others." When asked how he shows his confidence, TJ enthusiastically shares, "Oh, well, I'm learning Tagalog. It's a language my Filipino family speaks. And I have confidence because I can always ask my Lola for help when I don't know a word." Lola is the Filipino term for grandmother, demonstrating the rich cultural heritage that TJ brings to the Sesame Street community.
The arrival of TJ during Asian Pacific American Heritage Month, which spans the entire month of May, is an important step in diversifying the characters of Sesame Street, further demonstrating the show's commitment to inclusivity and representation.
The first Filipino muppet has been introduced on the beloved American children's show, Sesame Street! Mabuhay! FULL STORY coming up. @sesamestreet @BobbyPontillas pic.twitter.com/Q2p9VX7ACm

— GoodNewsPilipinas.com (@GoodNewsPinas_) May 17, 2023
TJ springs from the collaboration of Filipino-American animation director Bobby Pontillas and puppeteer Louis Mitchell. Pontillas, an Oscar nominee in 2019 for his short film "One Small Step," expressed his excitement on Instagram, "I had the amazing opportunity to work with the geniuses at the Sesame Workshop to create a Filipino muppet for @sesamestreet! Meet TJ!" Pontillas revealed that he drew inspiration for TJ's look from his lifelong friends' kids, Max and Matteo.
Pontillas also expressed his gratitude to Rosemary Espina Palacios, Sesame Workshop's director of Talent Outreach, Inclusion, and Content Development. "Maraming salamat," he said in Filipino.
Rosemary Espina Palacios reciprocated the excitement in her own Instagram post, "Welcome to Sesame Street, TJ! I'm so proud to help bring some Filipino representation to the neighborhood, and just in time for API Heritage Month to show the range in our diaspora." She also noted that TJ's debut segment, focusing on confidence, could help challenge the model minority stereotype.
Puppeteer Yinan Shentu, who lends his voice to the character, also shared his excitement about the debut on Instagram, "Well, it's finally official. … Everyone, I'd like you to meet one of the newest visitors to @sesamestreet … TJ!☺️"
TJ's introduction to Sesame Street marks a significant milestone in the show's commitment to diversity, inclusivity, and cultural representation. This delightful new character provides young Filipino viewers with a relatable figure while fostering an appreciation for multiculturalism and fostering self-confidence.
WATCH this video and SEND MABUHAY CHEERS to the people behind Sesame Street's first Filipino muppet, TJ!
Good News Pilipinas is a Lasallian Scholarum Awardee. TELL US your good news story tips by messaging GoodNewsPilipinas.com on Facebook, Twitter, Instagram, or e-mail editor@goodnewspilipinas.com and WATCH Good News Pilipinas TV YouTube & Good News Pilipinas TikTok for more Filipino Pride stories!
Facebook Comments