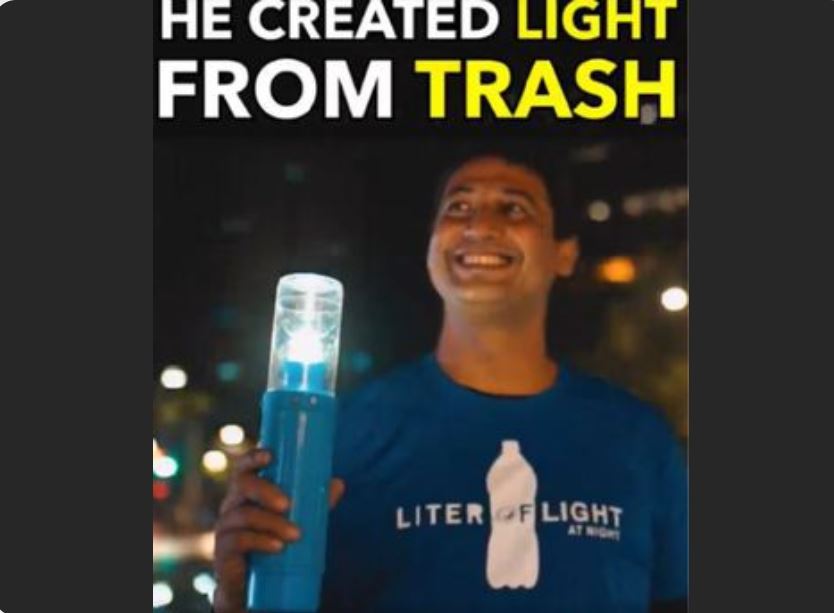 Viral Facebook vlog Nas Daily has showcased Filipino innovator Illac Diaz and his Liter of Light solar lamp in the first episode of his new series, Amazing Inventions.
Nas Daily, created by Palestinian-Israeli vlogger Nuseir Yassin, released the new video about Illac Diaz, the founder of Liter of Light, in "He Created Light from Trash" on July 27, 2021.
"Let me introduce you to Liter of….Light! A new movement around the world that turns something we all hate (trash) into something that can change lives (electricity)!" Nas Daily posted.
"Inventors can change the world. That's what we believe here at Nas Daily. So come join us on our journey all over the globe to go see the craziest inventions in the world and meet their just-as-crazy inventors. Because as Steve Jobs says 'The people who are crazy enough to think they can change the world, are usually the ones who do.' And we think you should meet them."
The FB video which runs a little over 4 minutes tells the story of how Edison Awards recipient Illac Diaz and his group started its global movement with a lamp created from an empty soft drink plastic bottle filled with water and bleach that catches the sunlight on rooftops to light up the house. The bottle lamp was donated to remote communities in the Philippines without electricity.
The bottle lamp lit up villages and allowed the children to study at home even at night and contributed to the reduction of crimes in the area by lighting up streets.
Liter of Light has since developed another version of the bottle lamp with a solar panel system to allow for the light to be used even at night.
The solar lamp has been distributed to over 32 countries, including the communities the team visited to teach how to create the solar lamps during their 100 Day Journey of Light on the Peace Boat in 2019.
Liter of Light's ongoing campaign, Light it Forward, which began amidst the Covid-19 pandemic been recognized with the Asia Pacific Social Innovation and Partnership Award for encouraging people to stay at home during the quarantine while building solar lamps using Liter of Light kits for donation to communities without electricity.
The lamps from the Light it Forward challenge have been used to create large-scale solar messages including calls for climate action in line with the United Nations Sustainable Development Goals.
Daily video creator, traveler, and Facebook celebrity Nas Daily, who has affirmed his love for the Philippines, founded the eLearning platform to help creators become educators and build effective online courses for students worldwide.
Nas Daily started an all-Filipino language Facebook page to cater to audiences in the Philippines where he first gained popularity.
WATCH this video to learn about Illac Diaz and his Liter of Light project and SHARE THIS STORY to let other people know about his Amazing Invention from the Philippines!
Good News Pilipinas is celebrating its 15th Anniversary in 2021 by giving away prizes! Subscribe to our Good News Pilipinas! TV YouTube channel and enter the raffle by sending us an email to editor@goodnewspilipinas.com saying what you like about our site.
Facebook Comments