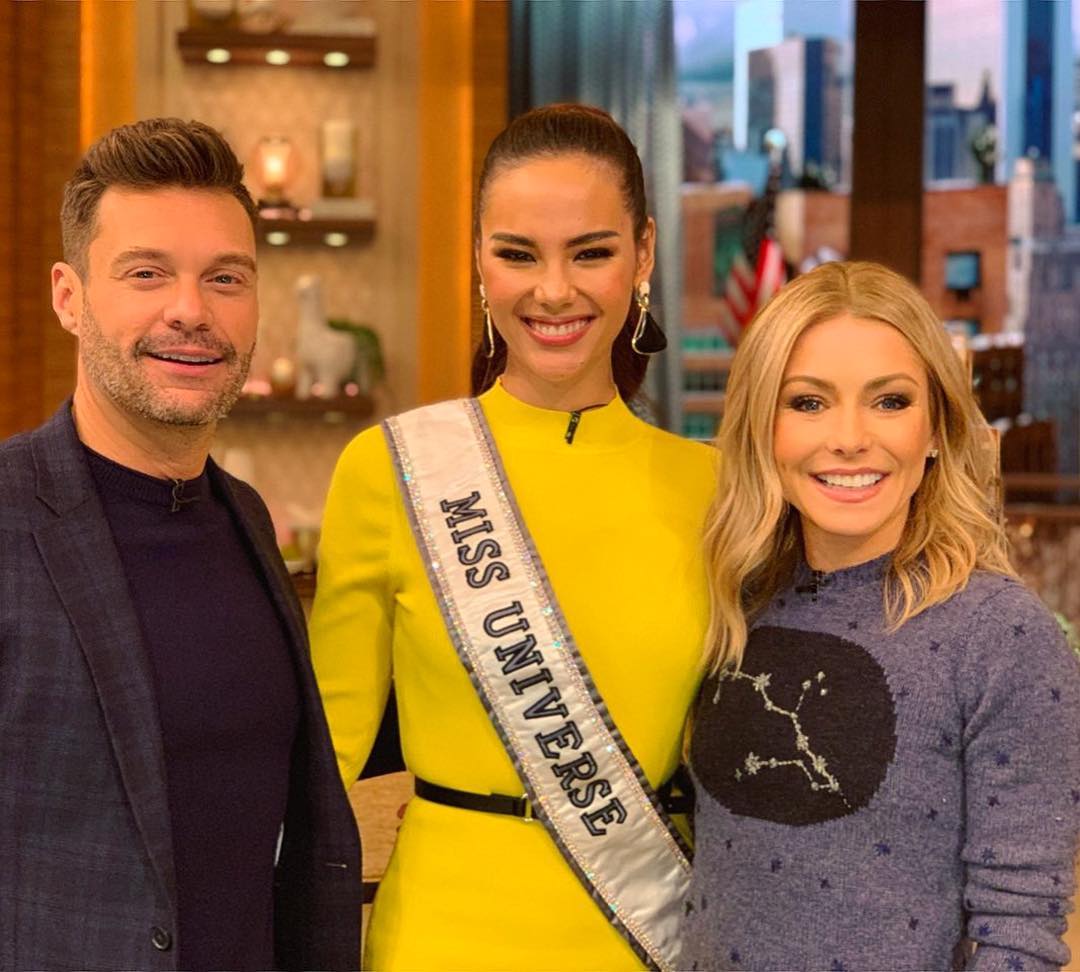 Catriona Gray officially started her Miss Universe reign by paying tribute to her Filipino heritage in back to back interviews on "Good Morning America" and "Live with Kelly and Ryan" aired on live American television on January 7 in New York City.
Gray's sold out show interview on "Live with Kelly and Ryan" with hosts Kelly Ripa and Ryan Seacrest started off with a greeting for the Filipina Miss Universe who just turned 25 on January 6. Gray talked to Ripa about her Filipino mother Normita Magnayon, who dreamt of her winning Miss Universe in a red gown when she was a little girl.
The 2018 GNP Filipino Pride Icon said the actual red gown she wore at the pageant was inspired by the world-renowned perfectly-coned Mayon Volcano in her mother's native Bicol province – to the adoring cheers of the live audience.
Gray then happily stated acknowledging her fans and supporters who came to the Live with Kelly and Ryan show that, "Filipino fans are the best fans in the world, and this whole journey has been amazing."
The newly crowned Miss Universe revealed on the show that although she was born and raised in her father Ian Gray's home country Australia, she herself moved to the Philippines when she was a teenager.
On her recent move in New York to fulfill her duties, Gray shared that she had been adjusting to winter since she is used to the warmer weather in the Philippines and in Australia. The Filipina beauty queen even jokingly referred to herself looking like the Filipino snack "siopao" as she wore multiple layers of clothing.
After recalling winning her first pageant as Little Miss Philippines experience, Gray went on to talk about working with Young Focus, a non-government organization in Tondo, Manila which provides education to impoverished children in the slums. The 2018 Miss Universe's passionate discussion of her advocacy for children's education became a highlight in her guesting.
"I really believe that education is transformative," she said. "It's something that you can give to a child or to a person that can never be taken away from them, which is why I'm so passionate about it."
Catriona Gray also emphasized the role of Young Focus, with whom she met for her first appearance in the Philippines after winning Miss Universe, in helping the children from the slums have access to quality education.
"These kids, without NGOs like that, might not ever experience going to school, experience developing a love for learning, which, at the end of the day, is really what can pull out a family out of poverty," she said.
The Filipina beauty queen made her first TV appearance as Miss Universe in a radiant yellow dress and was praised "gorgeous inside and out" by host Ginger Zee of "Good Morning America (GMA)."
Gray also spoke to Zee about her Filipina mother, recalling, "When I was 13, and she first told me, I thought nothing of it. I was young, I didn't really have that interest in pageants yet, but to see it come into fruition, I was just like, 'Mum, are you hiding anything else about my future? I wanna know!'"
The GMA host also praised Gray's voice saying, they look forward to when they "will hear you on the stage," referring to Gray's musical career as singer-songwriter.
"I hope so!" the Miss Universe who finished a diploma course in Music Theory quickly answered. "I would love to participate in a benefit concert or something like that to really merge my love for music and in giving back. I think that would be amazing."
"Well, obviously you're perfect, and that's why you won Miss Universe!" Zee said finishing as the conversation wrapped up.
Catriona Grays' appearances on "Good Morning America" and "Live with Kelly and Ryan" drew positive and proud reactions from the Filipino pageant community as the photos and videos of the interviews were immediately shared in different pageant fan sites social media accounts.
With reports from Atom Pornel, Aurora Quadra-Balibay
Facebook Comments