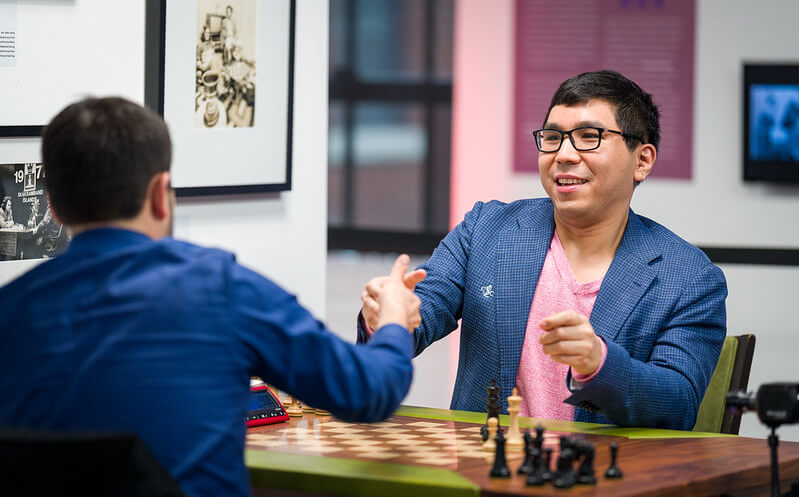 Filipino American Grandmaster Wesley So wrapped up his 10-day battle on the 2023 American Cup with a hard-fought Runner-up winner finish in the Grand Final of the Open Section tournament played at the Saint Louis Chess Club in the chess capital of Missouri, U.S.A.
Wesley So started the day still looking fresh and raring to go against top seed Hikaru Nakamura despite his non-stop daily matches which he successfully extended to Sunday, March 26 (March 27 morning PST) after outplaying the Japan-born American GM and winning the Grand Final rapid playoffs on Saturday, 9 days after the 2023 American Cup started on March 17.
THE GAMES
The thrilling Sunday rematch between the Champion's Bracket finalists started with two games using the Elimination Bracket rapid time control of 25 minutes plus a 10-second increment from move one. The two rapid games between the U.S. Chess Champions ended in draws, sending the pair again to the playoffs with accelerated rapid games of 10 plus a 5-second increment.
The first playoff rapid game ended in a draw, leaving commentators GMs Yasser Seirawan and Cristian Chirila, and IM Jovanka Houska, along with the audience, to excitedly speculate if the chess match between the two strongest players in the 2023 American Cup Open Section will extend to the Blitz and Armageddon games.
However, the second rapid playoff abruptly ended in the middlegame with a resignation from So when his queen was caught in a trap.
The Grand Final match ended in favor of Nakamura over So, 2.5-1.5, in a difficult final Elimination Match of the double-round knockout tournament among 8 of the world's best chess players living in the United States.
Although Wesley So won in the previous day's playoffs, he needed to win twice to claim the championship and the American Cup Open Section Prize of $50,000 which now goes to Nakamura.
Wesley So finishing as the Runner Up winner earns him $35,000 in prize money.
Wesley So wins 2nd place in #TheAmericanCup after fierce classical and speed chess battles for 10 straight days @GMWesleySo123 @STLChessClub STORY on @GoodNewsPinas_ https://t.co/nzZdfL4Un0

— Angie Quadra-Balibay (@AngieQBalibay) March 27, 2023
THE GOOD SPORTSMAN
In the post-game interview, Wesley So remained a good sport and congratulated Nakamura saying it was a well-deserved victory.
The runner-up winner praised his opponent as an "extremely strong player on time-controls and especially in crucial moments, he has a big advantage".
Prodded by Chirila about how he felt at the match ending abruptly, Wesley So his usual humble demeanor admitted to mistakes made but that he just needs to keep going.
"I'm not really that sad. I think I fought hard. I was playing very decently. I had some chances here and there. But at the end of the day, that's what chess is about. You just gotta keep trying," said the Grandmaster who maintains his support for Philippine chess.
Wesley So was in good spirits as he congratulated all winners including Women's Section champion Ivana Krush and Blitz winner Fabiano Caruana, and ever the gentleman, remembered to thank everyone involved in the tournament which ran from March 17-26.
Wesley So earned the right to battle for the 2023 American Cup championship title with his victory in the Open Elimination Bracket Final against Armenian GM Levon Aronian.
Wesley So won his matches in the Champion's Bracket including his semifinal faceoff against inaugural American Cup defending champion Italian American GM Fabiano Caruana and first-round match against American Sam Shankland – until he met Nakamura in the Champion's Final where Wesley So lost, sending him to the Open Elimination Bracket Final against Aronian.
Three-time U.S. Chess Champion Wesley So overcame Aronian and bounced back to the Champion's Bracket to once again face off Nakamura.
WESLEY SO TOURNAMENTS
Wesley So is a three-time US Chess Champion, a two-time Grand Chess Tour Champion, the inaugural World Fischer Random Chess Champion, and the current Chess Global Champion.
His first title this year was at the World Chess Armageddon Championship Series: Americas leg held in Berlin, Germany, which earned him a spot in the tournament's Grand Finale in September.
Wesley So is the current leader of the FIDE Circuit, the newest qualification path to the 2024 Candidates Tournament which decides the challenger for the World Championship match.
GM Wesley So continues his full schedule and will next see action in the following tournaments:
Chessable Masters/Champions Chess Tour (April 3-7)
World Championships (April 9-10)
Superbet Chess Classic Romania/Grand Chess Tour (May 4-16)
Superbet Rapid & Blitz Poland/Grand Chess Tour (May 19 – 26)
Norway Chess (May 29)
SEND CONGRATULATIONS in the comments below to Wesley So, the Runner Up Winner in the 2023 American Cup!
Good News Pilipinas is a Lasallian Scholarum Awardee. TELL US your good news story tips by messaging GoodNewsPilipinas.com on Facebook, Twitter, Instagram, or e-mail editor@goodnewspilipinas.com and WATCH Good News Pilipinas TV YouTube & Good News Pilipinas TikTok for more Filipino Pride stories!
Facebook Comments